To Love and to Loathe by Martha Waters is the second book in the Regency Vows series but was good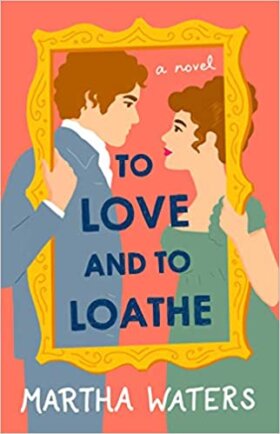 as a stand-alone. It was an enemy to lover's rom com with main characters that create sparks whenever they meet. Their banter was witty, and you could feel their attraction to each other under the elevated tension between them. It was a fast-paced, light historical romance full of humor and entertainment.
Widowed Lady Diana Templeton and Jeremy Overington, the Marquess of Willingham, were known to bicker constantly by Society. Adding a wager to their ongoing disagreements only increased the tension between them. Diana wagers that Jeremy will marry within the year which delighted his grandmother. Diana is shocked when Jeremy proposes they have a brief affair at his house party at Elderwild, his country estate. This will give Diana the opportunity to let other gentlemen know she is interested in having a lover once their affair is over.
Jeremy enjoys provoking Diana and intends to win this wager since he has no desire to wed. When he wants to know the truth about his bedroom skills after his last mistress criticizes him, he knows who to ask for a true opinion. His upcoming house party is the perfect place to have a short affair with Diana to learn the truth. His opinion on marriage changes when he realizes he wants more than a short affair, but can he convince Diana to change her mind?
This was a hilarious and light-hearted romance with charming characters that is a perfect book to put a smile on your face.
Book Info:
Traci| 4 Stars | HJ Recommends | No |
Publication: April 6, 2021 | Atria Books/Simon & Schuster (New York) | The Regency Vows #2
The widowed Diana, Lady Templeton and Jeremy, Marquess of Willingham are infamous among English high society as much for their sharp-tongued bickering as their flirtation. One evening, an argument at a ball turns into a serious wager: Jeremy will marry within the year or Diana will forfeit one hundred pounds. So shortly after, just before a fortnight-long house party at Elderwild, Jeremy's country estate, Diana is shocked when Jeremy appears at her home with a very different kind of proposition.
After his latest mistress unfavorably criticized his skills in the bedroom, Jeremy is looking for reassurance, so he has gone to the only woman he trusts to be totally truthful. He suggests that they embark on a brief affair while at the house party—Jeremy can receive an honest critique of his bedroom skills and widowed Diana can use the gossip to signal to other gentlemen that she is interested in taking a lover.
Diana thinks taking him up on his counter-proposal can only help her win her wager. With her in the bedroom and Jeremy's marriage-minded grandmother, the formidable Dowager Marchioness of Willingham, helping to find suitable matches among the eligible ladies at Elderwild, Diana is confident her victory is assured. But while they're focused on winning wagers, they stand to lose their own hearts.

Related