Love of a Cowboy by Jennifer Ryan is about Skye Kennedy, who has grown up in the tight-knit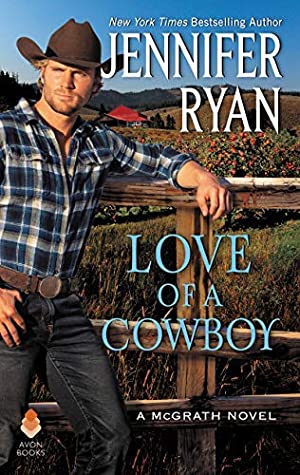 community of Sunrise Fellowship. Once she discovers their newest leader, Gabriel, is engaging in illegal activity and becomes a witness to a murder, she knows she needs to escape and find a way to save everyone at Sunrise. Her journey finds her in Montana and on the doorstep of McGrath ranch.
Declan McGrath has taken on the brunt of the responsibilities at the ranch, especially since his brothers have found their spouses. Even though they encouraged him to hire more help, he refuses. Then Skye shows up looking for a job, and he hires her on the spot. He knows she's keeping a secret, and he's willing to wait her out to hear it. They both soon find themselves falling for one another, but before long they realize that danger had followed her to Montana. When all is said and done, will she be able to figure out a way to save Sunrise but keep her new life and love in Montana?
I'll admit I wasn't expecting as much suspense as there was in this book, and it was a pleasant surprise. I enjoy a good romantic suspense, and this book has everything I like. The characters are great and work really well together, the suspense is well-written and drew me in, and neither the suspense nor the romance overshadowed the other. The only thing that took away from the story for me was how long it seemed to take Skye to figure out how to get Sunrise working on its own. It almost felt like she was dragging everything out and seemed reluctant to let go of control of the community.
This is the second book in the series but it can be read as a standalone. I have not read the first book but did not feel like I was missing anything from not having read it.
If you enjoy romantic suspense, Love of a Cowboy is a book for you. With an interesting storyline and gripping suspense, it will have your attention from the first page to the last.
 
Book Info:

Publication: March 30, 2021 | Avon | McGrath #2
Skye Kennedy has always loved the close-knit community of Sunrise Fellowship—but when she witnesses the commune's new leader commit a terrible crime, she flees…and finds herself in Montana, on the McGrath ranch, and drawn to the stoic yet kind man determined to help her.
Declan McGrath has always handled things himself and focused more on work than his love life. With his newlywed brothers distracted by their beautiful wives, Declan has even more work on his hands. But when Skye arrives at the ranch starving and desperate for work, his loner days are over.
Skye wants to keep her distance and protect Declan from the deadly threats facing her, but soon their relationship morphs into something much more than either of them expected. When she fights back against those out to destroy Sunrise Fellowship, Skye and Declan will have to do everything to protect not just Skye's community, but also their new love.

Related