The Warrior King by Abigail Owen is the third book in the Inferno Rising series. After two of her sisters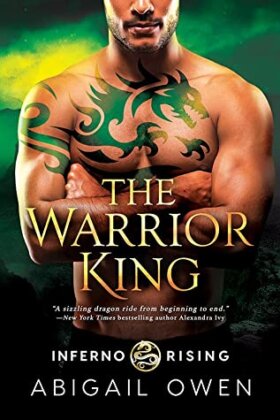 mate with dragon kings, phoenix Meira Amon volunteers to mate with the king of the black dragons, Gorgon. The only problem is she really wants the leader of his warriors, Samael Veles.
Samael knows Meira is the woman made for his dragon, but he refuses to go against the only dragon who gave him a chance despite his coming from a low class. On the night of the mating, when they realize that something happened to Gorgon, Samael whisks Meira away to protect her. Not only do they have to work with Meira's sisters and their mates to stop the rotting red King Pytheios from regaining full strength, they have to find where the real King Gorgon is. The more time they spend together, the more Samael realizes how difficult it's going to be to let Meira go.
Both Samael and Meira are set on doing the right thing and are willing to sacrifice their happiness for it. I thought they were both a little too stubborn about this. King Gorgon wasn't featured much in this book or the previous book, but he struck me as the kind of guy that would have accepted it if Samael told him that Meira was his mate. It would have been better for all involved if they were just honest.
I would have thought that the pair would have put in more of an effort to find King Gorgon, but it seemed liked they spent most of their time hiding from the black dragons. Readers do get to learn more about Meira's powers during this time though, and they get to watch Samael emerge as a true leader who can reunite his clan.
There's a confrontation with Pytheios, but it's still not resolved. Readers also get to find out the truth about Maul, the hellhound that protects all the sisters, and it's both heartwarming and sad.
As each book builds on the one before it, I would recommend reading the series in order. The next book is about the fourth and final sister, Angelika, who is currently the only sister without any powers. She's determined to make a difference in the war, and I'm looking forward to reading her story to see how it all plays out.
The Warrior King is a good addition to the Inferno Rising Series. While it moved a bit slowly during the first half of the book, it ultimately does a good job pushing the storyline involving King Pytheios forward. I'd recommend it for readers who enjoy paranormal romances, especially those involving dragons.
 
Book Info:
Publication: March 2, 2021 | Entangled: Amara | Inferno Rising #3
Meira Amon is the most reserved of the phoenixes, finding computers easier to deal with than people and their messy emotions. But she wants revenge against the Rotting King Pytheios for the murder of her parents just as much as her sisters. Offering herself as a queen for their ally, dragon shifter King Gorgon of the Black Clan, only makes sense.
Just one problem…
Samael Veles worked his lowborn ass off to become the fiercest warrior of the Black Clan. He has pledged his life to protect his king at all costs. Yet somehow, in the middle of war, he took one look at a woman in a reflection and gave up his heart. When that woman turns out to be the phoenix promised to mate his king and help bring peace to their kind, he has no choice but to accept it.
Until her fire unexpectedly destroys the king after they've wed. Now Samael must choose between his loyalty to his clan and protecting the queen who might be his mate from his people's wrath, one of which will unlock a destiny no one could have ever imagined.

Related