One Snowy Night by Patience Griffin is the first book in her new series, Sweet Home Alaska. This is a great start to the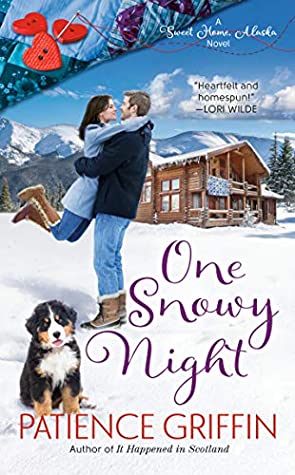 series. It a heartwarming story of forgiveness and love.
Hope McKnight is a single mom. Funds are tight. She has recently laid her father to rest which was heart-wrenching for her and her seventeen year old daughter Ella. Ella has taken his death particularly hard and has started drinking which is an added concern in Hope's life. Ella (Isabella) was named after Hope's eleven year old sister Izzie(Isabella) who died in a car accident seventeen years ago. Hope was driving that night and had been at a New Year's Eve party. Yes, she drank some wine but not enough to test over the legal limit. Still Hope blamed herself for the death of Izzie and her boyfriend Donovan Stone's younger brother Beau. Donovan blamed Hope too. He told her he never wanted to see her again and not to try to contact him. So when Hope found out she was pregnant with Donovan's baby she never told him. When Hope heard Donovan was back in town to sell his deceased grandfather's businesses she was hoping she wouldn't run into him. Fat chance! Of course she would run into him. Sweet Home, Alaska is a very small town. It was inevitable. Hope's feelings for Donovan reignited but she believed Donovan wouldn't love her back.
Donovan Stone left his hometown of Sweet Home, Alaska shortly after the death of his brother Beau. He joined the Marines which was a very good thing for many reasons, but the two major ones were that he got help with his alcoholism problem and his aptitude with computers was recognized so he got excellent training which led to a prosperous career after leaving the Marines. When he returned to Sweet Home after his grandfather's death it had been seventeen years since he had been there. He needed to get in, get the properties sold and get out. He hoped he wouldn't run into his high school girlfriend Hope, the one he loved but blamed for his brother's death. So how did he end up staying to renovate the businesses and hiring Hope?
I liked how the people of the town came together to support Hope and Donovan. Small town romances are one of my favorites. Add in that this is a second chance romance and it's a perfect combination.
Book Info:

Publication: February 23rd 2021 | Berkley Books | Sweet Home, Alaska #1
A woman struggling to raise her daughter alone in a small Alaskan town finds her simple existence upended when the father of her child returns. . . .
Sweet Home, Alaska, was once a thriving, idyllic town, where A Stone's Throw Hardware and Haberdashery and the Sisterhood of the Quilt were the cornerstones of the community. Then, in one fatal moment, two young lives were cut short, and everything changed. Now the Stone family businesses have closed, the diner is in the red, and the population has dwindled to 573.
After the tragic accident that took her sister's life, Hope McKnight discovered she was pregnant, and gave up her dreams of college to raise her daughter. When Donovan Stone returns to sell his family's properties and to cut final ties with Sweet Home, he's shocked to find Hope still there–and a single mother. The pull between Hope and Donovan is as powerful as ever. But so are the secrets and lies stemming from that long-ago tragedy. Will they be able to overcome the past, or will the heartbreak of bygone days destroy their love again?

Related