In Twice Shy by Sarah Hogle, When Maybell Parrish learns that her Great Aunt Violet has passed away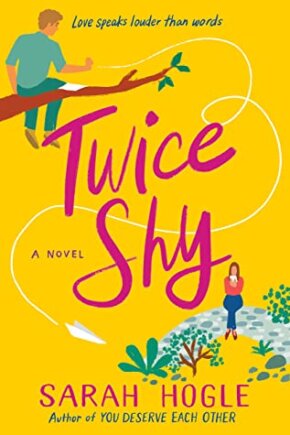 and left her Falling Stars, her family's home in the mountains of Tennessee, it hits her hard. She let years go by without visiting the woman who meant so much during Maybell's troubled childhood. But knowing that she has the chance to watch over Falling Stars and restore it back to its former grandeur is something she will cherish. She's in for a few surprises when she arrives in the Smoky Mountains, though. First of which is the appalling condition of the house and property. Second is learning the groundskeeper, Wesley Koehler, somehow inherited half of the estate as well. And that just doesn't sit well with Maybell.
'My gaze darts to the ceiling corners, where Violet might be watching us and, it can only be assumed, laughing wickedly. I am starting to visualize her with horns instead of a halo.'
Sure that her great aunt must have had a good reason for the jumbled inheritance–aside from messing with her just for funsies–Maybell does her best to try to talk Wesley around to her plans for Falling Stars. But he's one stubborn guy. An admittedly gorgeous, broody, guy who gets more and more intriguing with every smidge of information she gleans from him. When they finally find a camaraderie that puts them a bit more at ease with each other, Maybell begins to realize that's the most dangerous thing of all. Because her heart could so easily fall for a wonderful guy like Wesley. And she's pretty sure he's of the same mind. What kind of disaster could that spell for their future, co-owning Falling Stars, if they take a chance and it doesn't work out between them?
His eyes are molten, transparent with feeling. "I think you are beautiful, too, Maybell. I think that you walked into my life and absolutely ruined it with how beautiful you are."
An adorable, feel-good novel that made my heart dance, Twice Shy was the perfect sophomore offering by Sarah Hogle that included a memorable cast and a heartwarming romance that was sigh-worthy.
'Wesley reaches up to stroke my hair, smiling only with his eyes. I feel more than accepted when he touches me, when he holds me and smiles at me. I feel wanted. I feel like I've finally found home.'
Have you ever read a book and found yourself saying: "These are my people!" when you get to know the main characters? That was exactly what it was like for me when I "met" Maybell and Wesley. I'll try not to give away too many details about their personalities or their situation, but I can say that anyone who deals with anxiety and/or shyness will no doubt embrace this couple and their awkward-filled journey towards a HEA. Because Hogle perfectly captured what it's like to cope with both issues. Right down to how it physically feels as well as how it can affect your relationships with everyone around you.
Hogle's writing was once again on point, just like with her debut novel You Deserve Each Other. There was still that offbeat, almost playful tone to the majority of the scenes, with as many laughs as there were serious moments. And where I felt so drawn to Wesley and Maybell as they were both equally relatable for me, I reveled in every moment they shared–and every step they took to build a relationship out of circumstances that initially put them at odds.
There was a rich backstory in Twice Shy that gets revealed bit by bit as Maybell and Wesley cleaned out the house–which was basically a mansion lovingly called Falling Stars and which had some secrets of its own. I adored what we learned about Maybell's great aunt and uncle, Violet and Victor. Talk about a love story! Swoon… Taking care of Falling Stars, which meant so much to Maybell and her aunt and uncle, gave her and Wesley something to focus on and a way for them to become a team instead of duking out who should have inherited what.
It was oh so cute watching the pair come out of their shells. Wesley was a superb hero–a seemingly grumpy man of few words who had a heart of pure gold, which was evident as we learned more about him. Don't let his standoffishness fool you. Wesley was a standup guy who, yes, did make a few blunders, but he was a great blend of beta & alpha and was perfect for Maybell. She ended up being a sweetheart of a woman who had a really tough childhood. Some readers might not enjoy her penchant for daydreaming or get her quirky sense of humor, but I absolutely adored Maybell. And I get why she found herself living in her head at times instead of in the moments that were dragging her down in real life. Something I think Hogle captured wonderfully.
Twice Shy was a sweet, introspective romance that I know I will be happily reading again in the near future. Sarah Hogle is proving to be an author to watch and I, for one, cannot wait to see what captivating story she gifts her readers with next.
Book Info:

Publication:  April 6th 2021 | G.P. Putnam's Sons |
Can you find real love when you've always got your head in the clouds?
Maybell Parish has always been a dreamer and a hopeless romantic. But living in her own world has long been preferable to dealing with the disappointments of real life. So when Maybell inherits a charming house in the Smokies from her Great-Aunt Violet, she seizes the opportunity to make a fresh start.
Yet when she arrives, it seems her troubles have only just begun. Not only is the house falling apart around her, but she isn't the only inheritor: she has to share everything with Wesley Koehler, the groundskeeper who's as grouchy as he is gorgeous–and it turns out he has a very different vision for the property's future.
Convincing the taciturn Wesley to stop avoiding her and compromise is a task more formidable than the other dying wishes Great-Aunt Violet left behind. But when Maybell uncovers something unexpectedly sweet beneath Wesley's scowls, and as the two slowly begin to let their guard down, they might learn that sometimes the smallest steps outside one's comfort zone can lead to the greatest rewards.

Related