Italian Escape With The CEO by Nina Milne: Ava Casseveti is surprised by her father's will. He left the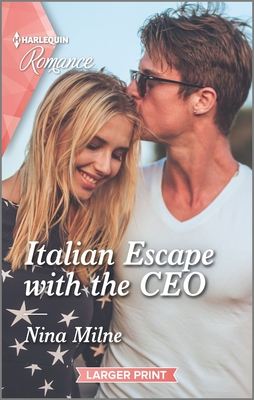 family business, Dolci, not just to her, but his two grown children from his first family. They have never been part of that business. Ava's mother encourages her to fight the will, but Ava knows her father felt guilt for leaving his first family. The other provision in his will is that Ava make amends with Liam Rourke, the son of a late business rival whom he cheated.
Liam doesn't blame Ava for her father's betrayal and doesn't want any monetary compensation. Instead, he asks her for a big favor. He needs her to pose as his girlfriend so he can secure a big contract for his firm. He thinks Ava will totally fit the bill since she knows how to act in public between growing up with wealth and being a former model.
They carefully plan how they will convince their families and the public that they are a true couple. The biggest challenge to their schemes is a trip to Italy. Will this journey lead them to success in business or difficulty in going their separate ways?
The author cleverly shows how both Liam and Ava not only have emotional baggage from their families, but make choices along the way that have repercussions. We can all have feelings of "what if" that are hard to put aside so we can heal and move on.
The location is wonderful with being in an area outside of big cities where you can enjoy a more leisurely pace and less crowds. I have not traveled as much as I once thought, but with reading so many charming books, it feels as though I am a world traveler.
This novel is the first in a series. I look forward to the second one.
Book Info:

Publication: February 9, 2021 | Harlequin Romance | The Casseveti Inheritance #1
A fake romantic getaway
A very real attraction!
In order to claim her inheritance, Ava Casseveti's late father requested she make amends with Liam Rourke—his business rival's son. Gorgeous CEO Liam doesn't want her money…but he does need a stand-in girlfriend! Yet as they embark on a "romantic trip" to Italy, the lines soon begin to blur. And walking away from their fake relationship is harder than they planned…

Related