The Billionaire's Cinderella Housekeeper by Miranda Lee: The stunning cover reflects the lovely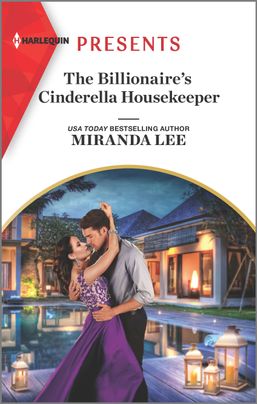 Ruby and the super handsome entertainment mogul Sebastian, sharing a wonderful moment poolside. Most of the story takes place at this location and the home is described beautifully.
Desperate to find a live-in position before she starts studying Ruby says yes becoming Sebastian's live-in housekeeper. As their paths run in different circles Ruby is not affected by who he is but much to her annoyance she's finding herself attracted to him more and more each day. As Ruby fits into his household and finds her own unique way to run things, Sebastian is stunned by how much she affects him personally and physically.
Miranda Lee has crafted a light and breezy story which I found to be such a quick and easy read. Recommended if you're looking for something angst and drama free. I feel it had kind of a nostalgic writing feel. The characters were easy to read, the secondary characters were enjoyable and added to the story and overall I feel it was summery and refreshing.
The Billionaire's Cinderella Housekeeper is also (very sadly from my point of view) the last book by Miranda Lee who is retiring from writing. My number one re-read is penned by Miranda Lee and she has been in my top 5 for as long as I can remember. I was very surprised to learn she was the legendary Emma Darcy's sister, I didn't know that. And while this is getting off topic, if Miranda Lee ever reads this, I just want to say I will miss her and Emma Darcy's books immensely and thank you for decades of entertainment.
 
Book Info:

Publication: March 2021 | Harlequin Presents | Housekeeper Brides for Billionaires Book 2
In USA TODAY bestselling author Miranda Lee's latest Harlequin Presents, things are about to get complicated when this Cinderella discovers how attractive her new boss is…
New job? Check.
Drop-dead gorgeous boss? Check!
For hardworking Ruby, accepting a live-in housekeeper position for an absent mystery tycoon should be easy! When he returns, she quickly realizes that working for the seriously sexy Sebastian is going to be quite the challenge.
The loss of his late wife has left Sebastian emotionally guarded, but he can't deny the blazing heat with his irresistible housekeeper. A red-hot tryst should quell their desires, but Sebastian didn't expect to see shy Ruby fit into his lavish world quite so perfectly…
From Harlequin Presents: Escape to exotic locations where passion knows no bounds.
Read all the Housekeeper Brides for Billionaires books:
Book 1: Maid for the Untamed Billionaire
Book 2: The Billionaire's Cinderella Housekeeper

Related