In Tequila Rose (Tequila Rose #1) by Willow Winters, When Magnolia Williamson was a year away from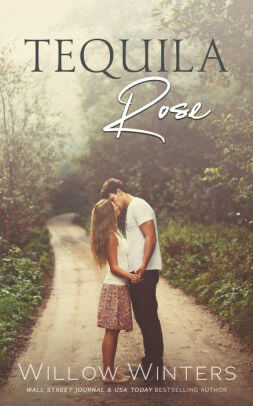 graduating college, her life imploded. There was so much fallout to deal with that even four years later she probably still hasn't really worked through it all emotionally. But with a busy three-year-old daughter and a job in a local art gallery, Mags doesn't have time for much. Definitely not a social life, that's for sure. When a guy from her past shows up in her hometown of Beaufort, South Carolina, she's shocked–and freaking out inside. Brody was the last one to spend time with her before everything changed and there are some things (okay, a lot of things) he's not aware of. Mags can still feel that connection to Brody, just as strong as it was four years ago. But is it worth further complication in her already messy life to pursue their attraction?
'Everything I worked for is going to be ruined by a lie and a secret and there's nothing I can do but to bear the consequences and I hate it.'
Brody's been dreaming of opening his own bar and brewery for quite some time. And things are finally coming together for him and his business partner Griffin when they find the perfect place in Beaufort. Somehow it's in the sleepy coastal Southern town that Brody comes face to face with the one woman he's never been able to forget since their smoking hot night together. Knowing only her first name, Rose, he sets out to see if she's interested in a date…or two or ten. But things are not exactly as Rose–who Brody finds out is actually named Magnolia–had let on years ago. Either that or her life has drastically changed since her college days. Unsure if it's a good idea to get involved with Mags, Brody can't deny that the sizzle is still there and knows he'll regret it if he doesn't at least give things a try.
'Her hand on mine. It's the first touch we've had in years and it lights a smoldering fire within me that starts to burn hotter and brighter.'
Willow Winters toyed with my emotions expertly with Tequila Rose, a complex romance which had a storyline that put our heroine's–and this reader's!–heart to the test.
'He pulls me into his chest and holds me. He always has. Every time I come so close to breaking, this man has been here for me.'
What an interesting mix of tropes and personalities Willow Winters created for Tequila Rose. Without giving too many details away, I can say that it ran the gamut from high school sweethearts to a one-night stand to a secret baby and even a second chance romance. That's a lot, right? It is, but it was all woven together in such a way that, even though it was all kinds of tangled up, the progression worked. Especially with Winters' use of flashback passages that explained the changes–good and bad–to Magnolia's life over the past four or so years.
I really thought Magnolia handled the messy parts of her life with as much grace as she could for someone in her situation and being in her early twenties. That being said, I did shake my head a few times when she ran away from Brody instead of staying put and dealing with things right then. I think that's part of why I wasn't always convinced of Magnolia's feelings towards Brody and another man in her life. There was so much back and forth between them all that it didn't feel like we ever truly got to see the depth of her feelings for either guy. But where this is a duet of books, I have a feeling that Autumn Night Whiskey will delve further into the emotions and connections Magnolia has with them.
If you're looking for a fast-paced small town romance that will keep you interested as well as scrambling for the next book after that teaser of an ending, Tequila Rose is just the story for you.
Book Info:

Publication: Published February 23rd 2021 | Willow Winters | Tequila Rose #1
He tasted like tequila and the fake name I gave him was Rose.
Four years ago, I decided to get over one man, by getting under another. A single night and nothing more.
I found my handsome stranger with a shot glass and charming but devilish smile at the end of the bar. The desire that hit his eyes the second they landed on me ignited a spark inside me, instant and hot. He was perfect and everything I didn't know I needed. That one night may have ended, but I left with much more than a memory.
Four years later, and with a three-year-old in tow, the man I still dream about is staring at me from across the street in the town I grew up in. I don't miss the flash of recognition, or the heat in his gaze.
The chemistry is still there, even after all these years.
I just hope the secrets and regrets don't destroy our second chance before it's even begun.

Related