Set to Music by Negeen Papehn: Darya is trying to be the best doctor that she can be while still being the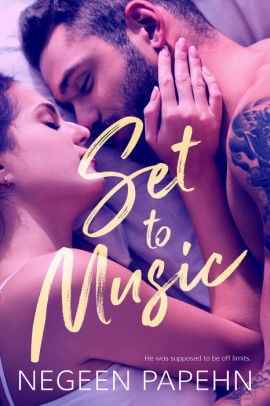 perfect Iranian daughter, taking care of her single mother and supporting her younger sister. The last thing she needed was to be thrown on tour with Grammy winning rock star Anthony Castillo. But when Anthony rushes his little brother Carlos into her E.R after passing out during a concert, Darya finds herself stuck between wanting to keep her distance from the magnetic musician and finally taking the help that she so desperately needs.
There is little more important in life than the safety and wellbeing of his younger brother so when Carlos is rushed to hospital Anthony knows that he will do whatever it takes to ensure that his brother stays healthy and of that means bring the sexy young doctor on tour with them then that is exactly what he will do, never mind the fact that he can't keep his eyes of her. This will definitely be one interesting tour that is for sure.
"Despite our unexpected pairing, we fit, in a way I didn't think I'd ever experience. And now that I have him, I'm not sure I can let him go."
A medical romance mixed with a musical one, this was just perfect! I absolutely loved watching Darya and Anthony opening up to each other and slowly bring down their walls, only to fall hopeless in love with each other. This is definitely one of those book that will have you tearing up along the way, so keep those tissues handy!
I was absolutely thrilled that both lead characters came from such rich cultural backgrounds and to have them represented so vividly. It was amazing to have the lead female character come from a Persian background and for the culture to be so beautifully represented in the novel. As well as that Anthony and Carlos portrayed their Mexican heritage with so much life and vigor. I absolutely loved that this novel was so inclusive in both cultures as well as the LGBTQ community.
I loved the connection that these two characters created and that they were both so heavily rooted in their family. Watching them face the challenges set in front of them and the way in which they faced them was very well written and very relatable. I absolutely loved Carlos and Mike, though I do wish we got to see a bit more of how their relationship played out.
Overall Set To Music was definitely a must read for many different reasons but the biggest being that it played out into a beautiful love story that felt realistic and relatable. But keep those tissues handy!
Book Info:

Publication: March 15th 2021 | Entangled Publishing, LLC (Amara) |
Dr. Darya Zameeni doesn't have time for interruptions—in her ER, or in her life. Especially not from the gorgeous man pacing in her waiting room. With mountains of student debt, an ailing single mother, and a younger sister to support, Darya can't afford to get sidetracked, even though they can't take their eyes off each other.
Disillusioned Grammy-winning rock star Anthony Castillo's night wasn't supposed to end like this—in the ER, panicked after his little brother's sudden collapse on stage. The band cannot go back on tour without Carlos, but his brother needs constant medical attention. When the beautiful, no-nonsense Dr. Zameeni treating Carlos shows no interest in their fame, he decides she is the perfect candidate for the job. If only he can convince her—and himself—that he wants nothing more.
Darya can't imagine leaving her job, even temporarily, to follow a rock star around the globe. She's expected to be the perfect Iranian daughter, after all. But Anthony's offer comes right as she needs the money and she cannot deny their attraction.
Family is everything to them both. With so much to lose, the smart thing would be to go back to their lives and forget they'd ever met. But doing the smart thing has never seemed so wrong…

Related