The Player by Stefanie London is a sexy enemies to lovers romance and the fifth story in the author's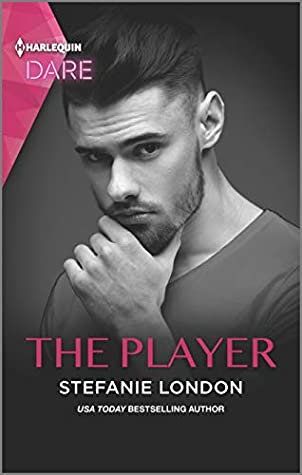 steamy Close Quarters series.
Board game developer Emery Daniels is working hard on her company's third offering, having had a hugely successful debut but not stellar followup. What she doesn't need is the sound of her neighbour, art gallery owner Rowan Lively, having sex with his latest partner which she hears through the bathroom wall. It only serves to remind her that her own dating life has been pretty scarce for a while. Pounding on his door, she discovers that he's actually by himself and what she'd been hearing was a little self action – pretty embarrassing. She'll take a while to live that down. Rowan however just finds it amusing, since in fact he rarely has time for any dating himself what with keeping his mother's dream, her art gallery, going since she's passed away.
At the latest gaming convention, Emery is happy to cosplay as a popular assassin character while getting some honest feedback about her upcoming game, though she's not that happy with what's being said. Worried about the criticism, the appearance of a man dressed as Batman who gets rid of a rude customer is a relief. When she offers to give her black knight a private tour behind the scenes, their instant attraction leads to a sexy encounter but a shocking revelation – Batman is none other than Rowan! While she'd be happy to forget the whole thing ever happened, Rowan isn't – in fact, he's quite intrigued by this other side of Emery than the overworked, grumpy woman he usually sees in the apartment hallway. Could their animosity be turned into something much more enjoyable?
I've been enjoying all the books in this series and am delighted to have Emery's story at last, plus I've always been a big fan of the enemies to lovers trope. Rowan is intrigued by Emery, and once they get past the initial awkwardness of what happened at the convention, he has a proposition for her. He'd like to have her game, with all the art that is involved in the development of the game, debut at his gallery during the anniversary event that he puts on in memory of his mother. It's a chance for her to get her game out to a totally new audience, a fresh start with people who won't know the history of her last two games. Emery takes him up on his offer so of course they have to spend more time together, and in doing so they discover that their chemistry was not just a one time thing. And going from enemies to friends to lovers means they start to share things with each other, including Rowan's complicated feelings about his parents and his mother's death.
There are some great secondary characters in this story, with Rowan's brother Dom and partner Glen who also live in the building becoming friends with Emery (and enjoying some board gaming nights together). Plus, all the women friends from the earlier stories in the series spend some time together too. Rowan and Emery have some bumps in the road before they get to their happy ending but it's a satisfying one. Whether you're a fan of gaming or not, the behind the scenes look at what goes into developing a board game is an interesting one and I really enjoyed this aspect of the story as well as the romance. It's a great way to close out the series!
Book Info:

Publication: Mar 01, 2021 | Harlequin Dare | Close Quarters #5
Rowan Lively is the neighbor from hell, with a parade of beautiful women only too happy to stroke his inflated ego. And I can't take another night of listening to him making those noises through the paper-thin walls. I need to design my latest board game, not fantasize about my gorgeous neighbor.
Anonymous fun with a costumed hottie at a gaming conference is a sexy distraction from terrible online reviews and conflicts with my creative team. I'm craving a physical release to put Rowan out of my mind. Until our true identities are revealed, and I find myself in a compromising position with my neighborly nemesis…
Now I can barely look Rowan in the eye, and the sparks between us are hot enough to burn down the building. Soon we're waking the neighbors with our passionate games and working together on a new exhibit for his Melbourne art gallery. And even though I know the score—this is just a fling—I can't help wondering…will he ever play for keeps?

Related