The Dating Plan by Sara Desai: Daisy Patel loves her job as a software engineer with all its lists and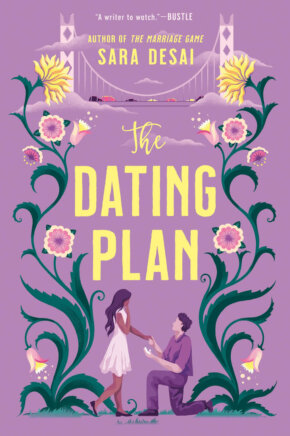 numbers this is her happy place, one without the complication of boyfriends or office politics. With her life going exactly the way she had planned the only problem Daisy has is her family and their deep desire to see her married and settled. Wanting to be the best daughter she can be and desperately wanting to get the meddlesome aunts of her case Daisy does what any smart people pleaser would; enlist the help of her high school crush Liam Murphy to play the role of her fake fiancée.
Venture capitalist Liam Murphy is living his best life taking the business world by storm however there is one hiccup, in order to receive his inheritance Liam must be married! So when his best friends little sister has the perfect solution to both of their problems Liam doesn't think twice about getting into a fake relationship with Daisy, never mind that these two share a history. Soon Daisy and Liam find that what was supposed to be the easy solution is more complicated than either expected with some very real feelings resurfacing.
"She was his keeper of secrets, the light in his soul."
I have fast come to love Sara Desai books and The Dating Plan has to be my favorite yet! I am a huge fan of the fake fiancée trope and this book has knocked my socks off. I absolutely loved watching the fake relationship dynamic mixed in with the expectations of a traditional family play out. But really it was Daisy and Liam's steamy hot chemistry that stole the show, I loved this couple to bit and seeing them falling for their own plan was just delicious!
After not seeing each other for a good ten years their reunion was most definitely hilariously cringey, no girl wants to run into a hot guy let alone her former crush while holding feminine care products! This only just set the tone to what was a brilliantly witty and hilarious relationship. With a marriage crazy aunty hiding a prospective groom at every corner it was impossible not to laugh throughout this book.
I absolutely loved Liam and once we got to know the reason for him crushing young Daisy's heart all those years ago you will only love him more! It was really nice getting to see these two characters support each other as they face their burdens and obstacles together. Family was such a big theme in this book and it was nice getting to see how both characters deal with their respective families.
The Dating Plan is definitely a cute and funny fake romance turned real read, this is one I would recommend all romcom lovers read!
Book Info:

Publication: March 16th 2021 | Berkley |
Daisy Patel is a software engineer who understands lists and logic better than bosses and boyfriends. With her life all planned out, and no interest in love, the one thing she can't give her family is the marriage they expect. Left with few options, she asks her childhood crush to be her decoy fiance.
Liam Murphy is a venture capitalist with something to prove. When he learns that his inheritance is contingent on being married, he realizes his best friend's little sister has the perfect solution to his problem. A marriage of convenience will get Daisy's matchmaking relatives off her back and fulfill the terms of his late grandfather's will. If only he hadn't broken her tender teenage heart nine years ago…
Sparks fly when Daisy and Liam go on a series of dates to legitimize their fake relationship. Too late, they realize that very little is convenient about their arrangement. History and chemistry aren't about to follow the rules of this engagement.

Related