Sandcastle Beach by Jenny Holiday is the third book in the Matchmaker Bay series. This was a new-to-me author and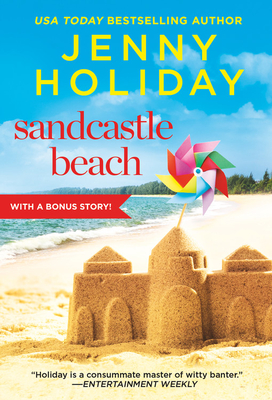 I was new to the series but I do not feel I missed anything by not reading previous books. I really enjoyed how the author used the enemies to lover's plot and slowly built up the shift in the main character's relationship. At times I find books in this troupe too rushed because the change in the main character's relationship seems to happen overnight. The pacing was perfect, and the writing flowed effortlessly. The story takes place in the small town of Moonflower Bay which is a small town with plenty of meddlers and traditions.
The entire town knew of the animosity between Maya Mehta and Benjamin Lawson. Annoying each other was their "thing" and became more of a hobby over the years. Maya owned the town's theater, but she was struggling to keep it open. The town council announcing they would be funding a grant for one of Mooneyflower Bay's business owners who contributes to the economy and culture of the town was good news for Maya. Winning the grant would help keep her theater open and having the famous Holden Hampshire, an actor and previous boy band, play a role in her Much Ado about Nothing show would help also.
Lawson's Lager House had been started by Benjamin's grandfather and he wanted to continue the legacy, but he also wanted to open a restaurant. He had found the perfect building but did not want to use the bar as collateral. Winning the grant would help him acquire the building without taking such a risk. He knew it would require hard work starting a restaurant and running the bar, but it was his dream.
This was such an amazing book, and I adored the characters. I could not stop laughing from all the snarky banter and barbed interactions between Benjamin and Maya. The chemistry between them was so strong and could be felt from the beginning. Benjamin's feelings for Maya were complicated as he felt attracted to her but really enjoyed annoying her also. Stocking her favorite wine just for her and all the other small things he did for her was just so sweet. Even though their relationship as enemies ended, they still continued with their snarky exchanges because it was just their "thing." I loved how they kept adding to the "their thing" list. I really enjoyed this book and look forward to future books by this author.
Book Info:

Publication: March 9, 2021 | Forever | Matchmaker Bay #3
Maya Mehta will do anything to save her tiny, beloved community theater. Put on musicals she hates? Check. Hire an arrogant former-pop-star-turned-actor? Done. But what Maya really needs to save her theater is Matchmaker Bay's new business grant. She's got some serious competition, though: Benjamin "Law" Lawson, local bar owner, Jerk Extraordinaire, and Maya's annoyingly hot arch nemesis. Let the games begin.
Law loves nothing more than getting under Maya's skin, and making those gorgeous eyes dance with irritation. But when he discovers the ex-pop star has a thing for Maya, too, Law decides he's done waiting in the wings-starting with a scorching-hot kiss. Turns out there's a thin line between hate and irresistible desire, and Maya and Law are really good at crossing it. But when things heat up, will they allow their long-standing feud to get in the way of their growing feelings?

Related