Just Like in the Movies by Heidi Rice: Ruby loves the magic of the big screen and the beautiful escape that they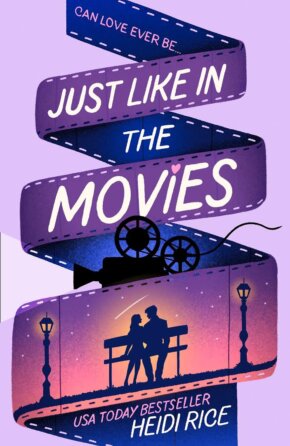 provide, so when she meet Matty they had an instant connection, so much so that he became more than just her employer, he was more her substitute father and mentor. So when Matty dies and leaves half of the Royale Theatre to Ruby she is determined to turn things around and bring her mentors favorite place back to its former glory, the only problem being the other half of the Royale has been willed to Matty's nephew Luke.
Luke is over Hollywood and the spotlight, having come from famous parents the last thing Luke wants now is to have to deal with The Royale. But alas Luke doesn't have much of a choice in the matter not with having the place being willed to him and the overly enthusiastic Ruby trying her hardest to revive the place. But the question is will these two enemies turn into lovers and find their movie happy ending?
This is a first book by Heidi Rice for me and I do have to say there is definitely something about her writing that holds a lot of promise for future books. Just Like In The Movies is definitely your classic enemies to lovers romcom, with a moody broody hero and a sweet bubbly heroine. I absolutely loved all the movie references, this is definitely a movie lovers book.
I am a huge fan of the opposites attract trope and Ruby and Luke just played into this role perfectly. I loved the way Ruby's sweet bubbly optimistic nature balanced out all the grump that Luke had blocking his soft heart. It was super cute watching these two come together to grown and heal each other. The only negative for me was that I felt Luke got a more character development and backstory apposed to that what was given to Ruby, nevertheless this was just a minor thing.
Over all Just Like In The Movies was a cute romance that touched on a number of sensitive topics all while still being able to proved a cute movie like happy ending.
Book Info:

Publication: March 12th 2021 | Harper Collins UK, One More Chapter |
The Wizard of Oz (1939)
Ruby Graham's verdict: I want to live in Oz, where danger is defeated by friendship, your dreams are always in glowing Technicolor and you can get a pair of absolutely gorgeous ruby slippers simply by landing a house on a hag!
Luke Devlin's verdict: Flying monkeys? Seriously?
The late Matty Devlin was so much more than Ruby Graham's boss. He was her best friend, her father-figure, and she is showcasing a series of his favourite classic movies at the independent cinema in Notting Hill which was his life's work … and of which she is now part owner.
Matty left the other half of The Royale to his nephew, Luke,the elusive Manhattan property developer and rumoured son of a Hollywood icon.
It's all beginning to sound like the plot of one of Ruby's beloved films until it becomes clear Luke is no more interested in swooping in to save the crumbling Royale than he is in talking about his famous father. He's bad-tempered, cynical, and he couldn't care less about the cinema!
But saving The Royale is about far more than just Matty's legacy. The Royale is the only place where Ruby gets to live in a world of dreams and happy endings, a place where there are no lost causes, and where falling in love is just like in the movies … or is Luke about to change all that?

Related