Framed in Death Valley by Dana Mentink is the first book in her Desert Justice series. This is a well-crafted, well-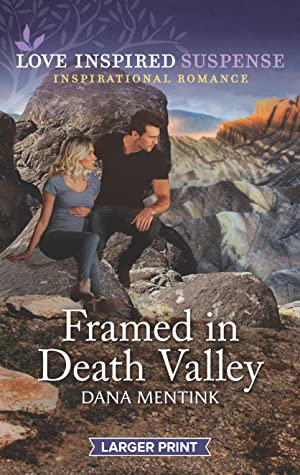 plotted story. Ms. Mentink managed to keep me guessing as to who the actual murderer was until the end.
Laney Holland-Duke was a happily married wife for all of five weeks and then the rug was pulled out from under her. Her husband, the love of her life, Beckett Duke was arrested for murder. The two of them were running the resort hotel Beckett owns together one moment and the next Laney was on her own. Laney believed her husband was innocent. It was bad when Beckett refused to allow her to visit him in jail. But that wasn't the worst part. No! The worst was the day Laney received the divorce papers from Beckett. How could he? They both promised, "for better and for worse" on their wedding day. Add to this heartbreak was the fact Laney found herself pregnant. It's a wonderful thing. She was told she would never be able to get pregnant. But it would be hard to raise a child on her own. Then Beckett was released from jail. The case was dismissed because of improper police procedure. He wouldn't come back. Would he? What would she do if he did come back?
Beckett Duke was madly in love with his wife Laney. He had to protect her from any backlash in the small town of Furnace Falls. That's why he sent the divorce papers. Laney shouldn't have to suffer due to his situation. Beckett was innocent. Someone framed him for the murder of Pauline Sanderson, a guest at his Hotsprings Hotel and a female Beckett knew from high school. It seems that hardly anyone believes in his innocence. Beckett knew that after his release he had to return to Furnace Falls. Two days before his release he was jumped by some inmates and beaten. The message was that Pauline's brother Kenny planned to get revenge for his sister's murder by killing Beckett and Laney. Beckett had to go back and protect Laney.
I couldn't stop reading until I found out. Plus there's tons of action in this book with several attempts on the lives of the two main characters Laney and Beckett. I liked seeing the character growth of both of them, especially Beckett's. I can't wait to see who this author features in the next book in the series.
Book Info:

Publication: March 1st 2021 | Love Inspired Suspense | Desert Justice #1
A killer who will stop at nothing…
Framed for a murder he didn't commit, firefighter Beckett Duke gave up on everything—including his marriage to spirited Laney Holland. That is, until Laney's life is threatened. Knowing the real killer is still at large, Beckett now has one purpose: protecting the woman he loves…and their unborn child. But sometimes an innocent man's second chance comes with a deadly price.
From Harlequin Love Inspired Suspense: Courage. Danger. Faith.
Desert Justice
Book 1: Framed in Death Valley

Related