In Forever Never by Lucy Score, As a cop and small business owner on Mackinac Island, Brick Callan is used to doing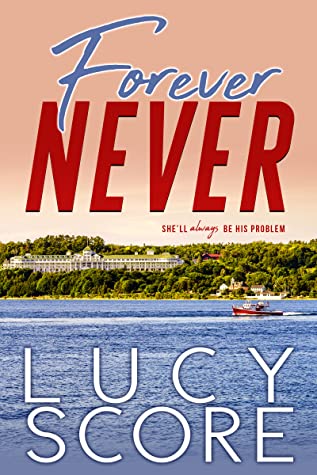 the right thing and taking care of those around him. In such a small, tight-knit community it's just the way things are. The one person who has always pushed at his do-good nature is painter and former island rebel, Remi Ford. Brick knows there are too many reasons nothing should ever come of his long-time attraction to the fiery redhead. But tell that to his heart–and his body. When Remi makes a sudden appearance on Mackinac, Brick knows something's not right. And even though he should stay clear of her, he knows he'll come to Remi's rescue just like always. Although with danger lurking around the corner and their arguments–er, conversations proving their feelings are as strong as ever, Brick wonders if this is the time to throw caution to the wind and take chances he normally wouldn't think of taking.
"Why should I be afraid of you?" she repeated…
"Because if you knew all the things I wanted to do to you, you'd leave town tonight and never look back."
Remi will admit that when there's trouble in her life two things can be counted on: her loving family on Mackinac and Brick Callan. And right now she needs a place to recuperate as well as plan her next steps to keep herself safe. She hates to bring danger to her little island community but there's no other option if Remi wants to stay ahead of what is creeping up on her. But Brick? Nope. Hard pass on getting him involved in her messy life. Well, that was the plan anyway until the grumpy and oh-so-sexy cop is literally everywhere Remi goes. Doesn't help that Brick knows her so well. He's aware she's not telling him something, which only leads to him digging in his heels until she admits she needs help. Although Remi wouldn't have dreamed that her heart is what is in the most danger of all when she realizes there's a whole lot more to what's between her and Brick than she assumed.
"If I let myself touch you? If I let myself go? Neither of us would survive."
"Well, somebody ate a bowl of Humble Flakes for breakfast this morning. Your chivalry is so admirable," she snapped.
Forever Never was all the things I love about Lucy Score's writing all in one book: giggle-snort-worthy moments, suspense and danger, offbeat characters you can't help but adore, and lots of steamy romance. I'm talking melt-my-kindle HOT love scenes. Plus the setting was amazing. What more can you ask for, right? Well, evidently Score is a giver because even with all that goodness, she added in an intriguing history between our main characters, rich with angst, unrequited feelings, and enough sparks of attraction to light up the dreary winter nights on Mackinac Island, that's for sure. And I should note that Forever Never clocked in at just a smidge under six hundred pages, so be prepared. But I honestly have to say that it moved along at a good clip and didn't seem too wordy. Everything flowed wonderfully.
'She was unsurvivable. A man didn't just get up and walk away from Remi Ford. He stared up at the sky and wondered what the hell had just brought him to his knees.'
Trigger warning: View Spoiler »Domestic abuse, murder. « Hide Spoiler
Remi and Brick. What a tangled up relationship they had. Not all of it bad, though, thankfully. Score did an excellent job of carefully placing flashback chapters or passages throughout the story at just the right time to show us why Brick and Remi were in the predicament they found themselves in present day–and why they hadn't just completely given in to their chemistry yet. It was all kinds of complicated. Yes, Brick had valid reasons why he didn't want to act on his feelings. And, yes, Remi had reasons to be hurt by his choices. But I really loved watching them sort it out, learning the details of their history together and seeing the depth of their connection blossom.
That connection was made so much more interesting by Brick and Remi's differing personalities. He was a huge mountain of a man, broody and with a loyal heart and a white knight complex. I mean, he was a cop, so point made. She was the artistic wild child who loved to push boundaries and loved just as fiercely. So basically, Remi and Brick were polar opposites in many ways. But it totally worked. They balanced each other out to perfection and had a passion between them that was so strong it consumed them. Score pulled out all the stops for the love scenes, which were steamy to the point of having an erotic, kinky edge to them. Although you won't find me complaining. *grins*
Whether you're already a fan of Lucy Score's work or even if you're a newbie, Forever Never will be a memorable romance to savor over and over. Highly recommended.
Book Info:

Publication: Published March 4th 2021 | That's What She Said Publishing |
You don't fall for your brother's high school sweetheart, your boss's daughter, or your ex-wife's best friend. Especially when they're all the same woman.
Under Brick Callan's mile-wide chest beats a loyal heart with a few cracks in it. He's the steadfast, overprotective type. Especially when it comes to the one woman he can never have. It's a long, complicated history punctuated by fights, friendship, family, and an attraction that strains his iron willpower.
When Remi Ford returns to Mackinac Island in the dead of winter with a secret, Brick makes it his mission to find out what put the shadows in those green eyes. Even if it means breaking down the walls he's built between them. Even if it means falling for the one girl he'll never get over.
The free-spirited artist just needs to lay low for a few weeks so she can figure a way out of this nightmare. She's definitely not staying. Not when the man who broke her teenage heart into splinters keeps showing up at her parents' dinner table. Remi doesn't need broody, bearded Brick riding to her rescue…again. Not when it will put them both in danger, costing them much more than their hearts.
Author's Note: Frenemies-to-lovers. Opposites attract. Slow burn. Girl in danger. Glorious, glorious banter. Fighting as foreplay. Small-town shenanigans. Big, grumpy, pining, overprotective hero. Wild-child, trouble-finding heroine who keeps on pushing the hero's buttons. Steam Level: Lava. Suspense: Nail-biting. Feels: Big time.

Related