Someday My Duke Will Come by Christina Britton is the second book in the Isle of Synne series but was certainly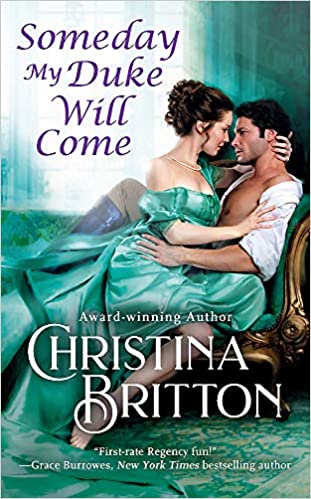 good reading as a stand-alone. The main characters, Clara and Quincy, meet in the first book when they are introduced by Peter, who is Clara's cousin and Quincy's best friend. Quincy and Peter met when they were younger and were business partners in America when Peter became the Duke of Dane (A Good Duke is Hard to Find.) In this book, Quincy has come to London to see Peter before he goes exploring the world. I've not read many books by this author, but this book has made me a fan. It was easy to read, had great characters, and caught my attention in the beginning. The storyline was believable, and you couldn't help but feel touched by the characters.
Quincy Nesbitt ran away from home at the age of fourteen after overhearing his mother's cold plans of sending him to the navy after his father died. After years away from London he dreaded seeing his family again when he returned, but he felt it was time to face them and find closure from the pain of the past. He was shocked when he learned his brothers had all died and he was now the Duke of Reigate. He didn't want the title or responsibilities that came with it especially when he learned his brothers had impoverished the estate with their greed. His dreams of traveling the world dimmed when he realized he could either save the estates or travel with the money he had earned from selling their business in America. He was shocked when his mother introduced his older brother's fiancée and tried to force him to marry her. He was relieved when Clara spoke up and said he couldn't marry her because Quincy was already engaged to her. Their plan was to pretend to be engaged until Clara's sister got married and then they would end their engagement but neither of them expected to develop feelings for each other.
Lady Clara Ashford had taken up the responsibilities of raising her younger siblings at a young age when her mother passed away. When she turned fifteen, she met a boy who lied to her and took her innocence. She was heartbroken and decided to devote herself to caring for her family. She had felt the connection to Quincy when they were introduced but she knew she could not risk her heart again. Her feelings grew as she witnessed his shock and grief from the death of his brothers. Hearing his mother callously announce he was to marry his previous brother's fiancée to a shocked Quincy; she immediately jumps to his rescue. Only later did they realize the consequences but they both agreed they would benefit from the arrangement. Their fake engagement would stop her family from trying to find her a spouse and he could escape his mother's plans. Their friendship grew into a love for one another, but Clara feared her past would never allow her to marry.
I was surprised by how much I enjoyed this book and I have decided to read the first book to see when Clara and Quincy met. The characters were perfect for each other and their emotions so sincere and heart-touching. Even though Quincy had a rough childhood his personality was warm and cheerful. My heart ached for him when he learned his father might not be the idol that Quincy thought he was. Clara was devoted to her family and missed out on a lot of youthful experiences. She had let the fear of her past shape her future into a cold empty life. Her exposing her past to her family and loved ones took a lot of courage but it also helped her to realize she had closed herself off to protect her heart from being broken again. This was a perfect friendship to love romance that was heart-warming and left me with a smile on my face.
Book Info:

Publication: January 26th 2021 | Forever | Isle of Synne #2
Lady Clara Ashford's world changed fifteen years ago at the hands of a rogue who took her innocence. Determined never to give into temptation again, she settles into a life as caregiver for her family. With her younger sister recently engaged and about to embark on a life of her own, Clara feels adrift and without purpose―until Quincy, the new Duke of Reigate, arrives on her doorstep in need of a fake fiancée.
When Quincy Nesbitt unexpectedly inherits a dukedom, he's determined to do his best by the title. One thing he won't do? Marry a woman he's never met just because she was engaged to his older brother. So, he enlists Lady Clara's help, since he can't marry another when he's engaged to her. But as they pretend for the ton, Quincy finds himself falling for real. Now, he just has to convince Lady Clara to take a chance on him.

Related