Branded by a Song by L.J. Evans: After releasing three chat topping country rock albums you would think that singer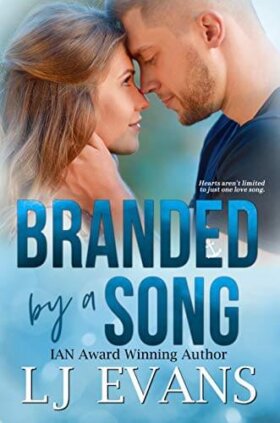 Brady O'Neal would be in his prime of his career but if the critic have anything to say about this they would definitely disagree, with reviews saying that his music is one big repetition of the other, people are beginning to question has Brady lost his touch? With his inner circle telling him to ignore the critics Brady cant help but wonder if they might just be on to something, which is exactly what bring Brady back home to Grand Orchard. Heading home in the hope that he will be able to find what is missing in his music, while he gets to spend some quality time with his sister.
Life really has dealt Tristan Morgan a bad hand, first she loses her Navy husband soon after the birth of their daughter Hannah and then she loses the one person who has always had her back; her grandmother. Barely holding it together Tristan is doing her best to keep it together for her daughter and keep her grandmother's music store open. The last thing she needed was for hot shot country singer and her grandmother favorite student to saunter back into town and woo her with his sweet words. But will Tristan be able to open up her heart once again to another man that will leave her alone for long stretches at a time?
"You're doing something for me. You're filling in all these gaps in my soul I could never see before but always felt. Emptiness. When I'm with you, all the holes go away, and all I feel is complete."
This was such a beautifully written book that captured Tristan and Brady's love story so perfectly. I loved that both main characters were so connected to art but each in their own medium, Brady his music while Tristan found solace in paint.
"We would be art. We would be paint and chords blended together."
I loved Brady, he was such a soft and caring guy that wanted to help the people that mattered the most to him. I absolutely loved the relationship that he had with his sister, but his mother on the other hand was a total meanie! As for Tristan, gosh my heart broke for her, talk about going through hell and still managing to be the best mum for her daughter.
"I want to give you both all the stars."
"We don't need the stars, but I kind of think we might need you."
I absolutely loved Hannah and that she was wise and gifted beyond her years, also that she helped bring Tristan and Brady together. I loved watching these two characters realise that they had so much more in common with each other and seeing Elana help two of her favorite people come together even after she had passed.
This was the first book by L.J. Evans for me but I can definitely say it will not be the last. Evans has a knack for combining beautiful lyrics and a powerful story to create a captivating and moving novel. Brander By Song was a beautiful emotionally charged second chance small town romance that I would definitely recommend!
 
Book Info:

Publication: February 3rd 2021 | L.J. Evans |
Has this country-rock legend finally met his match? A woman who can fill the aching void for "more" that's been missing from his life?
Brady O'Neil tells the world he's temporarily returning to upstate New York to help his sister. While it's the truth, he's also searching for the soul his music has lost. Certain his childhood mentor can help, he seeks her out and finds a woman trapped in the past instead. A woman who makes him want to stay like he never has before.
Losing her grandmother feels like yet another blow the world has dealt Cari. Keeping the music store and her daughter afloat is all she can focus on, and Grams' beloved student sauntering in doesn't change anything. He's just another adventure she can't afford.
Conceding that Brady holds the solution to her troubles doesn't mean he can have her heart. After all, she buried that bruised organ alongside her husband years ago.
Can Brady convince her that hearts aren't limited to just one love song?

Related