The Devil in Her Bed by Kerrigan Byrne is the third and last book in The Devil You Know Series. Each book can be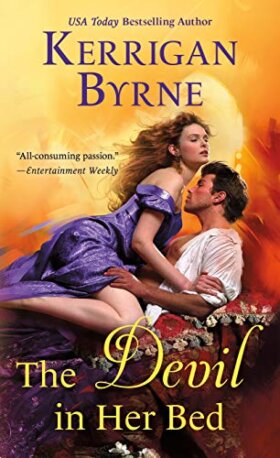 read as a stand-alone but I feel like reading them in order is needed in order to understand all the twists. The series is based on three unconventional women who attended the same girls boarding school and formed a strong friendship. They started their own secret club called the Red Rogues Society due to the color of their red hair. One horrible night strengthened their friendship and united them.
Pippa Hargrave survived the heartrending night of the Mont Claire massacre when her family and friends were murdered. She thought Declan Chandler, the love of her childhood, had also died that day after saving her. With the help of Serena, a Romani, she took up the identity of her dead friend Francesca Cavendish and the title of Countess of Mont Claire. She has prepared and anticipated her revenge for years and she is so close to infiltrating the Crimson Council and achieving it.
Declan Chandler, a spy for the Crown, was a master at disguises and known by many names. He was called the Devil of Dorset and was the weapon of the Crown. He works for the unofficial Secret Service and is the one they send in when they need someone merciless. His mission was to shut down the Crimson Council and their threat to the Crown. He was obsessed with Francesca and wondering what her connection to the council was.
I really enjoyed the series, but this book was not my favorite. I loved all the intrigue and action, but Chandler was disappointing. He was supposed to be such a wonderful spy, but he never caught on to all the hints that Francesca gave him about her true identity. He was obsessed with Francesca and his childhood memories but never would talk about Pippa. He fell in love with the idea of Francesca but never really knew her. I did enjoy all the banter between Chandler and Francesca and all the twists and turns of intrigue.
Book Info:

Publication: March 9, 2021 | St. Martin's Paperbacks | Devil You Know #3
He lives in secret service to the Crown—a man of duty, deception, and an undeniable attraction to a woman who threatens to tear his whole world apart.
They call him the Devil of Dorset. He stands alone, a man of undeniable power. Moving in and out of shadows, back alleys and ballrooms, he is unstoppable and one of the Crown's most dangerous weapons. However, when he sets his sights on the undeniably beautiful Countess of Mont Claire, Francesca Cavendish, he doesn't realize that he has met a match like no other.
TRUE LOVE WEARS NO DISGUISE
Francesca is a countess by day and stalks her prey—those responsible for the death of her family—by night. What she does not expect is to be thrown into the path of the devil himself, the Earl of Devlin. She has secrets of her own and he seems determined to lay them bare. Can her heart survive finding the love of her life and losing him when all is revealed?

Related