Secret Billionaire On Her Doorstop by Michelle Douglas: Callie has lived all her life with her mother in Sydney,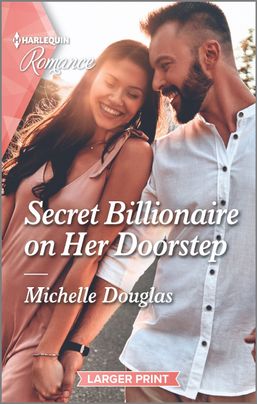 Australia. When she gets a call to come to New York for the reading of the will of her late grandmother, she is shocked. Her mother has never told her she had a grandmother or why they had ended up in Australia.Callie figure she has nothing to lose after a recent heartbreak, so she sets off.
She discovers she has inherited a fortune between an apartment block and lots of money. The only condition is she needs to live in the apartment where her grandmother lived out her final years. The executor of the estate is Owen Perry, who turns out to live in the bottom of the apartments and works mainly from home.
They have a rocky start in getting to know each other. Owen thinks Callie is a gold digger after she questions him about her mother's share of the inheritance and Callie thinks Owen is hiding a lot of information about her grandmother.
They slowly come to trust each other, but are afraid of more than a friendship. Can they ignore the sparks that keep jumping between them?
Owen is a wonderful beta hero. He and his mother worked for Callie's grandmother for years and Owen was with her at the end, so she didn't have to be alone. Owen may not have a physical type job, but he is certainly a man who is capable of great passion.
Callie is presented as more than a bit "gun shy" when it comes to getting too close to a new man. She is really more interested in who her grandmother was and why there was a huge rift with her mother. The extra mystery makes for a truly layered story and adds some suspense.
Secret Billionaire On Her Doorstep is for those who like some extra sizzle in their romance novels.I have read one of the author's previous novels, Singapore Fling With The Millionaire and hope to read more by this prolific writer in the future.
Book Info:

Publication: March 1, 2021 | Harlequin Romance |
A shocking inheritance…
An emotional journey…
After a heartbreak in Sydney, Callie's ready to start afresh in New York! But staying in an apartment she inherited from a grandmother she never knew leads to many unsolved family questions. Luckily, her intriguingly handsome new neighbor, Owen Perry, has agreed to help. Callie's not ready to start dating…so why are the sparks of attraction igniting between her and Owen? Especially as there's so much he's not telling her!

Related