In Changing the Rules (Richter #1) by Catherine Bybee, When Claire Kelly joined Neil MacBain's security team in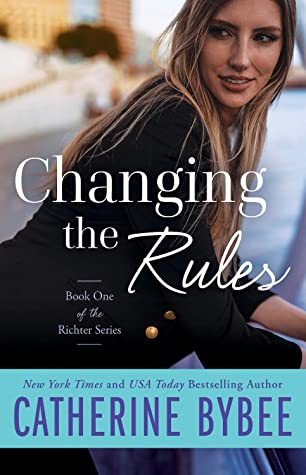 the US, she brought with her a whole lot of cynicism and a toolbox full of spy-worthy skills thanks to her time at Richter–a private military school in Europe. Even though it wasn't the best place to grow up, it gave Claire advantages she can use on her assignments. Especially this newest one. Infiltrating a local high school to take down a prostitution ring is going to take all of her focus, and that of the team, to solve the case safely. When a friend from the past, Cooper Lockman reappears in time to go undercover with her, Claire knows he's a distraction, thanks to their obvious chemistry. Which could mean dangerous things–for their case and their hearts.
She did a weapons check, chambered a round, and tucked it in her purse.
Cooper made a noise and she looked over. "Still works for you?" she asked.
"That's so hot."
"Put it away, Cooper. We don't have time for that right now."
Cooper is glad to be back in the US after a six year stint overseas working for MacBain's international clients. It was good to get some time away from his attraction to Claire, but he realizes it didn't change a thing once they are back in each other's orbit. Cooper's feelings for her are still every bit as strong today. And although seeing Claire in action while she poses as a high school student awes him with her ability, he knows it puts her in danger. Something that weighs heavy on his mind. Keeping them both out of harm's way while busting up the trafficking ring is his goal. But when things become even more complicated with every new thread they unravel, Cooper knows success will be a hard-won victory this time.
'He knew he was in deep. Knew before he returned to the States that with Claire, he flirted with falling too hard only to be left with a shattered heart in the end. But after the few stolen hours they used to their full extent, Cooper let himself hope.'
When it comes to writing contemporary romance with an edge of suspense, Catherine Bybee can do no wrong. Changing the Rules was an intense but fun novel where ancillary cast members from previous series found it was finally their turn to shine.
She turned in his embrace, wrapped her arms around his waist. "I'm really glad you changed the rules."
He leaned down and gave her a brief kiss. "I love you."
"I love you, too."
It was like visiting old friends, picking up Changing the Rules and getting a glimpse at the characters in this new spinoff. The story is mainly centered around Neil MacBain's team, specifically Claire and Cooper who we've seen before, but never quite as in depth as we did here. This jumps ahead about 6 years from when Claire joined Neil's team after leaving Richter. I will caution that you can read this as a standalone but I really think you'll get more out of it if you've at least read Sasha's book: Say It Again (First Wives #5). That set the stage for Claire's backstory and for her moving to the US, putting her skills learned at Richter into real world applications working assignments for Neil.
That's pretty much where this began, with Claire on assignment and with good guy Cooper back in the States to work on a human trafficking case with the rest of the crew. I really loved Cooper and Claire together. Theirs was a slow burn of a romance. But I thought it felt right, considering they were friends first–even with undeniable chemistry pulling at them. They had a nice rapport already and liked to flirt and tease, so their conversations kept me thoroughly entertained. And it was interesting to see how their bond deepened as Claire and Cooper were undercover at a local high school. It brought out parts of their personalities that I think surprised them. It showed the compassionate side of Cooper, helping students and becoming a mentor of sorts, which went a long way to help Claire–who had major trust issues–see that Cooper was a good bet romantically.
I did have to chuckle a bit that Claire was almost like Sasha's mini-me. (lol) Claire was definitely her own person, but she used similar snarky comebacks and had a skill set that will rival Sasha's with some more assignments under her belt. I loved any scene in which the two of them were together. And when Claire's best friend–and fellow former Richter student–Jax was with them? Pure awesomeness. I have a feeling that Jax will eventually be getting her own book too… *fingers crossed*
Changing the Rules was an exciting beginning to the Richter series, which is already proving to be fast-paced and full of heart. I think readers will enjoy every page Catherine Bybee painstakingly created and will be on the edge of their seats to see what is next.
 
Book Info:

Publication: March 23rd 2021 | Montlake | Richter #1
From New York Times and USA Today bestselling author Catherine Bybee comes the steamy first novel in her new adrenaline-fueled Richter series.
As an employee of MacBain Security and Solutions, Claire Kelly can certainly hold her own. Armed with an impressive set of covert skills, she's more than prepared to tackle any job that comes her way…except one involving Cooper Lockman.
Cooper and Claire used to work together before his feelings for her sent him packing to Europe for six long years. But now he's back and determined to ignore the still-smoldering heat that lingers between them.
Their current mission: go undercover together at a California high school to root out the mastermind behind a prostitution ring targeting young girls. The closer they get to the truth and the closer they get to each other, however, the deadlier their task becomes. As Claire and Cooper risk their lives to bring down their target, will their hearts be the final casualties?

Related