In Love at First by Kate Clayborn, Doctor Will Sterling spends most of his days and nights working in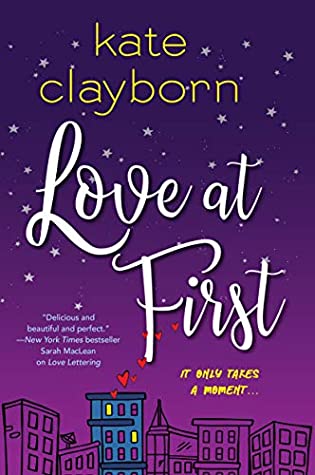 either a hospital ER or a walk-in clinic healing patients and putting them at ease. A far cry from the reckless teen he used to be before his world shattered at age fifteen. There was one golden moment, though, the day his life shifted. Will heard a melodic female voice high above him while he was standing outside his uncle's apartment window. A voice that would haunt him with its loveliness for years. So when Will inherits said apartment from his estranged uncle and hears that voice again from a few balconies above? It seems like a sign that it's finally time to meet the woman he's been dreaming of for so long. Too bad their attraction is stomped on by the fact that Nora Clarke–and her aging neighbors–are less than thrilled with Will's plan for renting the apartment out.
'Everything he saw when he looked at Nora, it was still a problem: his weaknesses, his past, his fear for how he figured he was destined to turn out, if he let himself get too close to her.'
Nora is kind of stuck in a holding pattern in her life. She moved from San Diego to Chicago to take care of her ailing grandmother and now has inherited her beloved Nonna's apartment. Working remotely and keeping up with her neighbor's lives–her chosen family–fills Nora's days enough (for the most part) to not miss out on a social life. That's all thrown for a loop when handsome Will wanders in, ready to redo his uncle's apartment and use it for short-term rentals. Nora and the other residents set out to change Will's mind in any way they can. But after several of their stunts backfire, a truce of sorts is called. Much to the danger of Nora's heart, considering the unbelievable attraction she and Will share.
"Nora," he whispered, and a delicious shiver went through her body… "I think we both know I'm not just coming over to deal with your bathroom fixtures."
She pressed her secret smile against his chest.
"You're not?" she said, feigning innocent surprise. "What're you good for, then?"
He laughed and lifted her, walking a few steps and dropping her onto the bed. "Other things"
Love at First was a sweet slow burn romance with a few fun twists to it–and it had a cast of lovable neighbors who nearly leapt off the page with their huge personalities. Paired up with Kate Clayborn's evocative writing style, it's easy to see why I cherished every moment reading this book.
"You don't have to love people the way you learned love at first."
I had so much fun with Kate Clayborn's latest. To the point that I immediately wanted to turn around and read it all over again when I hit that final page. It was a story that took its time–not that it was slow moving. There was just a nice pace to the build up of Nora and Will's relationship, from immediate attraction to being at odds about the apartment situation to then slowly falling in love. It was utterly sigh-worthy, the way Clayborn carefully crafted each scene. The emotions were big. The humor was at times subtle and other times laugh out loud. But through it all there was such heart and tenderness with how Clayborn handled Will and Nora's personal journeys as well as their romance that every single up and down they went through seemed genuine.
The characters. Oh my goodness, what a cast! Without giving too much away, I can say that Will was an awesome hero whose rather rough upbringing led him to be a kind, compassionate, practical people-pleaser. And an extremely sexy ER doctor…but I digress. His trust issues as well as his sense of responsibility made relationships tough for Will. But Nora got under his skin right away–the first time he saw her as a teen and again as an adult. Nora herself had an odd upbringing in some ways so she also became a person who was a giver. And who was extremely sentimental, which I thought fit her personality as well as her situation. Will and Nora together? Perfection. They had delicious chemistry which knocked them both sideways, much to the delight of the quirky crew of elderly neighbors and coworkers. A cast who stole the show a few times in the best of ways with their antics. Loved them all!!
A thoughtful, almost whimsical novel about loss and letting go, moving on from painful pasts, and falling head over heels in love with your supposed nemesis, Kate Clayborn thoroughly charmed me with Love at First. Highly recommended.
Book Info:

Publication: Published February 23rd 2021 | Kensington Books |
An Uplifting and Unforgettable Story of Love and Second Chances
"The most delightful cast of characters I've met in ages…a modern romance masterpiece."
—New York Times bestseller Christina Lauren
One of Goodreads' Hottest Romances of 2021!
A sparkling and tender novel from the acclaimed author of Love Lettering, full of bickering neighbors, surprise reunions, and the mysterious power of love that fans of Christina Lauren, Sarah Hogle, and Emily Henry will adore.
Sixteen years ago, a teenaged Will Sterling saw—or rather, heard—the girl of his dreams. Standing beneath an apartment building balcony, he shared a perfect moment with a lovely, warm-voiced stranger. It's a memory that's never faded, though he's put so much of his past behind him. Now an unexpected inheritance has brought Will back to that same address, where he plans to offload his new property and get back to his regular life as an overworked doctor. Instead, he encounters a woman, two balconies above, who's uncannily familiar . . .
No matter how surprised Nora Clarke is by her reaction to handsome, curious Will, or the whispered pre-dawn conversations they share, she won't let his plans ruin her quirky, close-knit building. Bound by her loyalty to her adored grandmother, she sets out to foil his efforts with a little light sabotage. But beneath the surface of their feud is an undeniable connection. A balcony, a star-crossed couple, a fateful meeting—maybe it's the kind of story that can't work out in the end. Or maybe, it's the perfect second chance . . .
"A superb cast of characters rounds out this sweet, slow-burn romance." – Booklist
"A Mary Balogh–style love story…The comforting rewrite of Romeo and Juliet you didn't know you needed."—Kirkus Reviews
"Will and Nora's chemistry and the quirky side characters keep the pages turning. Clayborn's fans will be pleased."—Publishers Weekly

Related