Just for Kicks by Tracy Solheim is the first book in her Milwaukee Growlers Football series and what an excellent beginning.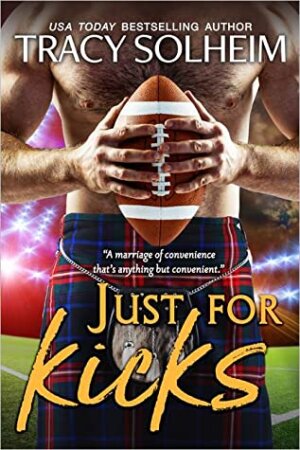 Andi Lawsen grew up in foster care after the death of her mother. That contributed to her strong spirit and determination to succeed. She is working toward her business degree taking night classes while working as a receptionist at Shear Envy salon during the day. It was there where she met Mrs. Hilbert who took Andi to meet Kurt Hilbert, her agent/attorney son. Andi's ex-boyfriend Kenny accessed Andi's financial aid account and took out student loans to the tune of $70,000 and took off to Las Vegas to win big playing poker and leaving Andi with the loan debt. While explaining all this to Kurt Hilbert place-kicker for the Milwaukee Growlers football team, Declan Fletcher, barges into their meeting demanding Hilbert stop his deportation order. That's when Mrs. Hilbert comes up with the brilliant idea for Andi and Declan to marry so Declan could avoid being deported back to Scotland. Andi wasn't crazy about the idea but decided to go along with it as it meant a trip to Vegas where she planned to confront Kenny. Too bad she found herself really attracted to Declan. But, no, this wouldn't work. Right?
Declan Fletcher left Scotland ten years ago running away from a tragedy. He planned to never go back. Being deported had to be stopped. He'd do anything to avoid that. Marrying the cute, little, pink-haired pixie didn't seem to be a bad solution to his problem. He could live with a fake marriage for six months. He was super attracted to Andi though. Well he'd just have to keep his hands off her. So off they flew to Las Vegas where their wedding almost didn't take place.
Take place it finally did though, a Star Wars themed wedding with Princess Lea officiating and Luke Skywalker and Chewbacca as witnesses. Whew! Dodged a bullet – no deportation back to Scotland.
This was a very entertaining story with great dialogue, likable characters and a storyline that grabs your attention from the get-go. I liked watching Andi hold her own and then some with the WAGS (wives and girlfriends) of the Howlers players. And I enjoyed watching her fall in love with Declan. Declan didn't want permanence but was so protective of Andi. Declan is a very interesting character. He let what happened during his younger years in Scotland keep him aloof and closed-off. Good thing Andi fixed that! Ms. Solheim has convinced me with this book to add her to my "must-read" list.
 
Book Info:

Publication: March 15th 2021 | Sun Home Prodcutions | Milwaukee Growlers Football
Milwaukee Growlers Football Book 1
It was supposed to be just for kicks…
Andi Larsen learned early on there is no such thing as fairy godmothers. A childhood spent in foster care will do that to a girl. She's working her way through night school and is on the cusp of establishing her own business without help from anyone, thank you very much. But when her deadbeat ex steals her identity, amassing a staggering debt in her name, her fairy godmother appears in the guise of a spunky, Fireball whisky-wielding septuagenarian. The older woman's solution for Andi? Tie the knot with a kilt-wearing, moody jock whose legs look sexier in a skirt than hers do.
Declan Fletcher never intended to be a place-kicker for a professional football team. But fate had other plans. Exiled from his beloved Scotland a decade ago, Dex is now a superstar athlete known throughout the league as the "Man with the Million Dollar Leg." But when a mix-up in his immigration paperwork threatens to send him home before the season begins, he'll do anything to avoid deportation and facing his greatest mistake. Even if it means marrying a pink-haired waif of a lass with eyes that seem to see everything he's determined to keep hidden.
A grumpy cat, nosy teammates, and a sizzling sexual attraction make their marriage of convenience anything but convenient.

Related