Returning to Claim His Heir (The Avelar Family Scandals #2) by Amanda Cinelli: An exciting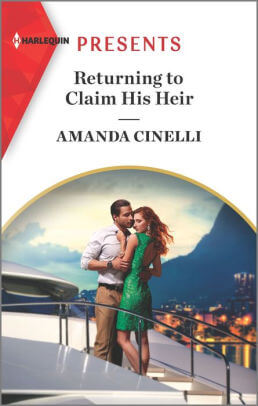 and dramatic amnesia story set in a location where the underbelly of crime is rampant.
Duarte was presumed dead and when he's reunited with his sister and best friend (Book 1 The Vows He Must Keep) he's lost his memory of the past 6 months. A link is discovered and Duarte finds Nora, seemingly the only person who can provide answers. Nora's relief when she hugs him and Duarte's questions are cast aside when she goes into labor and gives birth to little Liam.
Danger around every corner, Duarte not knowing why Nora feels so familiar and unanswered questions builds the intrigue while Nora is recovering at Duarte's beautiful home. Intruders, mysterious flash drives and unfamiliar, yet familiar, feelings all form the excitement of Returning to Claim His Heir. Two great characters, one with more secrets to answer than the other with the threat of it all falling apart lead up to a thrillingly emotional finale.
I really liked Returning to Claim his Heir. The plot was exciting and raced along. It can defiantly be read as a stand-alone although I highly recommend Book 1 to obtain the full experience. It was nice to have Dani and her fiancée appear and the beautiful locations were an added bonus.
Highly recommended for those who love a good amnesia story; this one was done really, really well.
Book Info:

Publication: February 2021 | Harlequin Presents | The Avelar Family Scandals
This thrilling amnesia story from Amanda Cinelli is brimming with drama, desire…and a nine-month secret!
His heir: shockingly revealed!
Their flame: deliciously reignited…
Brazilian billionaire Duarte Avelar, kidnapped and rumored dead, has returned! He can't remember what happened to him, but he knows that the breathtaking woman standing in front of him is important…and in labor!
Reeling from the heat still blazing between them, Nora Beckett must decide when to reveal that her newborn son is Duarte's heir. As soon as she does, Nora knows he will claim them both in order to protect them. But with her impossible, addictive feelings for Duarte resurfacing, that feels like the most risky choice of all…
From Harlequin Presents: Escape to exotic locations where passion knows no bounds.
Read both books in The Avelar Family Scandals duet:
Book 1: The Vows He Must Keep
Book 2: Returning to Claim His Heir

Related