Bet The Farm by Staci Hart: The last person Olivia Brent was ready to lose was her grandfather, she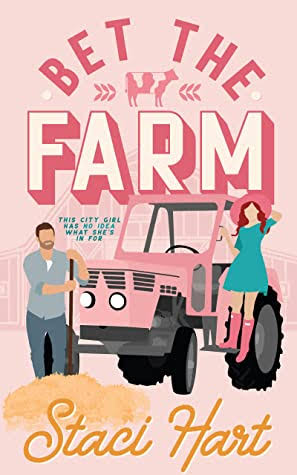 always assumed that she would still have time to return to the farm that she had called home from the moment her parents died and grandpa Frank took her in. With Frank passing Olivia finds herself heading back to the dairy farm to help bring it back to it's full glory.
"I was about as badass as a paper towel or a guinea pig or a carrot. Or a guinea pig on a paper towel eating a carrot."
However not all is smooth sailing for Olivia now that she is back home, her biggest obstacle being in the form of hunky farm hand slash now co-owner of the farm Jake Milovic. You see Frank didn't just leave the farm to Olivia, he has willed the farm to both Olivia and Jake. Now this really should be the dream team with Jake's amazing farm knowledge and Olivia's social media expertise, the two should be able to turn the farms debts around in no time at all that is if they could get along for longer than two seconds!
"I'd kissed those lips once upon a time. But the boy who'd owned those lips was gone, replaced by a man who looked like he belonged on an ancient battlefield, wielding a mace and dressed in furs. Even the word man seemed too bland, too thin to describe him. He was a bear, grizzly and wild, loping through a forest alone."
Frank and The Brent Dairy Farm have always be more than just work to Jake, this is his home and his family. So when Jake learns that Frank has willed half the farm to him, he knows that he has to give it his all to honour Frank's memory and to give thanks to the place that gave him a sense of belonging. The only problem being the fiery redhead that left them years ago to live it up in the big city. With Jake putting up roadblocks at every turn will Olivia finally be able to help get the farm to its former glory and maybe find her own slice of happiness or will these two continue to but heads?
"I don't know who I am here without you, not anymore. And I don't want to know. You've changed everything for the better , me most of all. Without you, this farm has no heart or soul. And neither do I."
I am a huge Staci Hart fan and Bet The Farm has only made me an even bigger fan of this fabulous authors work! I loved ever single bit of this second chance/opposites attract romcom. I loved the dynamic between Jake and Olivia, the whole grumpy hero and bubbly happy heroine is definitely a favorite of mine and Hart did a standout job with these two, it was an absolutely treat watching them give into each other and realise there was a lot more to their heated exchanges.
"Shirtless. He was tanned and strapping , his posture more relaxed than I'd seen since coming home. There was something elemental about him, as if he were made from the earth itself, and in its presence, he was at ease, at home."
Jake just stole my heart, even though he came across as this hard and mean jerk it was just his way of trying to protect the farm that he loved so much. Where as Olivia was the complete opposite and open about how much she loved the farm. I loved how open and willing she was to do whatever it took to bring the farm back to its former glory, even if it meant compromising on things with Jake. Though it was hilarious watching her pushing the boundaries, the goats were especially hilarious.
"She smelled like whiskey and springtime and trouble,"
Overall Bet The Farm is a MUST read from me, you will be laughing out loud at all Olivia's crazy antics and low-key wishing there really was a sexy farmer Jake calendar!
Book Info:

Publication: February 23rd 2021 | Pub: Staci Hart |
Olivia Brent has one summer to save the dairy farm she just inherited.
But there's one problem, and it's not her lactose intolerance.
Jake Milovic.
The brooding farmhand has inherited exactly fifty percent of Brent Farm, and he's so convinced the city girl can't work the land, he bets she can't save it in a summer.
Determined to prove him wrong, Olivia accepts what might be the dumbest wager of her life.
His strategy to win seems simple: follow her around, shirtlessly distracting her between bouts of relentless taunting. And it's effective—if his dark eyes and rare smiles aren't enough to sidetrack her, the sweaty, rolling topography of the manbeast's body would do the trick.
What they don't know: they'll have to weather more than each other.
Mysterious circumstances throw the farm into disarray, and with the dairy farm in danger, Olivia and Jake have to work together. But when they do, there's more to fear than either of them imagined.
Because now their hearts are on the line, and the farm won't be the only casualty if they fail.

Related