A Stolen Kiss with the Midwife by Juliette Hyland: What happens when two old friends meet again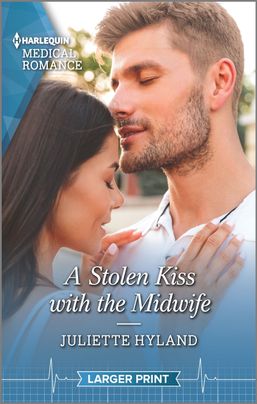 and this time there are major sparks this time round? Traveling nurse-midwife Quinn Davis is back in California after years and where better to work than with her old best friend Milo. Things could not have worked out any better with Quinn getting a job to work with Milo who is an obstetrician, the only problem being Quinn's feelings are not feeling so platonic anymore.
"Love, real love, didn't ask you to adjust for it. It accepted you."
Milo loves planning and order in his life which is exactly why he loves being a doctor, where he can plan and prepare for all kinds of possible complications. However things get messy when the two friends share a steamy kiss and now Milo is face with the conundrum to solve, what is he going to do about his feelings for Quinn. Will these two completely polar opposite be able to make things work?
"Memories fade, but love carried through time and space."
This was a first Harlequin Medical Romance for me and I absolutely loved every single second of this book! The friends to lovers trope is one of my go to tropes and Quinn and Milo were just adorable, I loved watching these two navigate the way to finding their happily ever after. Reading a novel where the two lead characters are total opposites of each other only make the book all the more entertaining and this is proof of that. Quinn and Milo could not be more different, Quinn being the free spirit go with the flow character, whereas Milo had the next 15 years of his life all planned out in detail.
Hyland has done a standout job with bring these two characters to life, so much so that we get feel exactly why both of them where so reluctant to give into the one thing they both wanted so much, and boy did my heart hurt of them. This was definitely a action packed read that had me hooked with all the drama going on in the hospital, their personal lives and with wildfire season. If you are a lover of Grey's Anatomy or a medical romance this is definitely the book for you!
Book Info:

Publication: February 1st 2021 | Harlequin Medical Romance |
Dare these best friends…
…risk it all?
Midwife Quinn Davis and Dr. Milo Russell have been friends forever. So why is it now that they're working together things have become…awkward? Quinn can't get Milo out of her mind—and when they share an explosive kiss, she's left questioning everything! Free-spirited Quinn never planned on settling down…and Milo has a life plan of his own. Are they ready to think about a new life—together?

Related