A Court of Silver Flames by Sarah J. Maas begins a year after the Great War has ended with the sense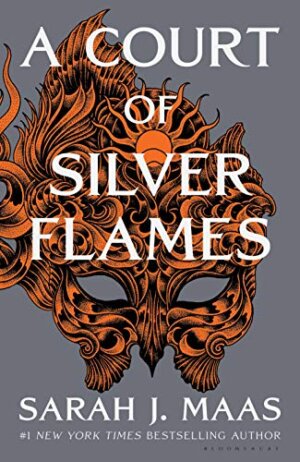 of peace throughout the realm a mere mirage for the machinations of those who landed on the losing side of the battle. Rumours around the globe suggest that Queen Briallyn is plotting her return to power and by forging crafty alliances with High Fae and Demons alike, the stage is set for another thrilling instalment from the ACOTAR series.
Having spent the year in a haze of self pity, and self harm, Nesta is given the choice to either move to the House of Wind and start training with Cassian or go back to the world of humans. A choice made simple by the fact it ultimately isn't a choice. Nesta is far too painfully aware that the Cauldron stole her humanity and all remaining ties to the human world and therefore going back will never be an option. What began as a slightly boggy beginning, most likely due to the time gap between book releases, opens out into a perfect fantasy landscape with some powerful themes that are enveloped by an equally powerful romance that will make your toes curl and heart soar.
With mental health and wellbeing fragile globally, this couldn't have come at a better time to remind us all that the only difference between strength and weakness is not giving up. And Nesta's growth and self-discovery throughout had the type of grit and brutal determination that is admirable in those who are suffering from within. Slowly but surely, Nesta engages in the serious hard work of self-reflection and this was managed brilliantly in terms of plot arcs and pacing. Cassian, as always, was the perfect hero who in many ways, despite his incredible success and high rank as one of Rhysand's brothers, is effectively drawn as a bastard born underdog. Hence, adoring him and every one of his honorable actions, is as easy as breathing. And it is no surprise that he adored Nesta from the moment he laid eyes on her and it would have to be him who could demonstrate the unyielding patience to support her journey back to a place of self-worth and self-love.
Intuitively, Cassian had the skill to hold space for her, giving her silence when her heard was raging, encouragement when she was kicking herself in the guts and tough love when she self-sabotaged by pushing those who love her away. Maas's masterful manipulation of tension spanned beyond the hot love affair into the broader themes of survival, wherein she cleverly suggests that gratitude, empathy and mindfulness are the cornerstones of resilience and necessarily for overcoming the demons within.
Overall, this is a brilliant read that had the perfect balance of pain, passion, and playfulness to seriously nail home that love, friendship and self-belief can be enough to help make us whole again.
 
Book Info:

Publication: 16th February 2021 | Bloomsbury Publishing | A Court of Thorns and Roses #4
Nesta Archeron has always been prickly-proud, swift to anger, and slow to forgive. And ever since being forced into the Cauldron and becoming High Fae against her will, she's struggled to find a place for herself within the strange, deadly world she inhabits. Worse, she can't seem to move past the horrors of the war with Hybern and all she lost in it.
The one person who ignites her temper more than any other is Cassian, the battle-scarred warrior whose position in Rhysand and Feyre's Night Court keeps him constantly in Nesta's orbit. But her temper isn't the only thing Cassian ignites. The fire between them is undeniable, and only burns hotter as they are forced into close quarters with each other.
Meanwhile, the treacherous human queens who returned to the Continent during the last war have forged a dangerous new alliance, threatening the fragile peace that has settled over the realms. And the key to halting them might very well rely on Cassian and Nesta facing their haunting pasts.
Against the sweeping backdrop of a world seared by war and plagued with uncertainty, Nesta and Cassian battle monsters from within and without as they search for acceptance-and healing-in each other's arms.

Related