Today it is my pleasure to Welcome author
Rebecca Yarros
to HJ!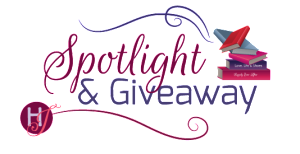 Hi Rebecca Yarros and welcome to HJ! We're so excited to chat with you about your new release, The Things We Leave Unfinished!
 
Hi there!
 
Please summarize the book a la Twitter style for the readers here: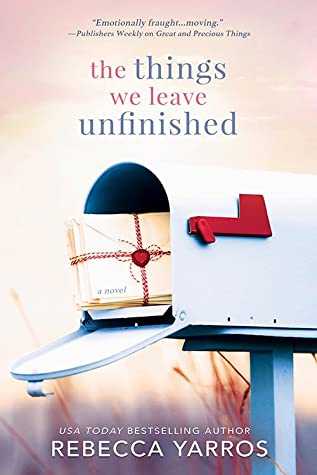 Told in alternating timelines, THE THINGS WE LEAVE UNFINISHED examines the risks we take for love, the scars too deep to heal, and the endings we can't bring ourselves to see coming.
 
Please share the opening lines of this book:
Georgia Ellsworth. I brushed my thumb over my credit card, wishing I could wipe hard enough to erase the letters. Six years of marriage, and the only thing I'd walked away with was a name that wasn't even mine.
In a few minutes, I wouldn't have that, either.
"Number ninety-eight?" Juliet Sinclair called out from behind the plexiglass window of her booth, like I wasn't the only person at the Poplar Grove DMV and hadn't been for the last hour.
Please share a few Fun facts about this book…
It was my first book with two love stories!
I wrote the WWII sections of the book and then went back and added the contemporary.
Scarlett leaving all her money to charity was inspired by my grandmother.
I came up with the plot after getting reallllllly mad at how Sanditon ended!
It has my favorite meet-cute ever!
What first attracts your Hero to the Heroine and vice versa?
He loves how brutally honest she is, but it's a total ego-buster. She thinks he's gorgeous but can't get past how arrogant he can be!
 
Using just 5 words, how would you describe Hero and Heroine's love affair?
passionate enemies to lovers
 
The First Kiss…
Is the result of a whole lot of tension building up!
Without revealing too much, what is your favorite scene in the book?
One of my favorite scenes is when Georgia and Noah meet in the bookstore!
"Did you just say they all read the same?" he questioned slowly.

I blinked. Right. The books. I mentally slapped myself for
losing my train of thought over a pretty face. I'd had my name
back for all of twenty minutes, and men were off the menu for
the foreseeable future. Besides, he wasn't even from around
here. Eighteen hours of travel or not, his tailored slacks blatantly
screamed designer, and the sleeves of his white linen shirt were
rolled in that casually messy style that was anything but casual.
Men in Poplar Grove didn't bother with thousand-dollar pants
or have New York accents.

"Pretty much. Boy meets girl, they fall in love, tragedy strikes,
someone dies." I shrugged, proud that I didn't feel any heat
creeping up my cheeks to give me away. "Throw in some legal
courtroom drama, a little unsatisfying but poetic sex, and maybe
a beach scene, and you've pretty much got it. If that's your thing,
you can't go wrong with either book."

"Unsatisfying?" Those eyebrows drew tight as he glanced
between the books, then back to me. "Someone doesn't always
die."

Guess he'd read a Harrison book or two. "Okay, eighty
percent of the time. Go ahead and see for yourself," I suggested.
"That's the reason he's shelved on this side"—I pointed to the
general fiction sign—"and not on this side." I swung my finger
8 the things we leave unfinished toward the romance marker.

His jaw dropped for a millisecond. "Or maybe there's
more to his stories than sex and unrealistic expectations." His
attractiveness slipped a peg or two as he tapped one of my pet
peeves right on the nose.

My hackles rose. "Romance isn't about unrealistic
expectations and sex. It's about love and overcoming adversity
through what can be considered a universal experience." That
was what Gran and reading thousands of romance novels had
taught me in my twenty-eight years.

"And, apparently, satisfying sex." He arched a brow.
I willed my skin not to flush at the way his lips seemed to
caress that word.

"Hey, if you don't like sex, or you're uncomfortable with a
woman embracing her sexuality, then that really says more about
you than the genre, don't you think?"
If your book was optioned for a movie, what scene would be absolutely crucial to include?
OOOH, definitely when Scarlett shows up at Jameson's station!
Jameson's head whipped toward the entry, and his heart stopped.
Scarlett stood in the doorway, her jacket folded over an arm.
She looked like heaven.
Her glossy black hair was pinned back, barely brushing the
collar of her uniform. Her cheeks were pink, her lips curved in
a barely contained smile, and damn, he could see the blue of
her eyes from here. She was here. At his base. In his rest room.
She was here.
He was halfway across the room before he'd even thought
to move, abandoning his beer on the nearest table as he went. A
few short strides and he was home, sucking in his breath at the
warmth of her skin as one of his hands cupped the back of her
neck and the other palmed her waist.
"You're here," he whispered, awestruck as she smiled up at
him. This wasn't a dream. She was real.
"I'm here," she answered just as softly.
His gaze dropped to her mouth, and his grip tightened at the
hunger that threatened to consume him. He needed her kiss more
than he needed his next breath, but he wasn't about to do it here.
Not in front of the jackass who'd implied he needed company.
"For how long?" he asked, his stomach pitching at the
knowledge that it was most likely only a few hours. He would
have met her halfway if she'd told him. He wanted as much time
as he could get with her.
"About that…" Her grin turned playful. "Do you have a
minute?"
"I have a lifetime."
Readers should read this book …
If you want two love stories with all the feels!
What are you currently working on? What other releases do you have planned?
I'm currently working on Reason to Believe, the first full length novel in my Legacy Hotshots series!
Thanks for blogging at HJ!
Giveaway:

A print copy of THE THINGS WE LEAVE UNFINISHED to a US-based winner.
To enter Giveaway: Please complete the Rafflecopter form and Post a comment to this Q:

What's your favorite trope to read in romance?
Excerpt from The Things We Leave Unfinished:
I glanced up to find Georgia's eyes on me.
She failed at stifling a smile.
"What?" I asked, slipping the pages back into the manuscript
where they belonged.
"Now you have chocolate on your face." She laughed softly.
"Awesome." I swiped my hand over the stubble closest to
my mouth.
"Here." She slid along the desk, the bare skin of her legs
brushing against mine.
I suddenly wished I'd worn shorts as I rolled back slightly,
hoping she'd come closer.
She filled the space between my knees, cupped the side of my
face, and brushed her thumb over the patch of skin just below
the corner of my mouth. My pulse kicked up a notch, and my
body went tight.
"There," she whispered, but didn't move her hand.
"Thanks." Her touch was warm, and it took everything I had
not to lean in to it. Damn, I wanted her, and not just her body. I
wanted inside her mind, past the walls even George R.R. Martin
would be proud of. I wanted her trust simply so I could prove I
was worthy of it.
She swept the tip of her tongue over her lower lip.
My self-control hung by a thread, and the look in her eyes
was slowly pulling at the edges of it, fraying the strands.
Still, she didn't move.
"Georgia." Her name came out as both a plea and a warning.
She moved closer. Not close enough.
My hands found the curves of her waist and I tugged, bringing
her as close as the chair allowed.
Her breath caught in a tiny gasp that sent all the blood in my
body straight to my dick. Calm the hell down. She slid her hand
along my jaw and into my hair.
My grip tightened on her waist through the thick fabric of
her sweatshirt.
"Noah," she whispered, lifting her other hand to hold the
back of my neck.
"Do you want me to kiss you, Georgia?" My voice was rough,
even to my own ears. There could be no mistake here. No mixed
signals. There was too much riding on this, and for once, it wasn't
my career I was thinking about.
"Do you want to kiss me?" she challenged.
"More than I want my next breath."
Excerpts. © Reprinted by permission. All rights reserved.
Book Info:
Told in alternating timelines, THE THINGS WE LEAVE UNFINISHED examines the risks we take for love, the scars too deep to heal, and the endings we can't bring ourselves to see coming.
Twenty-eight-year-old Georgia Stanton has to start over after she gave up almost everything in a brutal divorce—the New York house, the friends, and her pride. Now back home at her late great-grandmother's estate in Colorado, she finds herself face-to-face with Noah Harrison, the bestselling author of a million books where the cover is always people nearly kissing. He's just as arrogant in person as in interviews, and she'll be damned if the good-looking writer of love stories thinks he's the one to finish her grandmother's final novel…even if the publisher swears he's the perfect fit.
Noah is at the pinnacle of his career. With book and movie deals galore, there isn't much the "golden boy" of modern fiction hasn't accomplished. But he can't walk away from what might be the best book of the century—the one his idol, Scarlett Stanton, left unfinished. Coming up with a fitting ending for the legendary author is one thing, but dealing with her beautiful, stubborn, cynical great-granddaughter, Georgia, is quite another.
But as they read Scarlett's words in both the manuscript and her box of letters, they start to realize why Scarlett never finished the book—it's based on her real-life romance with a World War II pilot, and the ending isn't a happy one. Georgia knows all too well that love never works out, and while the chemistry and connection between her and Noah is undeniable, she's as determined as ever to learn from her great-grandmother's mistakes—even if it means destroying Noah's career.
Book Links: Amazon | B&N | iTunes | Goodreads |
 
 
Meet the Author:
Rebecca Yarros is the Wall Street Journal and USA Today bestselling author of over fifteen novels, including Great and Precious Things and The Last Letter. "A gifted storyteller" (Kirkus), she is also the recipient of the Colorado Romance Writer's Award of Excellence for Eyes Turned Skyward from her Flight and Glory series.
Rebecca loves military heroes and has been blissfully married to hers for almost twenty years. She's the mother of six children, ranging from kindergarten to law school, and is currently surviving the teenage years with three of her four hockey-playing sons. When she's not writing, you can find her at the hockey rink or sneaking in some guitar time while guzzling coffee. She and her family live in Colorado with their stubborn English bulldogs, two feisty chinchillas, and a Maine Coon kitten named Artemis, who rules them all.
Having fostered then adopted their youngest daughter who is nonverbal and on the autism spectrum, Rebecca is passionate about helping children in the foster system through her nonprofit, One October, which she co-founded with her husband in 2019. To learn more about their mission to better the lives of kids in foster care, visit www.oneoctober.org.
To catch up on Rebecca's latest releases and upcoming novels, including The Things We Leave Unfinished, which just received a starred review from Publishers Weekly, visit www.RebeccaYarros.com.
Website | Facebook | Twitter | | Instagram |
Related