Four Weddings and a Swamp Boat Tour by Erin Nicholas is the sixth book in her Boys of the Bayou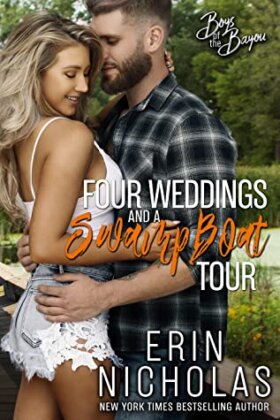 series. You will fall in love with Paige Asher and Mitch Landry as they fall in love with each other.
Paige Asher was on the run… with her five cats. She had left Appleby, Iowa in her rear view mirror and was headed to Autre, Louisiana. Paige had, once again, been proposed to at her sister's wedding. That was proposal #5! She was so not going there. She was only twenty-two and definitely not ready to get married. Her one-night-stand, hot hook-up, Mitch Landry, had made a second appearance in Appleby recently and had assured Paige that she was welcome to visit him in Autre any time. So here she was… surprise Mitch! Paige plans to stay in Autre for a while. Or might this be a permanent move?
Mitch Landry is the family fix-it guy. His mother left him with his father when he was a baby. His father was thankful that the Landry family was more than willing to help him raise Mitch. Mitch loves his Landry family and his place in it, but when he accompanied his cousin Owen to Appleby, Iowa and met Paige Asher he was done for. It was love at first sight. Too bad Paige is a major commitment-phobe. When Paige arrived in Autre to take Mitch up on his invite to stay with him for as long as she wanted Mitch was quite surprised. Getting his family to stay cool and not push Paige was important. Mitch didn't want to scare Paige away.
This author always writes very likable characters and sprinkles lots of humor throughout her stories. I liked both Paige and Mitch. Paige managed to find herself once she ran away from Appleby and learned who she really was without family expectations. Mitch needed to respect himself and his place in the Landry family. Thus Mitch needed to get past where his father placed him in the family with his admonishments that Mitch should – Be helpful, make himself useful , be grateful and be sure to make people happy that you're around." I loved seeing how these characters grew and found their best selves with each other. The stories of the Landry family and Autre in the bayou are lots of fun to read.
Book Info:

Publication: February 23rd 2021 | EN Fiction, Inc. | Boys of the Bayou #6
She's been proposed to five times.
Five.
She even said yes to one of them.
And then broke his heart when she called it off. Not to mention her mother's heart. And her grandmother's. And his mother's. And…you get the picture.
Paige Asher has now officially sworn off all dating. Diamonds give her hives.
All she wants is to be a yoga-doing, cat-collecting, vegetarian in peace. Away from her marriage-crazy family and all their expectations.
So when her weekend fling turns into a real friend and offers her a place to escape, she finds herself on his doorstep in Louisiana. And right in the middle of not just one family wedding, but three. Of course.
Charming, sexy bayou boy Mitch Landry gets stuff done. Whatever anyone needs. From alligator-sitting to getting a buddy drunk to showing a woman a good time to fixing a swamp boat, he's the man. No problem. No drama.
But he wants a hell of a lot more from Paige than a temporary friends-with-benefits arrangement. He wants to take care of her. And her five cats. He also really wants other men to stop asking her to marry them.
But if a roommate and a few orgasms are all she wants, that's what he'll deliver.
He can just be her friend and not commit the greatest sin of all…asking her for forever.
Probably.

Related