Waiting for a Scot Like You by Eva Leigh is the third book in the Union of the Rakes series. It is based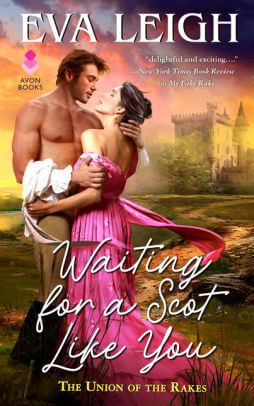 on five unlikely boys who formed a friendship while at Eton after spending a day together in the library writing essays as punishment. They had nothing in common, but they bonded together that day and that friendship helped them over the years. This story is Duncan McCameron's who was the second son of a Scottish earl and a soldier.
Major Duncan McCameron had returned to England two years ago when the war was over and now found himself restless. He was struggling to find a purpose in life and since two members of the Union married recently, he was bored with his life in London. So, when the Duke of Rotherby (from the second book Would I Lie to the Duke) asked him to escort Lady Farris to Nottinghamshire, he agreed to help. He thought it would be a simple favor, but he should have known that Beatrice, Lady Farris, would find some mischief and adventure along the way. He had met Beatrice at the duke's estate previously and he could not figure out why she unnerved him. Her spontaneity, recklessness, and outlandish behavior disrupted his orderly life.
Beatrice Sloane, Dowager Countess of Farris, was ready to start enjoying her freedom as a widow. She was traveling to a house party for a weak full of orgies. She was ready to experience all the things that came her way, and she was not about to let Duncan ruin her trip with his rules and stuffy behavior.
Their trip was anything but ordinary. Their relationship was a slow-burn and grew as they bonded together while facing the many challenges they encountered. As they reach their destination, they question their future together. Duncan believes couples in love should be married but Beatrice refuses to marry again and give up her freedom. Duncan must decide if marriage defines love or if trust in each other defines love. The book was beautifully written, fast-paced, and another great addition to such an entertaining series. You can't help but fall in love with the members of the Union and their heroines. This book could be read as a standalone, but the series is one of those you will want to read so might as well start with the first book!
Book Info:

Publication: February 23rd 2021 | Avon | Union of the Rakes #3
For a merry widow and a stoic major, it's a bumpy road to love…
Adjusting to life in peacetime isn't easy for Major Duncan McCameron. Escorting a lady on her journey north seems like the perfect chance to give him some much-needed purpose. That is, until he learns the woman in question is the beautiful, bold, reckless Lady Farris. She makes his head spin and being alone together will surely end in disaster.
Beatrice, the Dowager Countess of Farris, is finally free of a stifling marriage and she has no plans to shackle herself to any other man. Ready to live life to the fullest, she's headed to a week-long bacchanal and the journey should be half the fun. Except she's confined to a carriage with a young, rule-abiding, irritatingly handsome Scottish soldier who wouldn't know a good time if it landed in his lap. But maybe a madcap escapade will loosen him up…
Between carriage crashes, secret barn dances, robbers, and an inn with only one bed, their initial tension dissolves into a passion that neither expected. But is there a future for an adventure-loving lady and a duty-bound soldier, or will their differences tear them apart?

Related