In Blood Heir (Aurelia Ryder #1) by Ilona Andrews, It's been nearly a decade since Julie Lennart-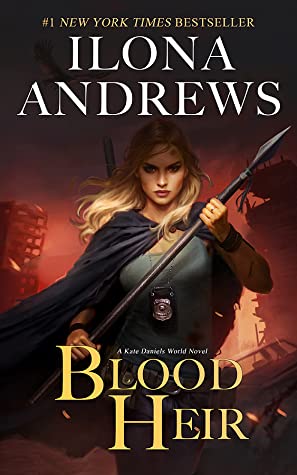 Olsen left Atlanta. And even though the city has undergone some horrific changes since the Shift, with the threat of war and shifter uprisings constant, she misses her hometown. What she truly misses, though, is her family: Kate, Curran, Conlan, and too many others she hasn't seen nearly often enough in eight long years. Now she's heading back to Atlanta. She just wishes it was under better circumstances than to stop a prophecy that has the potential to kill Kate–the woman who took her in and has fought to do what's right her entire life.
'I needed to see my family and make sure they were okay.
But if I did, they would die.'
Thanks to a showdown with a deity, Julie no longer looks the same and is now known as Aurelia Ryder. She immediately runs into trouble as soon as she steps foot into Atlanta and has shapeshifters of all kinds–and who knows what else–clocking her every move. Aurelia has to figure out how the murder of a local well-liked priest ties in to the prophecy so she can take down as many of a deity's henchmen as possible and put an end to the threat against her family. Although a man from her past, one she cared deeply about, arrives in Atlanta at the same time she does. And that's one more complication Aurelia doesn't have time to deal with. Unless they can strike an allegiance, without her giving away her true identity.
'How did people keep finding me? I spent all this time and money making a secret hideout and literally everyone I've met in the last two days now knew where it was.'
Blood Heir was the amazing first book in an exciting spinoff from Ilona Andrews' uber popular Kate Daniels series featuring a heroine who proved she was as fierce and snarky as she was compassionate and steadfast.
"I can hear your heart flutter. I watched you walk around this city you used to call home, wearing pretend arrogance like armor."
"Fear isn't the only thing that can make a heart flutter."
"What else is in your heart, orphan child?"
"Rage."
How cool is it that talented writing duo Ilona Andrews has brought fans back to Kate Daniels' world–this time to follow her adopted daughter Aurelia Ryder (formerly known as Julie Lennart-Olsen)? It definitely did *not* disappoint. As one would expect from these authors, the world building was absolutely on point. And the complexity of the storyline as well as how the characters navigated such a treacherous world will keep you glued to the pages.
I will caution about two things, though. First, there is a huge cast and tons of history between many of them so if you haven't read the Kate Daniels series it might take a bit to keep track of all the characters. Second, this is Urban Fantasy at its finest…but it's not for the squeamish. The action scenes were rather gory and some of the physical abuse we saw people endure was heartbreaking. But in the grand scheme of things, it did all have its own important place in what drove Aurelia on her mission–and of course it was important to the story as well.
Aurelia was a badass. To me, she was like a blend of Charley Davidson (by Darynda Jones) and Gin Blanco (from Jennifer Estep's Elemental Assassin series). She had the sarcasm and witty zingers down pat. She had a kind nature when it came to loved ones and the street kids she encountered. And Aurelia won fights where no one even expected her to even make it out alive, let alone be the victor. But with her ties to Kate Daniels' family, being her former ward/adopted daughter, and the history Kate & Curran have in Atlanta, boy did it mean Aurelia had to be careful as she worked at stopping a deadly prophecy from happening.
Expect to be amazed at every turn with the powerful bonds of family and friendship as well as the exquisitely detailed action scenes in Blood Heir. Ilona Andrews fans will rejoice to be back in this complicated world and see where the journey takes them this time around.
Book Info:

Publication: Published January 12th 2021 | by NYLA | Aurelia Ryder #1
From Ilona Andrews, an all-new novel set in the Kate Daniels World and featuring Julie Lennart-Olsen, Kate and Curran's ward.
Atlanta was always a dangerous city. Now, as waves of magic and technology compete for supremacy, it's a place caught in a slow apocalypse, where monsters spawn among the crumbling skyscrapers and supernatural factions struggle for power and survival.
Eight years ago, Julie Lennart left Atlanta to find out who she was. Now she's back with a new face, a new magic, and a new name—Aurelia Ryder—drawn by the urgent need to protect the family she left behind. An ancient power is stalking her adopted mother, Kate Daniels, an enemy unlike any other, and a string of horrifying murders is its opening gambit.
If Aurelia's true identity is discovered, those closest to her will die. So her plan is simple: get in, solve the murders, prevent the prophecy from being fulfilled, and get out without being recognized. She expected danger, but she never anticipated that the only man she'd ever loved could threaten everything.
One small misstep could lead to disaster. But for Aurelia, facing disaster is easy; it's relationships that are hard.
Cover Art: Luisa Preissler

Related