The Knockout Rule by Kelly Siskind: Isla Slade is no stranger to blood and bruises after all she has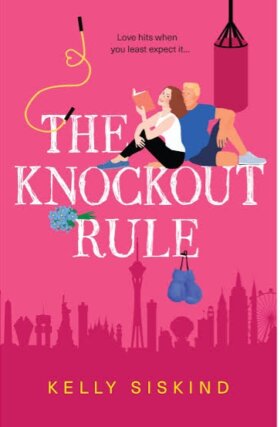 spent a good part of her life helping her own father boxing legend heal and recover from all his fights, it is for this very reason that Isla swore that she would never ever get involved with a boxer, there was far to much heartache and stress involved. Which is exactly why Isla came up with her own rule not to ever take on a boxer as a client, especially now that she is opening up her own business. However when dear old dad calls in a favor for her to take on boxing superstar Eric 'Brick' Kramarov as her new client to work and travel with him to Vegas for an up and coming prize fight, Isla doesn't have much of a choice. Which is how she finds herself headed to Vegas on a private jet with a boxer, a dog and a flirty agent.
"Sometimes control is a hindrance. Chasing it keeps you from experiencing life fully."
Eric is far from the dumb meat head people take him for, he is actually a lot softer that his persona Brick. The real Eric doesn't even really love boxing but it is a means to an end, his real love is reading and literature and most of all his family. It is for this very reason that Eric finds himself looking into the big Vegas fight, you see the winner is guaranteed a big pay day which will take the pressure of his mum and sister who have been living pay check to pay check. So when there is a last minute change to the physiotherapist Eric is not to thrilled but he trusts his agent and is determined to win this fight, Eric just didn't expect the physio to be such a knockout herself.
However things between Eric and Isla don't get of to the best of start, but neither is able to deny that there is just something about the other that they just cant figure out. But with Eric's agent trying to woo Isla with the help of Eric's romantic words will Isla finally realise it is actually Eric that she has been falling for all this time or will him being a boxer be one hang up she just cant get past?
"The life we're dealt doesn't define us. How we choose to walk that life makes us happy or sad. A bit idealistic but choosing to walk this life with you makes me unbearably happy. Recklessly happy,"
I love Kelly Siskind books and The Knockout Rule is now one of my favorites! This opposites attract romance was filled with ups and downs all while taking you to a cute happy ending. I loved the chemistry between Eric and Isla, and that it was not based purely on a physical attraction but an intellectual one as well. These two had a lot more in common than it would appear and it was this and their understanding of each other that made them so enduring.
"Let the past blur. Accept our faults. Be each other's everything."
I loved Isla's strength and passion. I loved that even though she has battled with anxiety since she was a teen, that didn't stop her from being their for her father – even when watching him fight only amplified her anxiety. I think this is what made her apprehensive about getting involved with Eric so understandable. As for Eric, he was perfect. I loved his love for literature and poetry and that he was so connection to his family. His boxing persona was such a polar opposite to who he really was and to an extent it was sad to see that he had to hide himself so much. I loved how selfless he was and that was so evident in the sacrifice that he made for Isla. I absolutely loved watching them fall in love and rooting for their happy ending.
I loved the secondary characters in this book, initially I didn't think that I would like Preston but as we got to know him and watch him help both Isla and Eric he eventually won me over. As for Isla's dad, I do like that he made a turn around and finally saw what he was doing and put Isla first. Eric's family were absolutely darling.
I would definitely recommend reading this beautiful opposites attract romance!
 
Book Info:

Publication: February 24th 2021 | CD Books | Showmen #4
Growing up with an adoring father for a boxing legend isn't all sunshine and rainbows. It looks more like hospital visits, bloody noses, and cracked ribs.
Isla Slade now works as a physiotherapist, helping athletes heal their bodies. Except for boxers. She has no interest in reliving the stress of her teen years. Dating someone in the boxing world? She'd rather snort wasabi powder.
Until she meets Preston Church.
Preston manages heavyweight boxing darling Brick Kramarov. A brute who's built tougher than his name, with a cocky attitude to boot. She wants nothing to do with either man, but her father begs her to help them prepare for a huge Vegas fight.
She doesn't expect Preston to recite romantic poems and slowly break her resolve. His fascinating mind gets under her skin, even if his star athlete reminds her how much she hates boxing.
Too bad it's Brick coaching Preston how to woo Isla, falling for her from the sidelines. Once she finds out, she'll have to decide if she can risk loving another man who puts it all on the line for the knockout.

Related