In The Vineyard at Painted Moon by Susan Mallery, Head winemaker Mackenzie Dienes has spent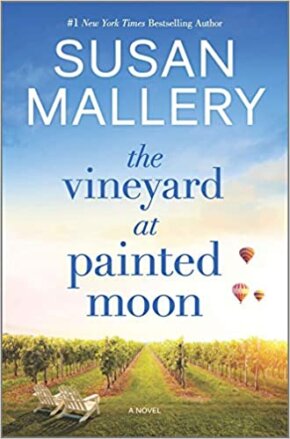 the last decade and a half since graduating college at Bel Apres, her husband Rhys's family's winery. Working her way up the ladder, she's proud of the job she's done. And Mackenzie counts her blessings on a daily basis to have found the Barcellona family when she needed them most after the passing of her beloved grandfather. She never dreamed there would be a day when she'd have to decide if she should walk away from Bel Apres and the Barcellonas. But when Mackenzie and Rhys suddenly realize that their marriage is over, that's exactly what happens.
'Who was she if not married to Rhys? Being with him informed her life, the rhythm of her days. Without that, what did she have? He had been a part of her for her entire adult life.'
Reeling from the loss of her relationship with Rhys and wondering if she'll have a job or if she'll lose everything–including her best friend, Rhys's sister Stephanie–Mackenzie has to take a good look at her life. And she must decide what she wants her future to look like. The thought of striking out on her own and buying herself a winery to run scares the daylights out of her. But with some gentle nudging by her friends and a few important contacts coming through for her, Mackenzie's dream is possibly within reach. But with a few more surprises thrown her way, it will take strength and courage to take the next steps to make it a reality.
'She should have more to show for her marriage and being a part of the Barcellona family. More than six boxes and the memories. But she didn't, and maybe that was the hardest truth of all.'
Susan Mallery's books make my heart happy. So–not surprisingly–The Vineyard at Painted Moon was a pleasure to read from the first chapter all the way through to its sigh-worthy end.
'If she had the ability to make her dream come true, shouldn't she go for it?'
I'm always happy to sit down with a new Susan Mallery book but boy did this one hold my attention. It was told from multiple POVs which made me even more interested as I became fully invested in the outcome for the characters. And I loved that each of them were at different places in their lives. Meaning that when their personal struggles all kind of bled into everyone else's lives where the family was so intertwined it created even more of a challenge. From Mackenzie and Rhys getting a divorce to Stephanie not happy with her work *or* personal life to Barbara…well, just being her knit-picky, rude self (lol), there was a lot going on.
Mackenzie was the story's main focus. And my heart went out to her when she came to the shocking realization that while she loved her husband Rhys, they weren't *in love* anymore. I thought she handled it as well as could be expected, given that her entire life changed in the blink of an eye, with everything she knew being ripped away. Mackenzie was quite a strong woman. Stronger than she gave herself credit for. And as with so many of Mallery's books, female friendship was such a huge part of the story–and part of how Mackenzie was able to talk herself into going after her dreams.
Rhys's family didn't necessarily make things easier on the couple. And they all had their own issues to sort through as well. Stephanie, Rhys's sister and Mackenzie's bestie, had a bunch of changes she wanted to make in her life but she was in a rut with no way out that she could see. I think Stephanie is someone readers will likely relate to as we've probably all felt the same way…being tired of a job, how family treats you poorly, not having a social life, etc. Then there was her mother Barbara. I won't get into specifics but let's just say that she will no doubt be a character readers will love to hate. She definitely had me muttering unkind things under my breath each time she tore down one of her (grown) kids verbally. *grumble grumble*
Oh, and I have to mention: if you've read Sisters by Choice, you might remember a wealthy secondary character named Bruno Provencio. He always stuck with me after finishing the book. Bruno seemed like such a nice guy and I wanted to see him get a HEA. Well, he's in this book! And you just wait until you see what Mallery has in store for him…
Memorable characters. Set in the stunning wine country, which you can see on that beautiful book cover. And the perfect balance of lighthearted and poignant scenes. The Vineyard at Painted Moon is yet another reason why Susan Mallery remains one of my go-to authors.
Book Info:

Publication: Published February 9th 2021 | HQN |
Step into the vineyard with Susan Mallery's most irresistible novel yet, as one woman searches for the perfect blend of love, family and wine.
Mackenzie Dienes seems to have it all—a beautiful home, close friends and a successful career as an elite winemaker with the family winery. There's just one problem—it's not her family, it's her husband's. In fact, everything in her life is tied to him—his mother is the closest thing to a mom that she's ever had, their home is on the family compound, his sister is her best friend. So when she and her husband admit their marriage is over, her pain goes beyond heartbreak. She's on the brink of losing everything. Her job, her home, her friends and, worst of all, her family.
Staying is an option. She can continue to work at the winery, be friends with her mother-in-law, hug her nieces and nephews—but as an employee, nothing more. Or she can surrender every piece of her heart in order to build a legacy of her own. If she can dare to let go of the life she thought she wanted, she might discover something even more beautiful waiting for her beneath a painted moon.

Related