In Her Mountainside Haven by Jo McNally, author Jillian Coleman has found herself the perfect place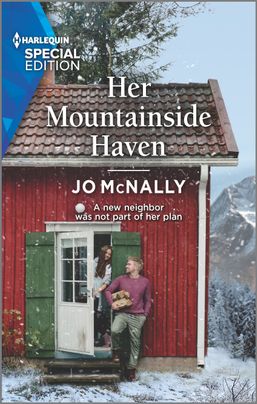 to hide away in the mountains, with no neighbors. Due to a trauma in her past, Jillie suffers from agoraphobia, the fear of crowded places and of leaving one's home. She rarely ventures out, and when she does, her friends make sure she has plenty of options exit the buildings. During a walk one day she comes across a stranger who's set to ruin her seclusion.
Matt Danzer has raised his younger brother and traveled the world with him as his manager for his skiing career. Determined to keep Bryce out of trouble while he rehabs from an injury, Matt decides buying an old ski resort to rehab and flip would be the perfect thing for both of them. What he didn't count on was the prickly neighbor who's very insistent on not having anyone on her property, as he realizes when he accidentally steps foot onto it. He's instantly intrigued by the mysterious woman, and soon finds himself making a deal with her to use her access road to get workers up the mountain.
Jillie finds herself interested in Matt and finds herself doing things she normally wouldn't do, including letting him into her sanctuary. But when Matt has to leave town to support Bryce and wants Jillie to go, will she be able to step completely out of her comfort zone?
I really liked Matt and Jillie. While she initially comes off as harsh and cold, she's anything but. Matt is very patient with her, and once he understands her fear, he does everything possible to make her feel comfortable. He's very considerate of her condition and rarely tries to push her out of her comfort zone.
I thought the author did a good job of explaining agoraphobia and showing what people who have it have to deal with. It's clear she did her research; the book is informative while not sounding like a psychological dictionary. I will admit that I was slightly confused as to how Jillie had made so many friends in Gallant Lake if she rarely left her house, and that's not really explained in the book. I haven't read the previous books in the series, so I don't know if she was introduced to the other characters at some point in a way that would explain this. Still, that didn't take away anything from the story itself.
Her Mountainside Haven is a sweet romance that will draw readers in with its wonderful characters, charming setting, and interesting storyline. It's well-written and, for readers new to the series, it can be read as a standalone.
Book Info:

Publication: February 1, 2021 | Harlequin Special Edition | Gallant Lake #5
Jillian Coleman has carefully constructed a haven for herself, complete with therapy dog Sophie to ease her anxiety and panic attacks. But when intriguing developer Matt Danzer shows up asking for access to a road that runs through her land, Jillie finds her stand-alone resolve starting to crumble. Up till now, a predictable life was all she could hope for. But Matt made her realize playing it safe was not all it was cracked up to be…

Related