In Beguiled (Betwixt & Between #3) by Darynda Jones, The last six months have been among the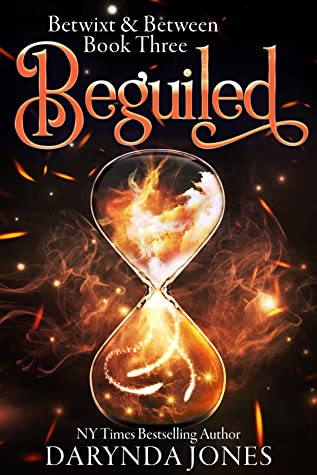 most eye-opening in Defiance Dayne's forty-plus years so far. First she was bequeathed a rockin' mansion in Salem, named Percy. Then, sadly, she found out her grandmother had been killed. On top of all that, Defiance learns she is a powerful witch, called a charmling. One of the three in the entire universe. But along with the incredible power comes the threat of those who want to steal it from her. And with the strange–okay, *stranger*–things that have been happening lately, Defiance knows someone is out to harm her and her loved ones.
'I realized just how dangerous my magics could be. One split second, one wrong decision, and lives could be changed forever.'
But Defiance isn't going down without a fight. And she's got some added ammunition in her corner. The knowledge she gets from her grandmother and the local coven of witches is a huge help. As is Roane, the drop-dead gorgeous (kilted!!) man who lives in her basement and who has become a huge part of Defiance's life. Having her best friend Annette with her in Salem is just icing on the cake. Although her bestie seems to be having some paranormal issues of her own. But Defiance knows if they all band together and have each other's backs, there's no way they won't come out the victors. Good has to overcome evil, right?
"We don't need a name."
"All the cool covens have them."
"Which explains why we don't have one."
"I know you're dead set against calling it the Salem Arc of the Covenant, but what about Easy Bake Coven?"
So crazy good that it had me alternately biting my nails and laughing my head off, Darynda Jones never fails to entertain. But I have to say that Beguiled was my favorite in Defiance's trilogy, as part of the Betwixt & Between series.
When I thought about everything had happened to her–to us–in the last few days, I shook my head, astonished we hadn't run from Salem screaming. "How are we still alive?"
Beguiled was the kind of book that I wanted to hurry through to find out who was after Defiance and her crew, but yet I wanted to take my time and savor the moments I got to spend with Darynda's words. Because I absolutely adore her writing voice. The humor and snark. The heartfelt feeling of camaraderie and family. The exciting twists and turns. I'm in heaven every time I pick up one of Jones's stories. And where the Betwixt & Between series is Paranormal Women's Fiction, meaning it focuses on main characters who are rather, ahem, mature, it was much more relatable for this middle-aged reader. (lol)
Wow was there a lot that happened in Beguiled. A bunch of loose ends got tied up as questions were answered, but the ending left a new direction for the next book–which will be the beginning of Defiance's bestie Annette's trilogy. I would caution readers to start at the beginning with this series as each book builds upon the previous installment. Plus they're just so awesome that you'll want to read them all anyway! And it will help put the whole wild ride Defiance, Roane, Annette and the rest of the group went through into perspective.
I think readers will really love how it all worked out. We finally found out who was behind Gigi's death as well as why. Not to mention Defiance learning more about her powers as a charmling and solidifying her relationship with sexy kilted Roane. *dreamy sigh* And the rest of the secondary cast also overcame some hurdles in their own lives. Some of which we will continue to learn more about in upcoming books, I'm sure.
A fast-paced story that made me fall in love with Darynda Jones's writing all over again, Beguiled will thrill fans from start to finish. Highly recommended.
 
Book Info:

Publication: Published February 22nd 2021 | Feather & Leaf, LLC | Betwixt & Between #3
Newly indoctrinated witch, Defiance Dayne discovers there's more to life after forty than she'd ever imagined possible. Especially if one is a charmling, one of only three in the world, with enough magics to make her a target for every power-hungry warlock out there. When one of them sends a hunter to town, she knows it's time to take her talents seriously before the hunter takes her life.
She decides she has three things to do before she can die. Find out who killed her beloved grandmother, teach her BFF the finer points of spellcasting before she blows up the world, and figure out how serious her relationship with the Adonis living in her basement really is. If it's heading in the direction she's hoping for, she can die happy. Though, admittedly, she'd rather not. Die. Happy or otherwise.
None of that will matter, however, if she can't figure out how to foil the supernatural assassin who's been sent for her. Until then, it's business—and hopefully romance—as usual. Now if she can only figure out how to tame a lacuna wolf.

Related