Today, HJ is pleased to share with you

Garrett Leigh's

new release: 

Unforgotten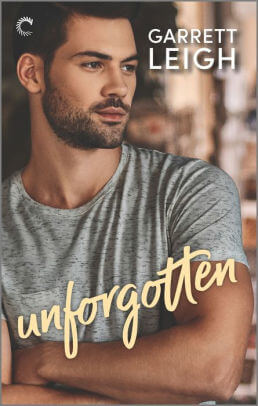 Billy Daley hasn't been home in years, and he likes it that way. He's just fine on his own—he has a cash-in-hand job at a scrapyard, a half-feral cat to keep him company, and many miles between him, his hometown and all the baggage that comes with it.
Until the job goes sideways. Suddenly he's back in Rushmere, working for none other than his brother's best friend—a man whose kiss Billy can't seem to forget.
Gus Amour's memories of Billy Daley are all spiky edges, lips crushed against lips and a reckless streak that always ended in trouble. But when Billy needs a place to stay, Gus steps in. He'd do anything for the Daley family, including living, and working, side by side with a man who makes his heart beat too fast and his blood run too hot—two things he's been running from for years.
It doesn't take long before their easy banter, lingering touches and heated glances become a temptation too hard to resist. But falling into bed and falling in love are two different things, and love has never come easy to either Billy or Gus. Only when fate threatens to steal away their opportunity for a second chance will they realize they don't need easy.
They just need each other.
Enjoy an exclusive excerpt from Unforgotten 
Gus
I'd forgotten how clever Billy was with his big words and complicated sentences that often had me googling when he wasn't looking. He'd been the year above me at school, so we'd never shared a class, but I remembered him winning everything at primary school: sports, academics, art. He was one of those kids who was good at everything, unlike me who had got by on my ability to run faster and harder than everyone else.
Everyone except him.
I was bigger than him these days, but somehow found it easier to remember him as a child than I did the man I'd kissed in the alleyway outside the pub five years ago. Kissed him once, twice, three times before I'd pushed him against the wall and slid my hands—
Stop it.
But as hard as I tried, the images kept coming, bombarding me as I watched him press the new roof membrane into place with the same broom he'd probably used ten years ago. Regret hit me too. I'd pushed him away that night, for once letting my head rule my dick, and despite being drunk as a skunk, I remembered the hurt in his eyes, fleeting and sharp, before he'd smirked and sauntered away. He'd wanted it, he'd wanted me, and he never spoke to me again. Never looked my way until I found him in my house fifteen days ago.
Now we were in an odd state of flux, caught between two boys who had known each other forever, and two souls who didn't know each other at all. We were strangers, really, so why did having him in my life feel so normal? Why did it feel as if he'd always been here? It hadn't been that way when Luke had come home, or even Mia. But with Billy it was easy. Natural. At least, on the surface.
"Do you ever do any work?" Billy came to a stop in front of me, nudging my feet with the broom. "Every time I look up you're staring into space."
"I'm a dreamer."
"You're a lazy git."
Billy's usual malevolence was absent. I met his gaze and found myself hypnotised, caught in his all-seeing stare. I was good at hiding my emotions, blanketing them with an easy grin, but in that moment, I felt as if Billy saw through every brick of every wall I'd ever put up.
It should've unsettled me. But it didn't. My only concern was that it was the end of the day and I couldn't think of a reason for him to want to spend the rest of the evening with me, especially given where I was headed for dinner. "So…"
Billy dropped the broom down the side of the house. "So what?'
"I was going to have dinner at Mia's place. Wanna come?"
"Nope."
"You don't like Mia?"
"It's not Mia I can't be arsed with."
Like I didn't already know that. Luke had kept his distance since Billy had been back, checking in with me daily, but giving Billy space. Perhaps too much space. Enough that Billy thought his brother didn't care. "Luke's cooking, if that helps. Mia's worse than me."
"I don't know how bad you are. You don't cook."
Guilty as charged. I'd never bothered to learn as I hated being home alone. Was there anything more depressing than a home-cooked dinner for one? "You could always cook."
"I'd cook you a ten-course meal if it meant you wouldn't give me puppy-dog eyes about spending time with my brother."
"I'm not giving—" Dammit. Despite my resolution not to be drawn into deflecting, petty bickering, sometimes he got me. "Whatever. I'm going to see our lovestruck siblings. Come with me, or stay home and eat the two-year-old oven chips in the freezer."
"Maybe I'll go out."
"Maybe you will."
He wouldn't. Billy only left the house to work or buy cigarettes from the corner shop that was ninety seconds from my front door, and I couldn't decide how I felt about it. On the one hand, it made my self-imposed grounding worth the angst—staying home would be pointless if he wasn't there. On the other, it worried me that he was so unhappy he'd rather hide in my house than face the world.
Still. I couldn't make him come out with me. I shrugged and let it drop. We packed up the rest of the gear without speaking, and I drove us home.
I took a shower. When I got out, Billy was nowhere to be seen, which led me to his closed bedroom door. I stood in front of it, fist hovering to knock, but it flew open, cutting my dithering short.
Billy looked as surprised to see me as I was to see him. He was rubbing his shoulder, hair sticking up in every direction. "Thought you were going out?"
"I am."
"And yet you're still here."
"Trying to get rid of me?"
"No. Just wondering how many chips to cook."
"You're really not coming?"
Billy let out an exasperated sigh and backed up into his room. He flopped onto the bed, then shifted around as if he couldn't get comfortable. "I don't want to go to Luke's house so we can get on each other's tits. We're doing just fine with the wall of silence. Why rock the boat?"
"You can't have dinner together without sinking the ship?"
Billy snorted. "Of course we can't. He's so fucking annoying."
"He'd probably say the same about you."
"Probably. Doesn't change anything. Mia told me she couldn't be in the same room as him for months when she first came back. No one made her have dinner with him."
I wondered when he'd got round to having a deep and meaningful with my sister. In all that had happened in the last year, I hadn't noticed them touching base. But then, I wasn't in the business of monitoring Mia's conversations. Damn, if she hadn't had enough of that.
A shudder passed through me as I recalled the hellish months she'd spent under the thrall of a stalker. The only good to come of it had been to draw her and Luke—and perhaps Billy, if he'd ever admit it—closer together. Luke could've died. Maybe her too, if the lunatic obsessed with her hadn't been caught.
"Uh, hello?"
I blinked.
Billy was sitting up and shaking his head at me.
I frowned. "What?"
He rolled his eyes. "Fuck's sake. You get what you want and you're not paying enough attention to notice? Man, you're a ball ache."
"I'm paying attention."
"Okay," he retorted, sarcasm dripping from every syllable. "So you heard every word then, yeah?"
I had no idea what he was talking about, and he knew it. I shrugged helplessly, and was rewarded by his rare laugh. Deep and low, it did odd things to me, just like his smile, and I had to force myself not to gawp at him, or rub my belly to quiet the butterflies having a rave down there. "Of course I heard every word. You're coming to dinner with me, you're going to be nice to Luke, then come home with me to drink beer and slag him off where it does no harm."
"That's what you heard?"
"Yup."
Billy stepped closer—close enough that he was an inch from being up in my face. "Then I guess that's what we're doing."
He moved away before I could react, but victory had me grinning like an idiot as I followed him down the stairs. It was all going to work out.
Excerpt. ©Garrett Leigh. Posted by arrangement with the publisher. All rights reserved.
 
 
Giveaway:

One (1) eBook copy of UNFORGOTTEN by Garrett Leigh, open internationally.
To enter Giveaway: Please complete the Rafflecopter form and post a comment to this Q:

What did you think of the excerpt spotlighted here? Leave a comment with your thoughts on the book…
Meet the Author:
Garrett Leigh is an award-winning British writer, cover artist, and book designer. Her debut novel, Slide, won Best Bisexual Debut at the 2014 Rainbow Book Awards, and her polyamorous novel Misfits was a finalist in the 2016 LAMBDA awards. She was again a finalist in 2017 with Rented Heart. In 2017 she won the EPIC award in contemporary romance with her military novel Between Ghosts and the contemporary romance category in the Bisexual Book Awards with her novel What Remains.
Buy Unforgotten by Garrett Leigh: Harlequin.com  | Amazon |  Barnes & Noble | Apple Books | Google Play |
Kobo |
 
 
 
Related