First Comes Like by Alisha Rai: Being a beauty influencer isn't as easy as people think it is, really it is a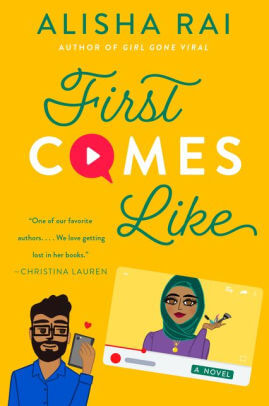 full time job with a whole host of mean people waiting to pick you apart just for their own kicks and no one knows this better than Jia Ahmed. But amongst all the stress Jia has had one person that has been a light to the darkness, charming Bollywood heartthrob Dev Dixit. So when Jia hears that Dev is State side for his big Hollywood break she is thrilled that they will finally get to meet, but when Dev keeps putting of their meet up Jia takes things into her own hands. Thinking showing up at an event that Dev is attending will be a cute surprise, so imagine Jia's surprise when instead if being thrilled to meet her Dev all but denies even knowing who she is.
Dev just cant seem to get the beautiful girl from last night out of his mind and what is more there seems to have been something he did that has upset her, which is how he finds himself tracking down the beauty influencer. As it would turn out someone has been using his social media account to talk to Jia all this time, but things only get more complicated when the paparazzi snap a cozy looking picture of Jia and Dev, which leads to both of their traditional Desi families getting involved and soon what started out as two people just getting to know each other turns into a fake relationship which only escalates from there. But with real feelings being to grow will these two be able to turn their fake relationship into a real forever one?
"Here's to a mutually beneficial manufactured and discreet romance. Just what every girl dreams of for her first romance."
I have been loving the Modern Love series and this latest book by Rai has been just lovely! The thing that I love the most about her books and this one especially is how authentic the characters and their families are, you can see that she knows and understands the people and the culture and doesn't shy away from showcasing them. I have to say it was so refreshing to read a book where the female lead was a modern Muslim woman, I absolutely loved Jia and that she was trying to live her best life all while still keeping true to her religion and culture.
As for our hero Dev, what was not to love about this guy? Not only was he down to Earth but he was also trying to do his best to raise his niece Luna. I loved the way he tried to win over Jia and that he didn't make light of Jia's work. Their connection was evident right from their first encounter and it was super cute watching them grow together. I absolutely loved Luna and uncle Adil, as well as Jia's parents and sisters. It was also nice to see Katrina and Rhiannon again.
Overall First Come Like was a super cute Desi romance even if it did lean a bit to much into the Bollywood stereotypes. This is definitely a book I would recommend.
Book Info:

Publication: February 16th 2021 | Avon | Modern Love #3
The author of The Right Swipe and Girl Gone Viral returns with a story about finding love in all the wrong inboxes…
Beauty expert and influencer Jia Ahmed has her eye on the prize: conquering the internet today, the entire makeup industry tomorrow, and finally, finally proving herself to her big opinionated family. She has little time for love, and even less time for the men in her private messages—until the day a certain international superstar slides into her DMs, and she falls hard and fast.
There's just one wrinkle: he has no idea who she is.
The son of a powerful Bollywood family, soap opera star Dev Dixit is used to drama, but a strange woman who accuses him of wooing her online, well, that's a new one. As much as he'd like to focus on his Hollywood fresh start, he can't get Jia out of his head. Especially once he starts to suspect who might have used his famous name to catfish her…
When paparazzi blast their private business into the public eye, Dev is happy to engage in some friendly fake dating to calm the gossips and to dazzle her family. But as the whole world swoons over their relationship, Jia can't help but wonder: Can an online romance-turned-offline-fauxmance ever become love in real life?

Related