Today, HJ is pleased to share with you

Sharon Sala's

new release: 

Somebody to Love

Welcome to Blessings, Georgia! Whether you've lived here your whole life, you're returning after years of being away, or you're new in town, you're sure to find the happy ending you've always been looking for.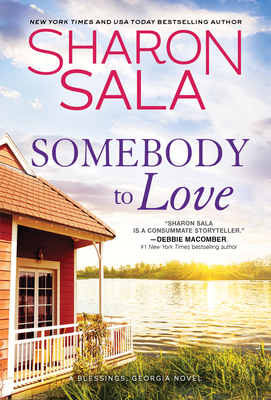 Fifteen years ago, a family member stole the money Hunt Knox had saved for college, while three of his siblings and his father hid the truth and told him to get over it. Betrayed by their lies and thievery, Hunt joined the army and wound up flying Apache helicopters in Iraq. Now, he's a chopper pilot for an oil company in Houston, Texas, his father has been dead for six years, and he's finally returning home to Blessings at his mother's dying request.
 
Ava Ridley, the little girl his mother used to babysit, has grown up and is a nurse at his mother's bedside when he arrives. Ava is overjoyed to see him. She had a huge crush on him when she was young. And as the two spend more time together, Ava's crush grows to be even more.
 
Through secrets, lies, family betrayal, and difficult choices, Hunt's not sure he and Ava can ever make a home together in Blessings. Or if life will once again lead them onto different paths…?
Enjoy an exclusive excerpt from Somebody to Love 
It was eleven fifteen when Ava left the house to meet Hunt, and again she kept a look out for the red sports car as she drove through Blessings, although it was nowhere in sight.
She saw Hunt's black pickup the moment she pulled into the parking lot and tried not to make a big deal out of this. But to her, it was a big deal. She assumed Hunt was buying her lunch in return for the pie and the chili dogs she'd brought him, but she was secretly calling it a date. She'd always wanted to be Hunt Knox's girl, and for a little while today, she could pretend it was true.
She parked and then hurried into Granny's. Hunt was waiting, and stood up when she entered.
"Hi, Ava. That color of yellow is sure pretty on you," Hunt said as he gave her a quick hug.
"Thanks," she said. "Come say more nice things to me while we eat."
Hunt laughed. He hadn't felt this lighthearted since he was a kid. Ava Ridley all grown up was good for his bitter self.
"Where's Lovey?" Ava asked, as Sully grabbed a couple of menus and seated them in a booth.
"Oh, Mom had a flat on the way to work. She'll be here shortly," he said, and then ran back to the register and the people waiting to pay.
Ava glanced around the dining area and then breathed a little easier knowing Vince wasn't here. Hopefully, he'd already left Blessings.
But Hunt caught the look on her face and noticed she had just scanned the entire dining room.
"Is everything okay?" he asked.
Ava jumped and then shifted focus back to Hunt. "Yes! Why?"
"You seemed to be looking for someone."
Ava sighed. "I guess I was, but not like you think. I was confronted in the parking lot at the Crown this morning. Scared the heck out of me, and then it made me mad. I guess I was just making sure the creep wasn't here."
Hunt frowned. He didn't like thinking someone had scared her.
"What happened, and what creep? Do I know him?"
"No, you don't know him. Remember you asking me if I'd ever been married or engaged, and I told you I'd only had the one serious relationship when I was in nursing school and none since because it was a less-than-positive experience?"
Hunt nodded.
"So, that same person nearly ran me over in the Crown parking lot this morning, and then kept blocking me from going around his car, going forward or backward, and laughing. He kept calling me 'baby' and wanted me to get in his car. I told him I wasn't his baby, and if he didn't get out of my way, I was ramming my shopping cart into the side of his fancy red car. He called me a bitch and sped off."
The hair was standing up on the back of Hunt's neck. He knew men like that. Bullies who got a kick out of intimidating other people.
"What's his name?" Hunt asked.
"Vince Lewis."
"What's he driving?"
"A red Porsche."
Hunt's face was suddenly expressionless. "Does he live in Blessings?"
"No. That's the weird part. And he only came here with me once for Sunday dinner with my folks when we were dating."
Before Hunt could ask more, their waitress appeared with a basket of Mercy's famous biscuits.
"Sorry about the wait. We're slammed today. Do y'all know what you want to drink?"
They ordered drinks and their food at the same time, and as soon as she was gone, Ava reached for a biscuit.
"Want one?" she asked, and scooted the basket toward Hunt.
"I want to know if you're afraid of this man," Hunt said.
Ava sighed. "I honestly don't know how I felt. But unsettled, for sure."
"Did he ever hurt you before? Or threaten to?"
Ava rolled her eyes. "No, just cheated on me, and when I walked in and caught him in bed with another woman, he laughed and tried to get me to join them. I walked out and never looked back."
Hunt took a deep breath. "You're serious?"
"Unfortunately, yes," she said, and then leaned across the table and smiled. "But that's enough about the jerk. When I was a kid, I used to dream about you asking me out on a date, so right now I'm living out that fantasy and I'm not letting anything spoil that dream."
Hunt was falling deeper under Ava's spell, and she wasn't even trying. She was genuine in every way, and so matter-of-fact about her childhood crush that it was actually charming.
He wanted to pursue this, but at the same time, she was entrenched in Blessings, and he wouldn't live here again if it were the last place on earth. So he sat listening to her chatter and laughing in all the right places.
A short while later, their food came, and as they were beginning to eat, Lovey finally showed up and began going through the dining room greeting her customers.
When she got to their booth, she saw Hunt and smiled.
"Hunt Knox! It's good to see you again. I heard you'd come back for your mama. Bless your heart. I am so sorry for your loss. Marjorie was dearly loved here in Blessings."
"Thank you, Lovey. It's good to see you."
"I see you and Ava are catching up," Lovey said. "Enjoy your food…and it looks like you two need some more biscuits."
"Hunt's really enjoying them," Ava said.
Lovey beamed. "They're good, aren't they?"
"Yes, ma'am. Best I've ever had," Hunt said.
"We have acquired a new baker since you were here. Her name is Mercy Pittman. She's married to Lon Pittman, the police chief," Lovey said.
"Lucky man to have such a wonderful cook," he said.
"She's an amazing lady in more ways than one. Are you staying in Blessings long?" Lovey asked.
"Just long enough to get the old house fixed up to sell. Then I'll be going back to Houston," Hunt said.
"Then I'm guessing we'll be seeing you again before you leave," she said.
"Since I'm tearing up the house some, there's not much cooking going on. I'd say that would be highly likely," Hunt said.
Lovey moved on, and the waitress came by later with more biscuits. The food was as good as Hunt remembered, and Ava was way more interesting and prettier than he would have ever imagined. As time went on, he began to relax. Good food in an empty belly was never a bad thing.
After their meal, Hunt walked Ava out to her car.
"Thanks for taking time out of your day to eat with me," he said.
Ava shook her head. "This was my dream date, remember? I didn't 'take' time to do anything. I would have fought a bear before missing this."
Hunt grinned. "Fought a bear, huh?" Then he leaned over and kissed the side of her cheek. "If it's okay with you, I'd like to call you later."
Ava resisted the urge to touch the place where he'd kissed her.
"Of course it's okay. Tonight is the family viewing, so—"
"I'm not going," Hunt said. "If I show up, then it will be all about me and where did I go? Where have I been? Why didn't I come back. Tonight is for Mom. And my brothers and sisters will be much happier without me, too, so there's that."
Ava frowned. "I'm so sorry. Whatever happened, it's not fair to you, and that's all I'm going to say, other than feel free to call me anytime. Thank you again for dinner."
"You're welcome," Hunt said. "Maybe we can do it again sometime…like in the evening, after you get off work?"
Ava beamed. "I'd love that. Take care."
Then she jumped in her car and drove away.
Hunt was getting in the truck and missed seeing the red Porsche that pulled out of a side street and followed Ava home, but once he left the parking lot, he decided to drive by Ava's house on the way home, just to make sure the old boyfriend wasn't in the area.
Excerpt. ©Sharon Sala. Posted by arrangement with the publisher. All rights reserved.
 
 
Giveaway:

A paperback copy of Somebody to Love by Sharon Sala
To enter Giveaway: Please complete the Rafflecopter form and post a comment to this Q:

What did you think of the excerpt spotlighted here? Leave a comment with your thoughts on the book…
Meet the Author:
Sharon Sala has 127 books and novellas in print. First published in 1991, she's a RITA finalist, winner of the Janet Dailey Award, RT Career Achievement winner, National Reader's Choice Award, Colorado Romance Writer's Award of Excellence, Heart of Excellence Award, the Booksellers Best Award, RWA's Nora Roberts Lifetime Achievement Award and the Centennial Award for recognition of her 100th published novel. Her books are New York Times, USA Today,and Publishers Weekly bestsellers. She lives in Oklahoma.
Purchase Links:
Amazon: https://amzn.to/31s0t51
B&N: https://bit.ly/2EoQ812
Apple: https://apple.co/3jdmR8b
Kobo: https://bit.ly/2YlHJBW
Bookshop: https://bit.ly/2EwOoT6
BAM: https://bit.ly/3lbwohU
Books2Read: https://bit.ly/3prL12l
 
 
 
Related