A Lady's Formula for Love by Elizabeth Everett is the debut book for Everett and what a book! I was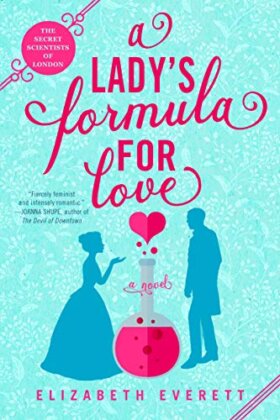 amazed when I discovered this was the author's debut book because it was incredible. It was easy to read and depicted the true prejudice women of science faced in the past. The women were dedicated to their love of science and risked everything to do what they loved. The storyline was developed, and I loved the characters who were charming and sincere. The book was full of surprises, intrigue, romance, danger, and plenty of humor. It pulled me in and kept me entertained until the end.
Widowed Lady Violet Hughes built Athena's Retreat, the first women's social club. Within that club behind closed doors, was a secret club with labs where women could do their experiments in the scientific fields. Violet is a brilliant chemist, and she is secretly working on a project for her stepson who works for the government. An illegal organization, Omnium Democratia "Omnis" has developed a canister of unknown gas and was using it to harm people at riots. Violet was trying to develop a neutralizer for the gas, but someone was trying to stop her by frightening her. Her stepson, Grey, hired Arthur to protect her when he leaves town on a mission. Violet did not know why Arthur's reserved presence made her feel so secure. Her feelings for Arthur were new to her and left her feeling unsure of herself.
Arthur Kneland was back in England after being gone for twenty years. He has retired as a government bodyguard and plans on buying a farm in Scotland but is doing this last job as a favor to Grey. He thought he was supposed to be watching over an absentminded widow, instead, he ends up in a household full of eccentric women, danger, mishaps, and mayhem. He knows he needs to avoid distractions to keep Violet safe, but she made it hard for him to maintain his normal distance. She was constantly amazing him and he found himself slowly allowing her in.
This was an amazing book and I loved seeing Violet's confidence in herself grow with her feelings for Arthur. I enjoyed seeing Arthur's detached demeanor slowly disappear with Violet's eccentric household and friends. He thought the only thing he wanted was a home in Scotland when he retired but he came to realize that home was not a place but was where he loved, which was wherever Violet was. I highly recommend this book and can not wait for the next book in the series to come out.
Book Info:

Publication: February 9th 2021 | Berkley | The Secret Scientists of London #1
Lady Violet Hughes is keeping secrets. First, she founded a clandestine sanctuary for England's most brilliant female scientists. Second, she is using her genius on a confidential mission for the Crown. But the biggest secret of all? Her feelings for protection officer Arthur Kneland.
Solitary and reserved, Arthur learned the hard way to put duty first. But the more time he spends in the company of Violet and the eccentric club members, the more his best intentions go up in flames. Literally.
When a shadowy threat infiltrates Violet's laboratories, endangering her life and her work, scientist and bodyguard will find all their theories put to the test—and learn that the most important discoveries are those of the heart.

Related