Today it is my pleasure to Welcome author
Candace Havens
to HJ!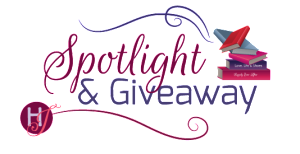 Hi Candace and welcome to HJ! We're so excited to chat with you about your new release, A Case for the Candle Maker!
 
Thank you so much for letting me hangout today. I appreciate it.
 
To start off, can you please tell us a little bit about this book?: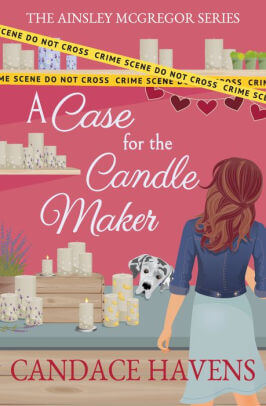 This is the fourth book in the Ainsley McGregor series. (You don't have to read the first three to understand this one.) She and her Great Dane, George Clooney, get involved in a murder mystery that involves her new friend, a candle maker. And then there's a bit more of the sweet romance in this one with Ainsley and Jake, her boyfriend.
 
Please share your favorite lines or quote(s) from this book:
The man came over to check your pipes.
"You knew exactly what a dirty chai was; it was kismet."
Since when do you listen to your brother?
If I'm honest, finding that body this morning—well, let's just say the adrenaline has worn off big-time. I'm going to carb load and sack out."
What inspired this book?
It's a long list, but candles are a huge part of my everyday life. I love the idea that aromas could make you "feel" things. And then Jasmine was inspired by Kerry Washington. I just love her and want to be best friends. (Laughing). On the other side of my life, I've interviewed her a few times and she is so smart and funny.
How did you 'get to know' your main characters? Did they ever surprise you?
I love Ainsley McGregor and her dog George. This being book four, I feel like I know these characters well. But they always surprise me. Always. I would want to be part of Ainsley's crew—if she were real. I think that's why I like hanging out in Sweet River, Texas, the fictional town where the books are set, so much.
What was your favorite scene to write?
I don't want to give too much away because it comes later in the book. But there's a dance, and romantic stuff happens.
What was the most difficult scene to write?
Again, because it's a mystery it's tough to share stuff that comes later in the book. But there is a moment at that same dance where something, another mystery, comes to a head. I love that Ainsley handles it well, even though she's not great with that sort of confrontation.
Would you say this book showcases your writing style or is it a departure for you?
I feel like it's me but in mystery form. I love quirky, fun characters we want to hang out with. I try to carry that through, no matter the genre.
What do you want people to take away from reading this book?
I want them to have a good time and feel like I lead them down the road to a fun mystery.
What are you currently working on? What other releases do you have planned?
I'm working on the fifth Ainsley book, which, I think, comes out in June. And a Christmas book with my daughter-in-law for December 2021.
Thanks for blogging at HJ!
Giveaway:

An ebook copy of A Case for the Candle Maker & 3 Tule ebooks
To enter Giveaway: Please complete the Rafflecopter form and Post a comment to this Q:

If you were solving mysteries, who in your life would be your sidekick?
Excerpt from A Case for the Candle Maker:
Bless Your Art buzzed with people buying Valentine's gifts, which should have made me so happy. Okay, it did. But having three of my crafters, the ones who were supposed to be running the registers, out with the flu was not so fun.
George Clooney sighed at my feet. "I promise, dude, as soon as it dies down we'll go out."
He grunted like he didn't believe me.
"I don't blame you." I'd been saying the same thing for an hour but there hadn't been a lull in the shop since we opened the doors. Valentine's was coming up and people were getting desperate.
I understood. I had no idea what to get Jake, my boyfriend. Yep. Still weird to even think that word.
We'd decorated the shop in red and white, and a row of red shiny hearts fell off the far wall, just as I shoved my new bangs out of my face.
They were cute, but constantly in my eyes.
"I don't get it," a woman said. She'd just walked in from the outside, and up to the register.
"Can I help you?"
"Are you Ainsley?"
"Yes." I forced a smile.
"I just don't get it. What a waste." Then she turned and left. She took off down the sidewalk like demons chased her.
"What's a waste?" I had no idea who she was, or what she was talking about.
A line had formed and I turned my attention back to my work.
A woman who reminded me of Halle Berry—like so beautiful she belonged on a magazine cover—cleared her throat.
"Excuse me?" she said softly.
Maybe it was low blood sugar but I had the toughest time focusing.
She put a couple of candles on the counter but I didn't recognize them. A soft scent of vanilla and cinnamon wafted through my sinuses. The tension in my shoulders dropped and I sighed happily. But when I went to look for the code on the bottom, I didn't find one.
"These are beautiful. Unfortunately, they don't have a code on the bottom. Can you tell me what booth you were in when you picked them up?" While I tried to keep the inventory of Bless Your Art in my head, we had a big store. It was possible I'd missed these.
"I made them," she said quickly. "I was wondering if I could sell them in your shop. The one you picked up is the stress relief one. But I have ones for love, others for energy. I heard about your shop from a guy I met last month at a festival. He runs a carnival. I'm embarrassed that I can't remember his name, but he said I should come see you."
I smiled. "Was it Rob?" He was the only guy I knew who owned a carnival. Once I'd figured out he wasn't a deranged killer, we'd become good friends.
The woman snapped her fingers. "Yes. He said to tell you that my sleep candle works."
While I was always looking for new vendors, there wasn't a lot of space in the shop at the moment.
"Do you mind if we do the first batch on consignment?" That was a much safer bet financially. While the shop was in the black, it wasn't always easy to keep it that way.
"I don't mind at all. And I won't need much space. I'll give you several to burn. The orange blossom one is great for shoppers. The smell energizes them."
Each candle was decorated with tiny gold stars, moons, or beads. They were burning works of art. They had a small card that said what the aroma might help with, from love to prosperity to sleep.
Candles with a story. I loved it. I was always on the lookout for something new and different.
I glanced around the shop. There was a round display table with a collection of things from the shop that was nearly empty. And if I moved some things on the shelf above it, it would work perfectly.
"What smells so good?" a shopper said behind the woman who'd brought the candles.
"Her candles," I said. That's when I realized I hadn't introduced myself.
"I'm Ainsley McGregor," I said with a little wave.
"I'm Jasmine Levy," she said, and then smiled. "I know you're busy—if you show me where you want me to set up, I can do it myself. I don't want to keep your customers waiting."
I pointed toward the round table and the shelves. "I was thinking there would be nice."
Jasmine glanced back. "That's perfect. Are you sure? That's prime real estate for a shop like this."
"Of, course. Mrs. Whedon? Could you find a box for the items left on the table? So, we can clear the space?"
The octogenarian, who was dressed in an avocado jumpsuit, looked up from her knitting, but the needles didn't stop moving. Her booth was in the front row of the store.
"Yes," she said in her clipped manor. And then hopped up like a twenty-year-old and fast-walked to the back of the store.
"Oh, we didn't need to bug her." Jasmine frowned. "I have some boxes out in my car."
"It's okay. She loves to be needed," I whispered. "And if she's gruff with you, that means she likes you."
Jasmine smiled. "My gran used to be that way."
"You go on over and start setting up. When I finish with the customers in line, I'll help you."
Her smile was wide. "Thank you so much." She picked up a box on the floor, but then turned back. She put it down, and then pulled a box of matches from her pocket. "Why don't I light an orange one for you."
She did so, and then picked up the box again. As she walked past the customers, they turned and followed her.
"What other smells do you have?" the woman who had been behind Jasmine asked. As she explained what each candle did, Mrs. Whedon returned.
As Jasmine took the candles out of the box, people were grabbing them out of her hands. I pulled a sheet of inventory stickers from the stack under the counter, and headed to the table. While I tried to put them on the bottom of the candles, people were buying more and more.
"Is that all you have?" one woman asked.
Jasmine shook her head. "I have a lot more in my car. Just give me a second."
"Mrs. Whedon, would you be able to check them out so I can help Jasmine?"
"Ainsley McGregor, I'm not some feeble old woman," she said.
I bit my lip to keep from smiling. She was as grumpy as they came but she had a heart of fluffy marshmallows. "Yes, ma'am." She had more energy than I did most days, so who was I to argue.
I followed Jasmine out to her SUV. It was packed with boxes. When she opened the hatch on the back, a cacophony of smells erupted.
It was glorious.
"At the rate your candles are selling, you may go through all of this inventory in a day."
She laughed. "No one is more surprised than I am how well these sell. This same sort of thing has been happening to me at the festivals. I'm grateful, but surprised."
She peeked inside the boxes. "That box just behind this one is the love candles."
Love candles. It just sounded funny.
"So, how did you get into candle making? Have you always done it?"
She laughed. "No. I was—I—consulted with high-powered businesses and helped them restructure. But after ten years, it was wearing on me. I retired. I just couldn't do it anymore."
"You're so young to have retired."
"I guess I shouldn't say retire, because the candles have become a full-time business, but I love it. I found this old recipe book in my grandmother's trunk. It had been locked for thirty years. I watched a video on how to pick locks and I was able to open it."
That's how I'd learned most of what I knew about being an amateur detective. YouTube and detective shows were responsible for my knowledge base.
"That was smart—about the video," I said. "I'm surprised no one tried to cut the lock."
She smiled. "Oh, it was a thing with my mom. She said whatever was in there was best hidden away. I remember her being a little wary of my dad's mom. I don't know what made me decide to open it that day, but I did.
"Several old books were in there. She had recipes for everything from healing aids, to how to get rid of pests, to love potions. But I was drawn to the candle-making ones. There was a recipe for soothing the soul. It's eucalyptus mixed with vanilla and some other things. That first batch of candles were lopsided. But when I burned them, I felt better."
She shook her head. "Sorry. I love my candles. Can you tell?"
"Oh, don't be sorry. I think it's fascinating. Almost like your grandmother guided you to do all of that."
She sat the box she'd been holding back down, and then put her hand on my arm. "You and I are going to be fast friends, Ainsley McGregor. I very much like how you think. And I'm so grateful to you for taking on my candles."
"I'm happy you walked into my store. And you're right. You have a lot in common with me and my friend Shannon. She owns the coffee shop on the corner. We were both doing other things before starting our own businesses."
Three women came out of the store, and all of them were talking about the candles.
"I think it's me, who should be thanking you," I said. "Since you're new in town, why don't you meet me and my friend Shannon for dinner. We're going to Dooley's at the corner around seven."
"Oh, I wouldn't want to impose."
"You won't be. She's getting married in three weeks and always needs a distraction these days."
"Well, it would be nice to have company for dinner."
We picked up the boxes again, and headed into the store.
I was looking forward to learning more about the beautiful Jasmine.

As expected, Jasmine and Shannon quickly became friends at dinner. Helped by the fact that the other woman asked her about every detail of the wedding—which, rightfully so, was Shannon's favorite topic these days.
As maid of honor, I'd been involved in every aspect of planning the nuptials, but I still loved that my friend was so excited about marrying one of the best guys, Mike, that I'd ever met. He owned the local winery, and had a booth in my store.
"I'm bringing out four desserts for you guys," Dooley said. It was his restaurant. He had the appearance of a scary biker dude with an aversion to shirts with sleeves. But he was kind and one heck of a chef.
"Four?" Jasmine asked.
"Dooley understands that Shannon and I are dessert connoisseurs and we never mind helping him try out new recipes."
Everyone laughed.
"So, let me guess, we're doing a tasting for your Valentine's dinner? What are you bringing us?" Shannon asked.
Dooley pointed his finger toward her. "Got it in one. And I've got a cherry tart, blueberry love cake, strawberry cheesecake topped with ganache, and chocolate-covered strawberry brownies."
"Um. Yum."
He headed back to the kitchen.
Jasmine glanced around the restaurant. "I really like this town. Everyone is so kind. It's different than I remember it."
"You've been here before?" I asked.
"My grandmother used to live here. She owned the mill, and a couple of other businesses. I think she was even mayor once. It was a big deal because it was before the civil rights movement. And she was a black woman in a small town in Texas."
"Ms. Johnson?" Shannon asked. "Oh my goodness. You're like Sweet River royalty."
Jasmine laughed.
"Ains, your building used to be the old Johnson mill."
"Oh. Wow. I had no idea."
"I think it closed before I was born," Jasmine said. "You know, it's funny. I remembered having family in this area, but now I know why I was drawn here. Strange how that happens."
"Does your family still own land around here?" I asked.
"It's a possibility. My mom's side of the family owned some property here, and my dad wasn't fond of them. At least, that's what I remember. She died when we were pretty young."
"I'm sorry for your loss," I said.
"Thanks. It still hurts and it's been twenty years."
"We should do some research on your family while you're here. I bet the courthouse would have records of all the land deeds. I'll help if you like. I love doing research."
"She loves snooping," Shannon said with a smile. "And she's really good at it. I'll help, too."
"So, is everyone in this town as kind as you two?"
We laughed.
Shannon nodded. "Sweet River has that name for a reason. The people here are kind. For the most part, it's almost perfect. I mean, everyone knows each other and looks out for their neighbors. But then they all know your business, as well."
"There is that," I said. "It's impossible to keep a secret around here."
"Right?" Shannon laughed. "Sometimes it feels like they know your business before you do."
Jasmine smiled but it didn't quite reach her eyes. "I've been living in Houston the last year. I don't even know what my neighbors in my condo building look like. It can feel really isolating sometimes." Her voice grew soft. She waved a hand, as if pushing the bad memories away. "But at least no one knows that I just bought four boxes of Little Debbie's oatmeal cookies."
"The ones with the creamy stuff in the center?" I asked.
She nodded.
"Those are like crack for me," I said. "A few months ago, I accused my poor dog, George, of eating them. But all the wrappers were in the trash can, which means it was me. I ate the whole box in one night."
At that moment, Dooley placed a huge tray of desserts—way more than four—on our table. "Enjoy. And let me know which ones you prefer."
We all laughed.
"Goodness, I don't know when I've laughed so much," Jasmine said. "Maybe, I'm a little too used to being alone."
"Well, you've got us now," Shannon said. "Friends for life. Ainsley and I are pretty hard to shake."
"You sound like a stalker," I said. "But she's right. You are our kind of people."
"I feel the same way about you two. I'm so lucky that I walked into your store," Jasmine said.
"Me, too. And I swear it has nothing to do with the fact that we sold out of your candles in just a few hours."
Jasmine shook her head. "I still can't believe it. I'll bring you some more in the morning."
"Excellent," I said. "Now what dessert are we trying first?"
I was surprised we didn't need a wheelbarrow to roll us out of Dooley's by the time we were finished. My eyes were already drooping with the need for an extreme food nap.
Luckily, the wind had picked up and the temperature had dropped to about fifty. It seldom was below seventy here in the winter, but every once in a while a cold front pushed through.
"Would you like me to drive you down to the B&B?" I asked.
Shannon pulled on a puffy jacket, which had been tied around her waist.
"Oh. No. I'll be fine. It's only two blocks, and after that meal, I need to walk. You two go on."
She put on her dark green coat. With her knee-high black boots, she could have been doing a winter photo shoot. She was that beautiful.
"If you're sure. We don't mind," Shannon added. I was taking her out to Mike's winery, where George was. Her fiancé had been kind enough to dog-sit for me during our girls' night.
"I promise, I'm good. I love to walk."
We said our goodbyes, and then Shannon and I started toward my car.
Something made me shiver that had nothing to do with the cold. I stopped and turned around.
I could barely make out her form but Jasmine paused. I swear it looked like she was arguing with a bush.
"What's wrong?" Shannon asked. She must have realized I wasn't beside her and had come back to my spot.
"I had one of my feelings," I said.
"About Jasmine?"
I shook my head. "I don't know."
"Let's drive down the block," Shannon said, anxiously.
We hurried to my car.
But by the time we drove down toward the B&B, Jasmine was nowhere to be seen.
"She's probably a fast walker," Shannon said. "But I can go into the B&B and check."
"I'm sure she's fine," I said. "Besides, it's after nine and you know the door is locked. If you wake up Mrs. Carmichael—"
"Yeah. No," Shannon said. We both laughed. "That woman is protective of her guests and her beauty sleep." We'd learned that the hard way.
"Oh. Look. There she is."
A light on the second floor had popped on, and Jasmine's silhouette was on the curtains.
"Okay. Good. I just wanted to make sure she was all right."
The businesses of Sweet River, with the exception of Dooley's, and a couple of other restaurants and bars, were all closed by seven.
So, who in the world had she been talking to this late at night?
Excerpt. © Reprinted by permission. All rights reserved.
 
 
Book Info:
Play with candles and you might get burned…
Ainsley McGregor has her hands full preparing for Sweet River's Valentine's Day celebration and her bestie's wedding. So when a mysterious woman pitches selling her candles in Ainsley's shop, Bless Your Art, Ainsley nearly blows her off. But the candle's fragrance is evocative, and she can't resist placing an order.
The candles are a hit, quickly selling out, but when Ainsley calls the woman to buy more, she's unreachable. Hoping to connect, Ainsley and her Great Dane, George Clooney, stop by the local bed and breakfast. When George whines outside her room, Ainsley is afraid to look. She soon discovers that the candle maker is dead—in a room that was locked from the inside.
Although her brother, the town sheriff, is on the case, Ainsley believes the prime suspect is innocent. Intent to prove it, Ainsley once again drops into sleuth mode, discovering some surprising truths about the mystery woman. But has she just put herself in the killer's crosshairs?
Book Links: Amazon | B&N | iTunes | Kobo | Google |
 
 
Meet the Author:
Bestselling and award-winning author Candace Havens has had more than thirty novels published. She is one of the nation's leading entertainment journalists and has interviewed countless celebrities from George Clooney to Chris Pratt. She does film reviews on Hawkeye in the Morning on 96.3 KSCS.
Website | Facebook | Twitter | Instagram | GoodReads |
Related