In Hold the Forevers by K.A. Linde, Delilah "Lila" Greer fell in love with Ash Talmadge in high school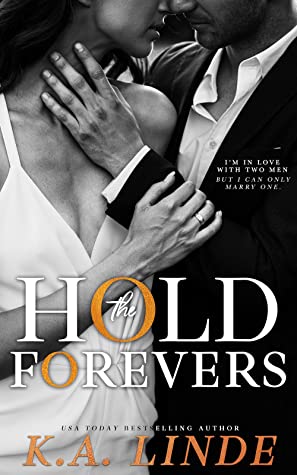 even though they came from very different worlds and they both knew their paths in life would take them basically in opposite directions. But it didn't matter. Lila knew her connection with Ash was real. Until the rug was pulled out from under her and she found herself heading to college with no boyfriend. Then Lila meets college student Cole Davis and her world shifts again with the intense passion between them that can't be denied. Yet even that fiery hot romance is in doubt when Ash walks back into the picture.
'I didn't know when it had happened, but I couldn't deny it. Couldn't ignore it.
I loved two men.
But I could only have one.
I'd made my choice.
Right?'
So goes Lila's life for the next decade, being pulled between two men who she honestly loves with all of her heart. Over and over they challenge her to choose between them just when things seem to be on an even keel, causing more chaos in their lives every time. Lila finally buckles down and makes her choice. And soon wedding bells are set to ring. But as she walks down the aisle to the man of her dreams, the other man she can't seem to leave behind storms in and objects to the wedding. Forced to face them both down and humiliated in front of way too many people, Lila will either have to pick Ash or Cole–or leave them both behind forever.
'This felt too good to be true. Serendipitous. But if I'd learned anything about the two men in my life, nothing was ever left up to chance. The world managed to always bring us back together.'
Buckle up for an intensely emotional ride with Hold the Forevers where one woman falls in love with two very different men over the years and must somehow decide once and for all who her soulmate is.
'I couldn't be with Ash.
I couldn't be with Cole.
Not with our history always hovering around us. Not when I loved them both. Not when they hated each other. This would never get easier.'
Trigger warning: View Spoiler »Cheating « Hide Spoiler
Oh. My. Word. I think K.A. Linde's Hold the Forevers rivaled the love triangles I've read in Molly McAdams' new adult books as far as the huge pull back and forth between the characters and with how complex it was. Although it might turn out to be a bit too much for some readers. There were times where I wanted to shake Lila–and Cole and Ash–for what they were doing to each other. But overall this was a smartly written romance. One thing I truly enjoyed was how Linde kept us guessing until literally almost the final page of the book before we found out who Lila was marrying. And even then…well, it wasn't necessarily smooth sailing.
A fair amount of the time with love triangles I can't help but have an opinion with who should end up together. But this one was tough. I liked Lila with Cole and I liked her with Ash. Linde was very convincing in how she built the relationship between both couples so it made it difficult to watch things fall apart time and time again. It does work out, though! So don't give up hope. It felt like things ended a little abruptly at first but there is a link for a bonus epilogue (Hold on to Forever) at the end so be sure to click on that. I have a feeling it will tie things up in a neat bow for readers and hopefully leave you with the same smile on your face as it did for me.
Oh, the angst and the drama! If you're a fan of love triangles and dynamic characters then Hold the Forevers will be the perfect book for you.
Book Info:

Publication: Published February 23rd 2020 | Pub:  K.A. Linde Inc. |
A new angsty stand alone love triangle romance from USA Today bestselling author K.A. Linde that will keep you guessing which man is her groom and which one objects…
I'm in love with two men.
But I can only marry one.
And today is my wedding day.
The bridesmaids button my wedding dress. They titter excitedly as the music begins. My groom is waiting for me. I walk down the aisle prepared to say I do. All according to plan.
Except for the shout from the back of the room, "I object!"
I should have known it couldn't be that easy. After more than a decade of push and pull, neither of them is going to let me go. We're a trio that should have never been. Me and Cole and Ash. One that I'm to marry and one that I'm to leave behind.
Now, once and for all, I have to choose: my groom or the man objecting?
But until then…hold the forevers.

Related