Devoured by Cathryn Fox: Peyton absolutely hates her husband Roman Bianchi, only problem is she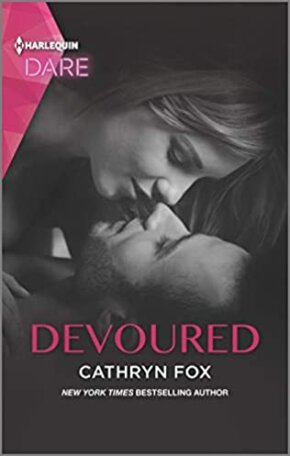 needs to be married to him if she wants to be able to travel and teach English in beautiful Malta. After breaking her young heart when he kissed her and laughed after their kiss completely crushed any and all feeling that Peyton had for Roman.
So you just imagine how many times Peyton questions herself about this sham of a marriage, convinced that she will bare through the month and continue to hate the devilishly handsome billionaire but with the two spending more and more time together Peyton finds herself with a bigger problem; the delicious pull she feels towards Roman seems to be more than she had expected.
This was just brilliant! I loved every single second of this deliciously steamy romance. Devoured has to be one of the best Dare Presents books to date! I absolutely love the fake marriage trope and Fox has truly out done herself with this book. I loved the chemistry and pull between Roman and Peyton. I liked that their connection was not only physical but the emotional part was very touching.
Devoured is definitely one book that I would recommend reading, this steamy romance will have you fanning yourself and rooting for this couples happy ending!
Book Info:

Publication: February 1st 2021 | Harlequin Dare | Dirty Rich Boys #2
This can't be happening. How did I end up fake married to Roman Bianchi? Whatever crush I might have had on my brother's best friend disappeared that summer night when he kissed me—a devouring kiss so complete it set my blood afire. And then he walked away laughing.
But my dream to travel to stunning Malta to teach English hinges on my pretending I'm married. So now for the next month, we are the Sexy Italian Millionaire and his Loving (Not So Much) Wife.
I hate Roman Bianchi. I hate the gorgeous villa we're sharing, I hate the surge of electricity that pulls at us both whenever we're close and I hate the fact that when he kisses me, everything that is cold inside me blazes to life, wanting more, wanting him and hating him all the while.
Except that with every day that passes, every night of dirty, delicious sex, I'm falling deeper for my own lie. And giving my heart to Roman Bianchi might be the fastest way to destroy it…

Related