Today it is my pleasure to Welcome author
Sapna Bhog
to HJ!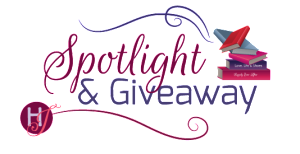 Hi Sapna and welcome to HJ! We're so excited to chat with you about your new release, Dare to be a Duchess!
 
Hello dear reader friend.
 
Please summarize the book a la Twitter style for the readers here: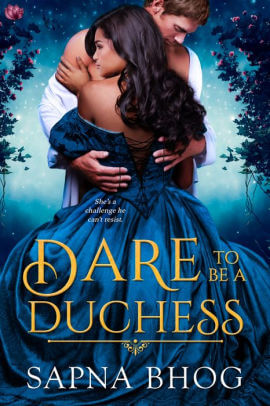 He's a powerful duke. She's his uncle's ward. They have forever been at war, until one night, one masquerade, and one kiss…
 
Please share the opening lines of this book:
Red. The color was everywhere.
Lara Ramsay fidgeted where she stood just inside the entrance of the great Hall, surveying the scene inside one of London's most scandalous ballrooms. Each place her eyes touched in the enormous room, she saw it. Heavy, red brocade silk curtains, red table covers, red upholstery, red
silks covering the walls…even the candles were red.
Please share a few Fun facts about this book…
A wild, rebellious, heroine is from India.
A masquerade where everything begins.
A broody, moody, duke who learns who he truly is once he falls in love.
A soiree which is actually a fun fair.
The heroine is a master at planning mischief and mayhem.
What first attracts your Hero to the Heroine and vice versa?
The hero is attracted to her boldness, her loyalty, her fiery nature and that she's not afraid to speak her mind to him.
The heroine is attracted to his strength of character—he protects those who loves, he's fair, responsible, and he can be fun when he sheds the burden of being a Duke.
 
Using just 5 words, how would you describe Hero and Heroine's love affair?
Spell-binding, tempting, fiery, irresistible and tempestuous.
 
The First Kiss…
"Is that—" he began, but Lara didn't allow him to finish his question. Panicked, she grabbed his arm and dragged him into the nearest empty alcove.
Wolf raised an eyebrow. "What are you doing?"
Ignoring him, Lara pushed him against the wall and did the one thing that she was certain would distract him. She rose on tiptoes, grabbed his lapels, and planted her mouth on his.
Every single thought in Wolf's head went flying out.
Time halted in its tracks.
He couldn't move.
Lara pressed closer to him, crowding him against the alcove wall, and her breasts crushed against his chest. He inhaled, and her sweet vanilla scent wafted over him,
intoxicating him. His body reacted faster than the warning his brain sent him, and he gathered her in his arms and kissed her back.
She had the softest lips, and she tasted decadent, like rich, dark chocolate. Within seconds, he took control of the kiss. He plundered her mouth and attacked her lips, hungry for more. Wolf sucked her lower lip, running his tongue slowly inside the seam of her mouth, and Lara moaned.
Without revealing too much, what is your favorite scene in the book?
After a moment, Lara clicked her tongue. "With the three of them together, there's no way all of us can leave the ballroom without them noticing. Right?"
Camille scoffed. "That much is obvious."
"Well then, the plan is simple, 'Divide and Rule.'"
If your book was optioned for a movie, what scene would be absolutely crucial to include?
"How fabulous," Lara effused, moving to stand in front of Wolf. "I've never seen anything like this."
It took him less than a moment to understand that this was no ordinary performance. It was exotic and erotic, one meant to entice the audience. Lara's audible gasp told him that she had realized this, too. But she stayed put in front of him, enraptured by the performance. They watched the dancers close in on one other again and again, their bodies moving back and forth, their skin
gliding across one another, all the while their hands moving with the fire sconces. It was a dance meant to excite and ignite emotions, and it did. Lara took a step back, and her back brushed into Wolf's body. Both his arms came around her waist, pulling her against his chest, trapping her to him.
A shudder went through her. He felt it to his bones.
Readers should read this book …
because it shows how a mixed heritage girl fights for her place in Society, and how a duke overcomes various prejudices and falls in love with this unsuitable girl who is perfect for him.
If you like fast paced historical romances with characters from a diverse background then please give this book a try.
What are you currently working on? What other releases do you have planned?
I'm currently working on Book 2 in this historical romance series and I have a release planned for self-published works—Book 5 in my Sehgal Saga, set in India.
Thanks for blogging at HJ!
Giveaway :

$5 Amazon GC
To enter Giveaway: Please complete the Rafflecopter form and Post a comment to this Q:

Do you like reading historical romances with a diverse character list or do you prefer traditional all British/American historical romances?
 
Rafflecopter hosted by the author: Enter here – http://www.rafflecopter.com/rafl/display/31a4dcec1/?
 
Excerpt from Dare to be a Duchess:
Lara had laid the trap to split him and his friends and she had succeeded. Worse, she'd distracted him. And now his sister had slipped away.
He growled in frustration. "You have made a habit of testing the limits of my temper, Lara. Tonight, you've crossed that line completely."
Lara blinked.
What was he talking about?
She was unable to comprehend him; her wits had scattered to the winds. One moment he was about to kiss her and now he was angry with her. Why? She hadn't tried to kiss him. She blinked, trying to control her raging senses.
"Why are you angry with me? I wasn't the one who was about to…to…" She faltered, unable to even form the rest of the sentence.
"You deliberately set out to separate me and my friends," Wolf retorted. "You were trying to distract me from whatever mischief the three of you have concocted and your plan seems to have succeeded so far. I admit I got a bit carried away for a moment, but not anymore. My sister has disappeared, as it seems was your plan all along."
Her mouth dropped open. He was angry because Anne had escaped, not because he had been on the verge of kissing her? It didn't make any sense. She looked at the livid expression carved on his face and shook herself out of her wayward thoughts. Now that Anne had managed to escape, Lara had to remain calm and control the situation.
"I don't know what you're talking about," she responded. "Your sister is of course around here somewhere."
"No, she is not," Wolf fumed. "You helped her disappear. But I'm not going to let you succeed."
Lara made a face at him. "Are you suggesting that I caused Lady Merridale to faint, just so that I could create some sort of diversion for Anne to escape?"
"Don't be ridiculous. You very well know what I'm talking about."
"That's exactly the problem. I don't know what you're talking about."
"Stop lying to me, Lara. I want to know where Anne is and you are going to tell me, or so help you God," he snapped.
Her mouth tightened. She fixed him an icy look. "Threats and more threats. Nothing changes with you. As usual, it's a mistake on my part to assume that we can share a decent conversation. But luckily for me it's a mistake that I can easily correct, so I'll take your leave. Good night!"
Fully intending to make a dramatic exit, she whirled around. She had taken not one step when Wolf caught her hand and put it on the crook of his arm. When she tried to resist, he covered her hand with his own and marched them towards the terrace door. Lara had no choice but to follow.
It was that or create a scene. Either way, she was not getting out of this situation easily.
"What are you doing? Unhand me right this moment," Lara lashed out through gritted teeth.
"I want to know where my sister is and you are going to tell me."
Excerpts. © Reprinted by permission. All rights reserved.
 
 
Book Info:
He's a powerful duke. She's his uncle's ward. They have forever been at war, until one night, one masquerade, and one kiss…
Lara Ramsay is no stranger to scandal. As the orphaned daughter of a British colonel and his beloved Indian wife, whispers follow her everywhere. Not even the protection of the formidable Duke of Wolverton, a man she can't stand, keeps the gossips at bay.
The audacious Lara has driven Tristan Wentworth, The Duke of Wolverton, to distraction since the day his uncle took her in—and he's quite certain doing so is her favorite pastime. After catching her and his younger sister at a salacious masquerade, he's had enough scandal and issues a marriage ultimatum: find a husband within six months or one will be chosen for her.
Unfortunately, no one in the ton appeals to her. Except, perhaps, the duke himself. The battle of wills has only just begun, and when Lara kisses him, their fate is sealed.
Sometimes even the most proper duke needs to break the rules to win the heart of the woman he loves…
Book Links: Amazon | B&N | iTunes | Goodreads |
 
 
Meet the Author:
Sapna Bhog is an author from India who writes contemporary and historical novels. As a self-proclaimed die-hard romantic, her books are filled with swoon-worthy heroes and feisty heroines who clash all the time, but do get their happy ever after. Sapna has always surrounded herself with books and when she is not writing she is reading.
Originally from Dubai, she now lives in Western India with her husband, kids, and a Siberian Husky. She loves to hear from readers. So do give her a shout if you've read any of
her books.
Website | Facebook | Twitter | | Instagram |
Related