Operation K-9 Brothers by Sandra Owens is the initial book in her new Operation K-9 Brothers series.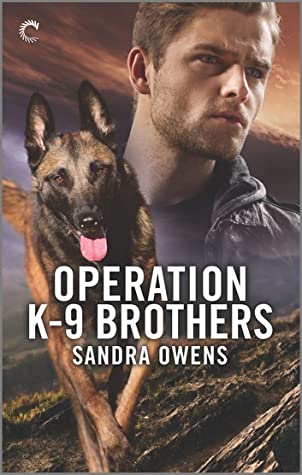 I knew I was going to like this story when I read the blurb, but I didn't like it. I loved it!
Nicole Masters is an artist. Her pottery has become very popular around Asheville, NC. She sells her creations at the River Arts District Center. Nicole thought she had a "done deal" with a local restaurant owner to provide a complete set of dishes for his restaurant but her competitor Trevor Allen stole the contract away from her. That upset her so much she imbibed a little too much wine and thought she phoned Trevor Allen and called him several choice names in the middle of the night. She misdialed and actually ended up drunk dialing a stranger who turned out to be Jack Daniels. Not that Nicole knew it was Jack she drunk-dialed when she met Jack. Jack was curious as to who called him at 3:00 am and woke him up to a woman calling him all kinds of names.
Nicole was attracted to Jack at their first meeting which, unbeknownst to Nicole, had been contrived by Jack. The bonus to meeting Jack was his agreement to help her train her rambunctious rescue puppy Rambo. Just so happened that Nicole discovered that Jack was not just super talented at training puppies but he was even more talented in the bedroom. How could she not fall for such a sweet, kindhearted sexy man.
Jack Daniels is a Navy SEAL at home in Ashville, NC recuperating from injuries incurred during a bomb blast in Afghanistan. His military bomb-sniffing dog Dakota was also injured in the blast. Dakota's injuries meant she was medically retired from the military. Jack is determined to work through his physical therapy and get back to his SEAL team. He surprised himself when he found he really liked Nicole Masters who had awakened him in the middle of the night by an incorrect drunk-dial call. He needs to concentrate on his rehabilitation and getting back to his team. But there's just something special about Nicole and he can't stop thinking about her. He has explained to Nicole that he plans to go back to his team and this is just a fling. Nicole agreed to that but maybe he is changing his mind.
This is a special story of two people who are made for each other falling in love. Nicole and Jack face some serious troubles with Nicole's ex-boyfriend who is stalking Nicole. Jack has to face some hard truths and learn to share the bad times as well as the good times with Nicole. Nicole needs to trust in herself that she doesn't always pick the wrong guys. This book is filled with wonderful characters, lots of fun dialogue and a great resolution to the conflicts in the story. I really liked Ms. Owen's voice in this book. I look forward to the next book in the series, SEAL Kissed.
Book Info:

Publication: January 26th 2021 | Carina Press | Operation K-9 Brothers #1
Navy SEAL Jack Daniels (save the jokes, he's heard them all) and his trusty Belgian Malinois sidekick, Dakota, are back home in Asheville, North Carolina, after a bomb left them scarred. Unable to accept that he'll never be able to return to his team, Jack is looking for a miracle. What he isn't looking for is a permanent relationship, though he's open to a no-strings distraction at the magic hands of gorgeous local potter Nichole Masters.
Nichole is on a losing streak with men. Her ex-boyfriend won't stay gone, a competitor is out to ruin her business and even her rescue pup, Rambo, is refusing to get in line. A chance run-in with a navy SEAL turned canine companion trainer might solve the dog problem. The fact Jack is easy on the eyes doesn't hurt, either.
But when Nichole feels like she's being watched, Jack is the only person she can turn to. He's a protector and problem solver by nature and training. Accepting his protection is one thing—Nichole didn't count on falling in love.
Operation K-9 Brothers
Book 1: Operation K-9 Brothers
Book 2: Keeping Guard

Related