The Love Proof by Madeleine Henry: Like a profound Greek Tragedy, The Love Proof is exquisite and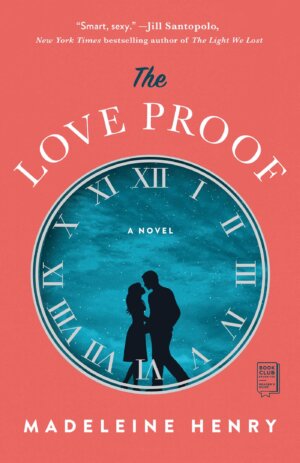 acutely breathtaking – the type of book that will pluck chords in your soul and leave you with a belly full of catharsis. Our beautiful central character Sophie is a genius, who for all intents and purposes will become the next Einstein, and with her truly gifted mind comes the notoriety and expectation that she will deliver.
Gaining an instant and coveted invitation to study at Yale, Sophie begins her university journey full of hope, believing that she is on the path to discovering the answers to the broader metaphysical questions regarding time, which have largely been unsolvable. Quite simply, Sophie's greatest desire is to know all that there is to know. Stunning, brilliant, humble, she was taught to be indomitably curious about the world by her incredibly intelligent mother and her wonderment expanded to all things including matters of the heart. But it isn't until she meets Jake, whose desire and drive is parallel to her own, that she experiences the intensity of love firsthand, and subsequently feels true contentment that invariably creates a shift in her life's focus. And sadly for Sophie, the world just won't accept that falling in love is her one true purpose.
Jake, motivated to have all there is to have in the world, is pushed by his mother to fulfill his true potential no matter the cost. Having sacrificed her own life, including a loveless second marriage and a first love lost to addiction, Jake's inherent motivations are plausible and realistic. And whilst both he and Sophie live and dream of nothing but each other, Jake soon realises that he is the only thing stopping her becoming who the world believes she needs to become. Whilst in many ways, Jake's behaviour is utterly unselfish, it is a hard pill to swallow given the utter perfection of their relationship. And as he endeavours to do the unthinkable he has little to no concept of the powerful pull of his soul and the cost his decision will have on himself, Sophie, and vicariously the world.
At times agonizing and torturous, The Love Proof was all-consuming from start to finish and had an anticipatory ending like no other. I literally had to force myself to read Part Two page by page; the desire to jump ahead simply magnetic in that everything that was created – the delight, misery and grief all could hopefully lead to only one thing that needed to be actualised. Undoubtedly, this isn't a quiet or shy read and it will certainly present it's reader with challenges that are typically painful to explore. It's conceptually bold, thematically perfect and with thoughtfully constructed characters, it's an all in all ingenious way to explore both metaphysics and love concurrently.
Abundant, rich and poignant, this is a romantically philosophical narrative that will leave every reader with the sublime sense of displeasure in the pleasure. For many, the Happily Every After will not be sufficient, but for some, be all the more powerful because of it's ultimate connection to love's timelessness and thus it's absolute clarity in delivering thematic intent. And for this, I applaud Henry – this is the type of intelligent narrative that I genuinely can't wait to share with my family and friends. Summarily, I highly recommend everyone reads The Love Proof, for if nothing else, it is a sensational piece of speculative fiction that indeed may just inspire a young metaphysicist to pursue the true nature of love and whether soulmates are something we can genuinely prove via the fourth dimension.
Book Info:

Publication: 9th February 2021 | Atria Books |
A brilliant physicist studying the nature of time embarks on a journey to prove that those we love are always connected to us, leading to surprising revelations in this fresh and unique love story.
Sophie Jones is a physics prodigy on track to unlock the secrets of the universe. But when she meets Jake Kristopher during their first week at Yale they instantly feel a deep connection, as if they've known each other before. Quickly, they become a couple. Slowly, their love lures Sophie away from school.
When a shocking development forces Sophie into a new reality, she returns to physics to make sense of her world. She grapples with life's big questions, including how to cope with unexpected change and loss. Inspired by her connection with Jake, Sophie throws herself into her studies, determined to prove that true loves belong together in all realities.
Spanning decades, The Love Proof is an unusual love story about lasting connection, time, and intuition. It explores the course that perfect love can take between imperfect people, and urges us to listen to our hearts rather than our heads.

Related