Hit Me With Your Best Scot by Suzanne Enoch is the third book in the Wild Wicked Highlanders. This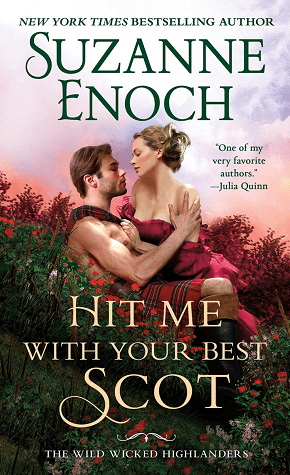 has been a fantastic series and I was so excited to finally read Coll's story. The MacTaggert family has been so entertaining and with this series, I've found it best to start with the first book and read them in order to get the best experience.
It all began when Angus MacTaggert, Earl of Aldriss, went to England to find a wealthy bride. He married Francesca and moved her to Scotland, but she did not care for Scotland and missed the excitement of London. Eventually, she moved back to London with her daughter and left their three sons in Scotland with Angus to raise. Francesca's family had tied up all her money when they got married, so she controlled everything. When she left Scotland, she agreed to continue funding the Aldriss estates as long as her sons married an English woman before their sister got married. The series begins with the men reluctantly traveling to London to see their mother after seventeen years with no contact. They were not pleased when they discovered the arrangement their parents had made.
Coll MacTaggert, Viscount Glendarril, and his brother's thought they could cause enough trouble that Francesca would change her mind about the agreement. If that did not work, Coll's plans were to marry some English woman, get his heir, then leave her in England while he returned to Scotland. He has four weeks to find a woman to marry and is still frustrated with his mother for forcing him to marry to save his family's estates. After escaping his mother and her guests at the theater, he finds himself behind the stage rescuing an actress. Persie was independent, smart, full of wit, and possibly the perfect woman for him. Coll, who had teased his brothers for falling in love instantly, found himself in the same situation.
Mrs. Persephone "Persie" Jones was a well-known actress in London. Although she appreciated Coll's help with an aggressive gentleman, she knew Coll was trouble. But when her life is at risk from all the "coincidental" accidents, she proposes to help Coll secure a wife if he will help her. As more attempts on her life are made, she's forced to reveal her real identity to Coll. She finds herself falling for Coll but knows that he could never marry an actress.
The book was easy to read, beautifully written, and flowed smoothly. It was fast-paced and the storyline and characters had many layers and were developed. It was a book that pulls you in and you want to keep reading more and more. The intrigue, twists and turns, and mystery are enough to keep you on the edge of your chair. The ending was unpredictable and really surprised me. I think this series has become my favorite one by the author. The MacTaggert men were swoon-worthy, bold, full of mischief, and had hearts of gold.
Book Info:

Publication: February 9th 2021 | St. Martin's Press | Wild Wicked Highlanders #3
The MacTaggert brothers have one task:
Find English brides or lose their land!
Coll MacTaggert, Viscount Glendarril, is a big, brawny Highlander who doesn't like being told what to do—not even by his exasperated English mother who is determined to see her eldest son wedded and bedded. However, when he comes to the rescue of an irresistibly beautiful woman, Coll discovers that he may have found his perfect match…
The challenge isn't that Persephone Jones is famous, wealthy, independent, and smarter than anyone he knows. The problem is that she is not interested in marrying any man—especially not a hot-headed Scot—even if he is the only man who seems to understand who she really is even when she's not sure herself. When Coll learns that Persephone is actually a lady-in-hiding and someone is willing to kill her for what she stands to inherit…Well, Coll has never been one to turn down a fight. When hearts are involved, nothing comes between a Highlander and his lady.

Related