Hot for Love by Melissa Foster is book #7 in this author's Bradens and Montgomerys: Pleasant Hill –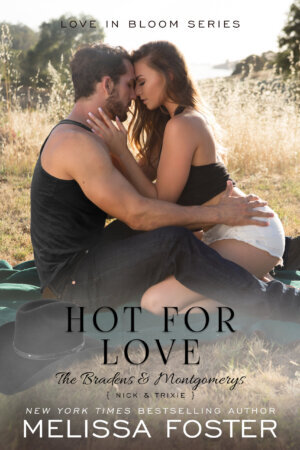 Oak Falls series. Melissa Foster wows her readers once again with the emotional, sexy story of Trixie Jerico and Nick Braden. Go #TEAMNIXIE!
Trixie Jerico loves staying with her special friend Nick Braden when she travels to his neck of the woods, Pleasant Hill, MD. Trixie would make trips there doing business for her family's ranch in Oak Falls, VA. Having a crush on Nick and keeping it to herself has been tough. Somehow her latest visit seems different. She's in Pleasant Hill to spend a month away from her teasing brothers while she works on her plan to open the business of her heart, Rising Hope. That's what she plans to call her miniature therapy horse business. Her goal is to be able to lighten the load of hospital patients and nursing home residents. She also plans to do some children's parties with the miniature horses to help pay the bills. Nick is all in helping her with contacts and suggestions. Trixie ends up with two already trained miniature horses and two very young ones she will train herself. She manages to get so much done in such a short time with Nick's help. But her biggest accomplishment is breaking through the high walls around Nick's heart.
Nick Braden is a rancher and free-style horse trainer. He does a trick riding act also. Nick very much values his special friendship with Trixie Jerico and is thrilled to have her stay with him for a month as he helps her with the start-up of her dream business with miniature therapy horses. He knows she will be basing this business out of her hometown of Oak Falls, but he wants to all he can for his friend. For the last year though Trixie has been on Nick's mind a lot. Her stay makes him realize there is something different, something special building in their relationship. As each day of her stay passes Nick begins to realize he doesn't want her to leave. His home is his very private space but it wouldn't be the same without Trixie in it.
A Melissa Foster story is a guaranteed emotional, heartwarming and often poignant read. This story is all that and more. Once again Ms. Foster has shared with her readers some of the most romantic scenes ever, in my humble opinion. I loved how Trixie manages to slowly tear down the walls around Nick's heart. What wisdom she has with her slow approach. After all Nick believes, "Love brings destruction." to which Trixie responds that no, "love heals." That attitude is a lot to overcome in a man's mind. Yet in the end Nick proves Trixie right. Some of the sweet, romantic gestures he makes might not sound all that romantic out of context but Ms. Foster will make your heart melt the way she presents these.
Book Info:

Publication: February 17th 2021 | World Literary Press | The Bradens & Montgomerys: Pleasant Hill – Oak Falls #7, The Bradens #31, Love in Bloom #74
Discover the magic of New York Times bestseller Melissa Foster's writing and see why millions of readers have fallen in love with the fiercely loyal and sassily sexy characters in the Love in Bloom big-family romance families. All Love in Bloom books can be enjoyed as stand-alone novels or as part of the larger series.
In HOT FOR LOVE…
Trixie Jericho is on a mission to start her own miniature horse business. She's sick of being told her idea is cute and wants nothing more than to be taken seriously. When rancher and sought-after freestyle horse trainer Nick Braden offers an opportunity she can't refuse, Trixie jumps on it. The problem is, she also wants to jump on him, but the bullheaded, big-muscled, motorcycle-riding cowboy doesn't mix business with pleasure. Little does he know, Trixie has never backed down from a challenge, especially one she wants more than her next breath. Saddle up, big boy, because this boot-stompin', risk-taking, Daisy Duke-wearing cowgirl isn't afraid to play dirty.
**
LOVE IN BLOOM novels feature alpha male heroes and smart, empowered women. They're flawed, funny, passionate, and relatable to readers who enjoy contemporary romance and women's fiction.
THE BRADENS & MONTGOMERYS (Pleasant Hill – Oak Falls). Order of future books is subject to change.
Embracing Her Heart
Anything For Love
Trails of Love
Wild Crazy Hearts
Making You Mine
Searching for Love
Hot for Love
Sweet Sexy Heart
Our Wicked Hearts
Summer of Love
Claiming Her Heart
Winter of Love

Related