The Ex Talk by Rachel Lynn Solomon: For the last ten years Shay Goldstein has been working as a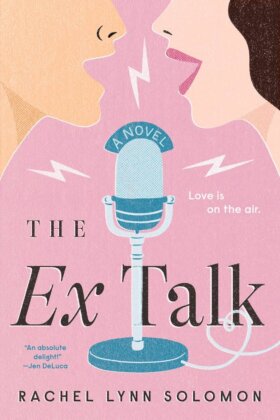 producer at Seattle Public Radio Station, this used to be her sweet spot, her happy place that is until recently. You see Shay is beginning to feel the dreaded three-o soon approaching and it sure doesn't help that her mother recently proposed to her long time boyfriend or that bestie is thinking of moving out of town for work. Adding to her already stressed mind Shay has a new co-worker that just seems to rub her up the wrong way.
So you can just imagine when Shay pitched the idea for a new show The Ex-Talk; whereby two ex's dish out dating and relationship advice to other listeners based on their own past relationship. However she never expected having to host the show with Dominic of all people, but with their supervisors seeing their instant love hate connection the two don't have much of a choice in the matter. As the two kick of the new show their listeners begin to grow and so does their chemistry, soon even their listeners begin to believe that these two fiery personalities have a heat burning between them but the question is will Shay and Dominic see what is between them before it's to late?
Absolutely and totally brilliant! The Ex-Talk had me laughing from start to end, the chemistry between these two characters was of the charts. I am a huge fan of the enemies to lovers trope and this book had it down to the tee. I loved how relatable and real these two characters were. Also how brilliant and fresh was the whole podcast fake relationship idea!
I really liked that for a change there was an older female lead, Shay was great overall my only thing was I wish she was a bit more self assured and confident with herself. As for our Dominic, he was just perfect what was not to love about him, the man likes to cook! I absolutely loved their instant hate relationship which only added to their chemistry. The pull between these two was intense so much so when they finally to get together it is combustible.
Overall I would strongly recommend reading this witty banter filled enemies to lovers romcom!
Book Info:

Publication: January 26th 2021 | Berkley |
Public radio co-hosts navigate mixed signals in Rachel Lynn Solomon's sparkling romantic comedy debut.
Shay Goldstein has been a producer at her Seattle public radio station for nearly a decade, and she can't imagine working anywhere else. But lately it's been a constant clash between her and her newest colleague, Dominic Yun, who's fresh off a journalism master's program and convinced he knows everything about public radio.
When the struggling station needs a new concept, Shay proposes a show that her boss green-lights with excitement. On The Ex Talk, two exes will deliver relationship advice live, on air. Their boss decides Shay and Dominic are the perfect co-hosts, given how much they already despise each other. Neither loves the idea of lying to listeners, but it's this or unemployment. Their audience gets invested fast, and it's not long before The Ex Talk becomes a must-listen in Seattle and climbs podcast charts.
As the show gets bigger, so does their deception, especially when Shay and Dominic start to fall for each other. In an industry that values truth, getting caught could mean the end of more than just their careers.

Related