Reunited with Her Blue-Eyed Billionaire by Barbara Wallace: In college, Whit Martin and Jamie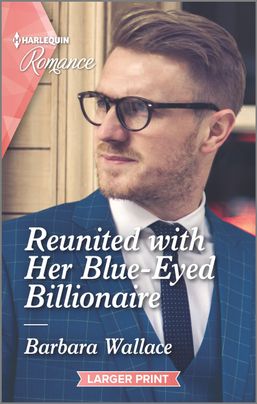 Rutkowski were a couple who were very close, despite the fact that Whit came from a wealthy family and Jamie was a scholarship student. After college, Whit left for Europe without Jamie and became a professional polo player. Jamie had always dreamed of writing a novel, but ended up being a ghostwriter.
Whit and Jamie are thrown together, after years apart, for friends' wedding. One of Jamie's longtime friends warns her to not get close to Whit and have her heart broken a second time. Of course, there is still sizzle between Whit and Jamie, even though they try to deny it. When Whit asks Jamie to ghostwrite a book about his battle with addiction, they are together a lot. Will this end in heartbreak and tears or a new beginning?
Whit is a "broken" hero and the reader can't help to want him to deal with his demons and move on with his life. The author shows he has also been impacted on many levels by his controlling family.
Jamie has made a good life for herself, but has been held back by the feeling she wasn't worthy of love. She couldn't write her own novel, but is perfect at fleshing out stories and memoirs for others. I have met ghostwriters recently and they say the money is good and steady and helps pay the bills while you are waiting to see if your own work will be published. It is still easy to see how Jamie would yearn to have her own name on the cover of a book.
This novel has the right amount of sizzle to warm up the cold winter nights, as I write this. I hope to read more stories by author Barbara Wallace in the future.
Book Info:

Publication: February 1, 2021 | Harlequin Romance |
Could a reunion at a wedding…
…lead to a happily-ever-after of their own?For billionaire Whit Martin, Jamie Rutkowski is the one who got away. Now his college girlfriend is back to celebrate their best's friend's marriage. As their chemistry reignites into an even greater passion, Whit's determined that this time their relationship will work. But are they ready to unlock the secrets of their past…if it means a chance at forever?
From Harlequin Romance: Be swept away by glamorous and heartfelt love stories. (less)

Related