The Jake Ryan Complex by Bethany Crandell: If you are looking for a light Rom Com that ticks the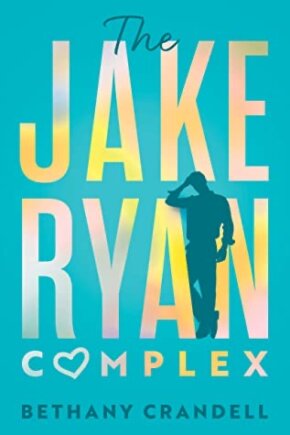 laugh out-loud boxes, then The Jake Ryan Complex is the book for you.
Mackenzie Huntress is a successful Obstetrician who is thrown completely off-guard by her sisters impromptu wedding announcement. And not because she doesn't support the marriage, but rather, because she finds herself wrapped in an fake boyfriend lie so tightly that she needs to get herself a date to the wedding quick smart. Except of course, as her friends rightfully point out, no man ever seems to measure up as a result of her 20 year long Jake Ryan complex. Biting the bullet, Mac decides that anyone will suffice and so pursues a string of dates which all result in the same outcome – no bloke and no wedding date. Much to her horror, Mac begins to realise that her friends are spot on about her lifelong 16 Candles obsession, whilst simultaneously developing a crush for her married handyman JT and falling further down the fake boyfriend rabbit hole as plans for the wedding mean more frequent family visits and more elaborate lies to keep her over-critical mother off her back.
Hilariously, this relatively straightforward plot proves to be anything but simple, and with a cast of interesting characters, shapes up to be fabulous read that will leave you laughing out loud and cringing on the inside given the metaphorical car crashes that are going to happen on the road to the perfect wedding day.
This incredibly witty and well sequenced RomCom, maintained a certain lightness from beginning to end. In many ways Crandell demonstrated masterfulness in her management of tension of surprise given there were moments of both the expected and unexpected woven together seamlessly. And whilst occasionally there were a few sections that were a little over the top, it seemed to work within the context and maintain the energy inherent in those scenes.
In a kind of 4 Weddings and a Funeral Vs Father of the Bride type way, each scene was driven by some very well constructed characters; the over critical mother, the artist in her granny flat, her high school patient Caroline with the potty mouth of a fish wife, and the gorgeous JT who in real life turns out better than any Jake Ryan or indeed fake boyfriend Michael the Neurosurgeon could be. All culminating in a sharp climax, and a well deserved Happily Ever After, I highly recommend you grab a bag of popcorn, put your feet up and prepare to be thoroughly entertained.
Book Info:

Publication: 26th January 2021 | Montlake |
Chicago obstetrician Mackenzie "Mac" Huntress set her standards for men very high early on. It's been over twenty years since she fell for a fictional movie heartthrob, and Mac's content to wait for the real version to come along; it's her nagging mother who's not happy with the timeline. So Mac falls back on her lifelong Mom-surviving skill—lying. The latest fabrication: a handsome neurologist named Michael. Pity he's too busy to meet her friends and family. Problem solved.
But when Mac's little sister announces her engagement, Mac is expected to introduce her elusive "plus-one" at the wedding, leaving her with only forty days to find a flesh-and-blood stand-in for the imaginary Michael. And the only potential Mr. Right comes with a big hitch.
However, it turns out Mac's not the only one bringing secrets to the wedding. With expectations high, and shocking truths to be revealed, Mac's left to find her own happy ending, which isn't as simple as in the movies…though it's definitely worth waiting for.

Related