Driven by Rebecca Zanetti is the fourth book is the Deep Ops series. I recommend reading them in order,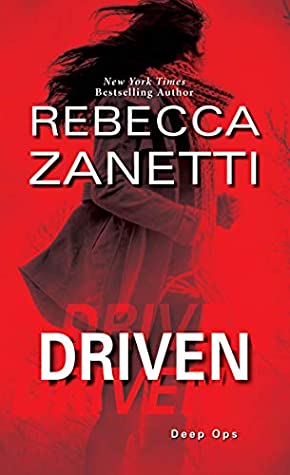 as this book picks up where the previous one ends. Angus Force is convinced serial killer Lassiter, who also killed his sister, is still alive, even though everyone else is convinced he's dead. Angus was given a ragtag team of misfits and a year to prove he's correct. Now that year is up, the team is being disbanded, and someone is killing people who resemble his teammates. Angus knows Lassiter is back but mostly everyone, including shrink Nari Zhang, think he's just chasing a ghost.
Nari and Angus have had combustible chemistry from the start. Angus uses his dislike of shrinks and his anger of the situation he finds himself in to keep her at arm's length, until the killer sets his sights on her. Now the pair have to figure out a way to work together and figure out who is behind everything before the killer takes away someone else Angus loves.
I've been waiting for Angus and Nari's story, and this book doesn't disappoint. Angus comes across as an alcoholic, but he's very intelligent and excellent at his job. He harbors a lot of guilt for his sister's murder, and I felt for him and admired his determination to find Lassiter, even when very few people believed his instincts about it.
I also felt for Nari and what she had to deal with from her biological father, who was the second in charge at the HDD. His attitude and treatment of her was awful, and I honestly wouldn't have blamed her if she walked away from him and didn't look back. She is, however, very understanding towards Angus and does her best to convince him that his sister's murder wasn't his fault, all while trying to stop a killer she's not entirely sure is actually Lassiter.
The chemistry is great between the pair, and it has always been clear that beneath the dislike that they actually cared for one another. I loved how, once again, the team pulls together to support one another and it shows how much they care about both Angus and Nari. Angus is actually surprised when they step up to help him out; it's as if he doesn't realize how much they respect him and care about him.
Roscoe, the dog with a drinking problem and love of wearing women's shoes, is back again as well. He's still as quirky as ever and his antics always provide laughs.
There are few authors who write romantic suspense as well as Rebecca Zanetti, and she once again proves that with Driven. With interesting and quirky characters, well-written non-stop action, and an unexpected twist thrown together with a great romance, readers are in for a treat with this book.
Book Info:

Publication: January 26, 2021 | Zebra Books | Deep Ops #4
Unswerving: Angus Force is determined to hunt down the serial killer he'd once shot dead–or so he thought. But an anonymous source reports that Lassiter is alive. Force hasn't slept since, knowing it's only a matter of time before "the Surgeon" strikes again. And soon, a body is found, bearing Lassiter's same maniacal MO. It's just the beginning of a murderous trail blazing through DC and Virginia, right to Force's backyard…
Unstoppable: Nari Zhang is the shrink for the ragtag Deep Ops Unit, though she isn't Force's shrink–which is a very good thing. Because once they're thrown together on the case, their attraction is explosive and irresistible. They'll just have to fight that much harder to keep the heat between them from flaming out of control. But things are about to become far more challenging, and deadly, than they could have imagined…
Unhinged: Once the killer catches a glimpse of Nari, she becomes his new obsession. She is now the focus point–for both Force and Lassiter–in a dangerous dance for survival.

Related